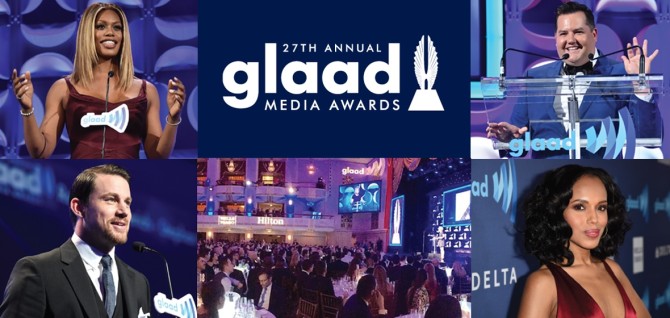 Chalk one up for the little guy.
After community-based LGBT media and independent bloggers loudly and unanimously decried GLAAD's decision to eliminate their "Outstanding Blog" award this year, the national media watchdog group released a statement last week apologizing for the omission and vowing to bring back the award in 2017.
That did not appease LGBT media advocates like myself, who appreciated GLAAD reinstating the award but strongly objected to the one year wait. In this digital landscape, we argued, why could there not be a fast nomination and selection process so that a blogger would be recognized at the 2016 awards?
GLAAD has now reconsidered their reconsideration.
Today, GLAAD communications director Seth Adam announced that this year, at the GLAAD Gala San Francisco, LGBT bloggers as a group will be honored for our contributions to the media landscape.  From his statement:
In addition to reinstating the Outstanding Blog category at the 28th Annual GLAAD Media Awards, to be held in 2017, GLAAD will also be recognizing the contributions of the LGBT blogging community at this year's GLAAD Gala San Francisco, which honors innovators in the Bay Area who advance LGBT acceptance through tech and new media. GLAAD will bring at least one LGBT blogger to the event to represent the blogosphere and accept the recognition. Additional details to be announced this fall. We're greatly looking forward to paying tribute to the critical work of LGBT bloggers in this on-stage moment.
It is a gracious and satisfying solution to a month of frustration, and GLAAD is to be commended for listening to community feedback and responding in a positive manner.
The initial elimination of the Outstanding Blog award, which has been bestowed by GLAAD for the last five years, caused an uproar because, as I wrote in a blog post for POZ.com,  it was the only truly grassroots category at the GLAAD Awards. It celebrated bloggers, lone first-person voices that speak to our experience as people with HIV, or lesbians or as gay parents or transgender people or most everything else the LGBT spectrum has to offer.
Moreover, bloggers often break news and highlight hidden stories that are then used as a resource for larger media outlets. At any rate, Outstanding Blog was the only category that honored independent LGBT writers and advocates among a star-studded roster of nominees from film and television.
In defending their earlier decision to cut the category, GLAAD explained that bloggers were welcome to compete in other categories such as digital journalism, pitting them against outlets such as MSNBC and The New York Times for a spot among nominees. That did not sit well with LGBT media advocates.
Blogger Alvin McEwen (Holy Bullies and Headless Monsters) and I drafted an open letter to GLAAD expressing our dismay over the situation. With the immediate support of writers like Will Kohler (Back2Stonewall) and Bil Browning (The Bilerico Report), the list of co-signers quickly grew to include people from across the entire LGBT media landscape. Within two days, GLAAD announced the Outstanding Blog award would return in 2017.
With this latest decision by GLAAD to honor bloggers in 2016, I am satisfied and grateful that they have acknowledged community concern and made a change to address it. It has been a gratifying bit of media activism that involved a lot of "little guys" standing up for ourselves.
While it is tempting to point out the irony of having to advocate against a national LGBT media organization with a mission to lift up our community, the fact is, all we can ask as advocates is that people take a second (or third) look at their decisions and remain teachable. GLAAD has done that. Lesson learned.
Thanks, GLAAD.
Mark
Comments