Warning: Very excited aging poz queen here. I'm so thrilled I'm leaking t-cells.
I have the pleasure to announce that the coordinators of the annual HIV Cruise Retreat have invited me to join the voyage this year as M.C. I am humbled, flattered, and just plain damn excited to be a part of this event. If you have ever considered joining this cruise event, THIS is the year.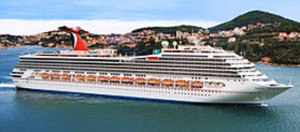 Each year the cruise transports a large group of people living with HIV and AIDS to exotic locales for fun, fellowship (maybe a little romance!), and workshops. Cabins start as low as $439 but you must act before April 15 for the lowest fares.
Paul Stalbaum, the founder and travel agent for the cruise, is a good man that I've come to know through this process. He is passionate about the cruise in terms of its programmatic content and affordability. He's also been living with HIV for more than twenty years and enjoys providing a service to our community in this way (he's also a crackerjack travel agent, so whatever your plans, you should contact him first).
Here's an article on the cruise from TheBody.com, and it includes a cute video teaser with me for the event!
Comments