(NOTE: When I created this post/video in 2012, I had no idea I would be honored as one of the Grand Marshals of the 2013 Atlanta Gay Pride Celebration (Oct 12-13). It makes the concept of Poz Pride even more interesting to me. If you would like to join my contingent for the parade, visit my Facebook event page. All are welcome!)
During my new video blog episode, below, someone asks me incredulously if I would actually march down the street telling people I was HIV positive.
Well, actually, I would. And have. Many Gay Pride parades ago, in 1994, I marched while wearing a t-shirt that said "NO ONE KNOWS I'M HIV POSITIVE." This was prior to the advent of protease inhibitors, when many were still dying. The shirt felt like an enormous "screw you" to the virus, to the body count, and to anyone who had a problem with my status.
But I have a peculiar lack of shame, or if you will, I'm shameless. And I am very, very fortunate that I can exercise this trait with a minimum of consequences. It's not something that many people with HIV are able to do. Why? Beyond their personal reticence, there is still an appalling lack of empathy (and education) within families, workplaces, and social networks. The issue of
HIV criminalization
and the increased prosecutions of people for not disclosing their status only increases the risks of sharing your status.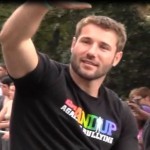 It may be instructive to point out that, unlike cancer or diabetes, people with HIV are stigmatized, rejected and even prosecuted for their status — and not a small amount of social stigma comes from within our community (HIV is the only viral condition for which you can be prosecuted for not disclosing, even though others, such as Hep C, have become deadlier). I believe one antidote to stigma is pride, and by taking pride in our HIV status we can foster a feeling of responsibility and openness — to seek medical care, to disclose to our partners, to serve as models for those who are too afraid of HIV to even get tested.
During the Atlanta Pride parade and festival, I tried to reconcile my own "HIV OUT" status with those who can't speak for themselves, and I investigated a simple question: if HIV is nothing to be ashamed of, can it be something to be proud of?
Thanks for watching, and please be well.
Mark
PLUS…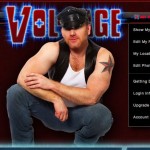 There's one thing that Volttage (the new online dating site for HIV positive gay men) will never lack: artwork of hot naked men. Not when it has been created in part by HIV hottie and physique model Jack Mackenroth. If you're gay and poz and single, you might appreciate a dating site in which the maddening question "are you clean?" will never be asked. This kind of selective coupling is known as serosorting (check out the video tour of an HIV positive sex club I did last year), and it can be helpful to both peace of mind and HIV infection risk. But of course, love always enjoys complicating things, so save some room in that heart of yours, just in case the man of your dreams is HIV negative!
Comments