Recently I got a pop-up message on Facebook from a name I didn't recognize. "Hi Mark," it said. "We went to high school together in Bossier City, Louisiana, and I remember you very distinctly."
"Uh oh," I replied. Statements like that always make me nervous. Whatever popularity I had in high school evaporated when I revealed in my senior year that I had a boyfriend. Only my defiantly gay posturing kept the bullies at bay; they didn't know what the hell to do with me.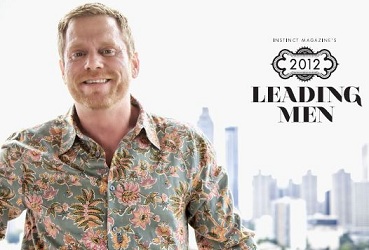 "It was apparent you were gay," the messenger went on, instantly winning Facebook's Biggest Understatement of 2012, "and that helped me deal with my own sexuality. So I wanted to thank you. You helped me and you didn't even know it."
I melted. More than thirty years later, someone I couldn't pick out of a lineup thanked me for making his life's journey a little easier. Because I chose to reveal, without shame, a basic fact about myself.
There are rewards for revealing our truths, my friends. They come in the form of instant messages decades after the fact, or can be seen in the face of someone to whom you have just revealed something intimate and real about yourself.
And sometimes, as ridiculous as it feels for me to mention, Instinct Magazine names you as one of their "Leading Men of 2012." The acknowledgement has floored me, and did something else that's rare for a self-obsessed, anxiety-ridden man such as myself: it humbled me. Because this recognition is really about all of us who are living with HIV and doing it openly.
There are examples of us everywhere. People like Nick Rhoades and Robert Suttle, who recently testified before the Presidential AIDS Advisory Council and shared their stories of being sent to jail for not disclosing their HIV status (check out the links of their moving testimony). They exhibit a courage that I doubt I could muster. Robert Breining has devoted his time and modest livelihood to creating and maintaining POZIAM, an online poz community. And then there are scores of people with HIV, perhaps like you, that speak out in their communities, write blogs, give interviews, and otherwise speak their truth in ways that affect more people than they can ever know.
If you have the privilege and ability to share your story of life with HIV – or as a gay or lesbian person, or as someone living with disability or hardship – I urge you to do it. The rewards may not be immediate but are nevertheless held in life's cache.
Until the day, when you least expect it, that an instant message on Facebook appears.
Mark
ALSO…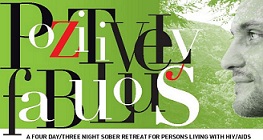 If you are living with HIV and in recovery from drug or alcohol addiction, I'd like to plug an amazing weekend retreat, Pozitively Fabulous, coming this Spring from April 4-7, 2013 (don't be fooled by the dates; it's closer than you realize and they are already nearing capacity) at Cloudland Canyon, a gorgeous retreat center in the majestic Blue Ridge mountains. The retreat is designed for anyone who is HIV+ and dealing with recovery, and is 12-step based. I know and deeply respect the dedicated people organizing this event and plan to be there myself. Check it out!
Comments