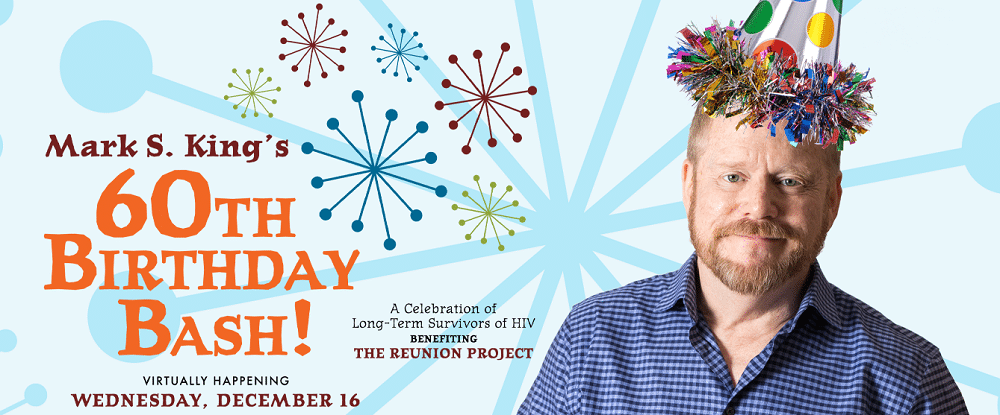 Well, it had to happen, sooner or later, if my luck held out. This December, I'm turning 60 freaking years old. And what better way to celebrate during these insulated times than to throw a virtual party to celebrate all long-term survivors who are hitting major life milestones we never thought possible?
Join me on Wednesday, December 16, at 7pm ET for an hour of pure joy and celebration, featuring exclusive appearances from celebrity guests such as Sir Elton John and Greg Louganis! There are even more surprises in store, my friends.
Don't wait another moment. Register right here! And share this link with your friends and networks so they can register, too: www.Markis60.com
Better yet, the event will raise funds for The Reunion Project, a national network of long-term survivors.
But wait, there's more! There will be a virtual "after party" following the party, where all my guests can interact and hang out.
Anyone can register to attend, whether or not you make a donation for The Reunion Project, and the event will stream live on the My Fabulous Disease pages on Facebook and YouTube. But only registered guests will get a link to the after party, and besides, I need to know how many people registered so I bring enough party hats.
Have you had about enough of interesting, definitely important webinars about COVID and HIV, and virtual conferences and Powerpoint slides? This party is the answer to your wifi woes! I can promise you there will be no slides, no lectures, and no crying. Instead, this party will be the kind of silly, life-affirming antics you have come to expect from me and My Fabulous Disease, with surprise guests, entertainment, and random frivolity.
Let's do this, y'all! Join me and my celebrity friends by registering or making a donation here!
I can't wait to see you on Wednesday, December 16th at 7pm ET. Mark your calendars!
Mark
p.s. I am so grateful to the team who have stepped up to put this together. From the event committee to the behind-the-scenes technical crew to the celebrities we have asked to participate, we have received nothing but "YES" and support. Join us!
Comments