Social support means a lot when you're living with HIV/AIDS, especially from friends who tease you, insult you, feed you, and share their secrets with you. Once again, pals Craig, James, Eric and Antron came for an evening of laughs, chocolate and soul bearing (they first visited for the "You Gotta Have Friends" video). We covered a lot: sex lives, dealing with grief, dating and disclosure, our doctors, and what they really think of the posted comments people like you write. Enjoy!
MARK'S VIRAL CHOCOLATE BROWNIES
2/3 cup sugar
5 Tablespoons butter (most of a stick)
1 bag semi-sweet chocolate chips (2 cups)
1 small cap almond extract
2/3 cup flour
1 teaspoon salt
1 teaspoon baking powder
2 eggs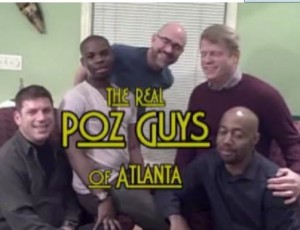 1. Preheat oven to 325F.
2. Grease or spray a 8 or 9 inch square baking pan.
3. In a small bowl, mix flour, salt and baking soda.
4. In a small saucepan over very low heat, melt sugar and butter with a tablespoon of water, stirring slowly. When mixture barely begins to bubble, shut off heat and add 1 cup of chocolate chips and stir them in along with the almond extract. Stir until melted together.
5. Skip all remaining steps and pour over ice cream, as I have done many times (best boyfriend break-up pain reliever on earth). Or…
6. Pour chocolate mixture into large bowl and whisk in eggs, then mix in flour mixture.
7. Gently fold in the other cup of chocolate chips (thought I'd forgotten them? No way.) I don't do nuts in my brownies, but whatever.
8. Pour into baking pan. You are allowed 2 small spoons to eat now from the pan, but that's it.
9. Bake for 35 minutes.
10. Allow to cool a little before you attack it.
Comments