Soon, as many families take a seat at their Thanksgiving table, after the food is set but just before the feasting begins, a paralyzing moment will occur. What now? They'll wonder, glancing left and right. Should we pray? Uncomfortable seconds will tick by. Finally, someone will ask to be passed something and people will dig in, grateful to get on with it.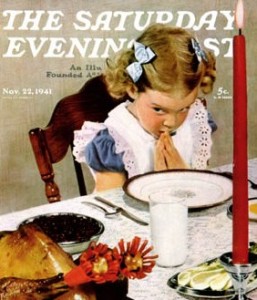 We used to pray, when I was little, when the family was young and the occasion was important and we were forced into this odd intimacy, with the mystical tones of something like church but at home. As a child the ritual was like a magic show, waiting spellbound as the secretive words were spoken.
My oldest brother Hal would pray at the dinner table with his head weighed heavily in his hands, as if he had a massive migraine or was avoiding the paparazzi. Maybe he was just embarrassed, since the act seemed so foreign and mortifying, like peeing in front of one another.
Once, Mom asked Dad to recite the Lord's Prayer at the Thanksgiving table. He started strong and then the words came more slowly, until his memory of the prayer – recited every Sunday in church services he wouldn't attend – failed him. Everyone just sat there in awkward silence, staring at our dad the heathen, until my mother finally prompted him, utilizing a Nancy Reagan whisper into his shirtsleeve.
It was about that time that prayer was discontinued at our dinner table. For a few Thanksgivings someone would suggest we all say what we were thankful for, but the practice faded. It seemed like some sort of consolation anyway. All the magic had long since been revealed.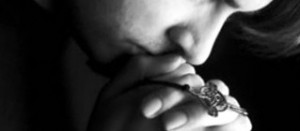 Today, my recovery from being a drug addict includes many suggestions about prayer. It's encouraged, primarily for me to exercise enough humility to acknowledge there are powers greater than myself. After years of selfish using and living on my wits alone, it's an important reminder. But that doesn't mean I do it. Pray, that is.
I've been getting by with the claim that I meditate. Just the word "meditation" has less of the religious baggage than "prayer." It feels less embarrassing, more reasonable. Maybe I'm remembering Hal, with his head buried in his hands.
I do believe that an awesome power, a god out there somewhere, is responsible for my existence and good fortune. I'm just not in the habit of chatting him up to express my appreciation or even for a passing hello. Which means, if I believe something created me, I must be one ungrateful son of a bitch.
Interesting. I'll have to meditate about this.
———————————————————————-
My week as a guest host for The Bilerico Project is ending. Here's a wrap-up of my posts on current events and pop culture: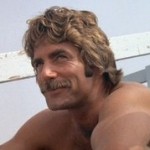 In The Beginning, there was Sam Elliott. Long before Tom Selleck and before the Baldwin brothers, there was only Sam. Here's my appreciation for a man who not only set the gold standard, but had class. And I offer proof, in relating the story of the night the lights went out at an AIDS Quilt event in Los Angeles years ago, and his graceful response.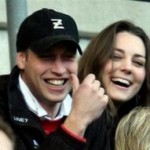 Is William the next King of England? Can't we skip Charles and make this graceful young man King? I just can't bear the thought of Camilla sleeping anywhere near Buckingham Palace. Meanwhile, young Kate Middleton has been screaming "crazy like a fox, bitches!" into her cell phone for the last three days.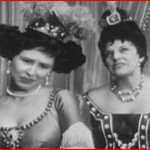 Every girl in the UK is singing this song! If you don't know who Alice Ghostley or Kaye Ballard is, please turn in your gay card, if you carry one. As the stepsisters in the original production of Roger & Hammerstein's "Cinderella," they stole our hearts (and twisted our arms) with the hilarious "Why Would a Fellow Want a Girl Like Her?" Here's a look at their magical, snarky rendition.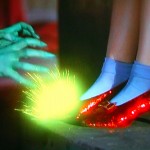 Curses! Hollywood Meddles with the Magic of 'Oz.' Some day I'll wish upon a star and ask that they never, ever try to remake The Wizard of Oz. Or, for that matter, any one of the truly awful sounding projects currently underway with ridiculous storylines like the early days of the wizard or Dorothy's great-great-granddaughter. Wasn't The Wiz bad enough?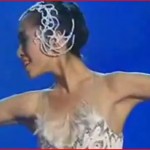 The Great Chinese State Circus. Ballet isn't my thing, but this is beyond anything I've ever seen. Is it gymnastics? Cirque du Soleil? Whatever it is, your jaw will drop… and stay there for three minutes. (Now I'm even more excited about the soon-to-be-released The Black Swan, featuring a total freakout performance by Natalie Portman. Director Darren Aronofsky hasn't been this twisted since Requiem for a Dream.)
———————————————–
May I invite you to join my mail list (upper right) or become a Facebook Fan (upper left)? I won't stalk you, I promise. This is my own, private (advertisement-free) web site and I'd like to keep you up on the latest. If you're already a fan, thanks my friend! — Mark
Comments