Even in darkness, in the bitter cold of northern Pennsylvania on a January night, the town of Milford can't help displaying its charm. I'm walking through Main Street and the shops splash warm light in my path as strolling shoppers offer smiles and salutations.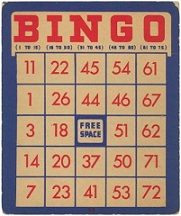 This isn't a night for shopping, however. It's Bingo Night, and I am making my way down a side street for the local church. I follow the sounds of a boisterous crowd that lead me to the fellowship hall.
The tables in the small hall are stuffed with people and the elevated sounds of good cheer reverberates throughout. Many in the crowd turn to me, the bundled up stranger, and they call out welcomes, whoever I am. Tables are littered with bowls of chili and chips and salsa.
I give a woman in an apron my ten dollars, which affords me chili, all the brownies I can eat, and a bingo card.
A chorus of cheers suddenly rings out, and there in the doorway is my host Sean Strub, not the AIDS activist of queer history but the civic pioneer who has done so much for the renovation of Milford. The cheers give way to a round of friendly applause, and Sean makes his way to me as chili and brownies and soda are enthusiastically offered him from every direction.
If these townspeople are living a Frank Capra fantasy, then Sean is their George Bailey, popular and humble, a friend to all. I keep waiting for someone to raise a toast "to the richest person I know."
It's impressive and sincere. The entire scene is imbued with the kind of openheartedness that a jaded gay man like myself hardly recognizes anymore. I'm a bit dumbstruck.
"Really, Sean?" I ask him as he finally arrives at my table. "I mean, really. Applause?"
Sean blushes and beams in equal measure, both convincingly. He steps to the head of the room to take his position calling the numbers, naturally.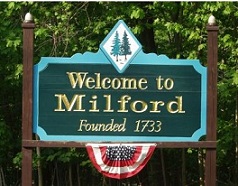 For a week I've been in Milford, Sean's idyllic town a short drive from New York City, to stay with him and work on the issue of HIV criminalization. There has been a startling rash of new prosecutions of people with HIV who did not disclose their status to sex partners. It is a topic Sean has been passionate about for years now, but only recently have people like myself paid much attention.
It's an uphill battle, not simply convincing lawmakers that these prosecutions are bad for public health because they discourage HIV testing, but because even a majority of gay men support the laws. As HIV as an issue has aged, stigma has risen. Younger gay men who find themselves infected are judged far more than were men of my generation. The shame of becoming infected "when you should know better" and the certain rejection they will face from their peers ("I'm drug and disease free, you be too") make them more likely to want to hold someone else responsible for their infection.
It's a sad blame game, fueled by vengeance and humiliation. With lawyers and jail sentences involved.
A ten year old girl, all curls and colorful hair clips, cries "bingo!" and the crowd responds enthusiastically. She approaches the prize table to select her reward with the careful discernment of a grocer choosing the most perfectly ripened fruit.
Beside me, a gay couple, one of many who split their time between careers in New York and a home in Milford, are bringing me up to speed on gay life in the bucolic town.
"There's gay dances about once a month in a hotel basement up the street," one is saying. "We even had a drag show last year." I'm skeptical of the local drag talent pool, but the couple assures me that corporate attorneys and physicians aren't the only highly skilled professionals that make weekend escapes to the serenity of Milford. "It was an all-star lineup," he continues. "Matter of fact, there's a birthday party tonight at a lounge on main street for one of the drag queens. Should be lots of fun. You should check it out! It's probably already started."
The incongruity of church bingo and a drag queen birthday is too much to resist. I surrender my bingo card to one of the kids and give a wave to Sean.
The lounge resides in the parlor of one of the town's handsome, renovated hotels, but the crowd isn't what I had hoped. A pair of men are playing pool, dividing their attentions between the table and college football skirmishes on the overhead monitors. They are clearly unaware of any drag festivities afoot, and I wasn't about to be the one to inform them.
And then, sitting at the bar with his hands folded neatly in his lap, I find evidence of another party attendee. He is a gay man of a certain age, with frosted hair and a small, sparkling package on the bar before him. It is bejeweled from the efforts of a hot glue gun and a dozen or so rhinestones.
He is sitting patiently with his offering, and I wonder of his relationship with the drag queen in question, deciding that he is a devoted fan ready to pay his respects. He appears unfazed by the nonexistent party turnout and sips from his white wine glass without care.
The gay couple from the bingo game appear, and their apologies are written across their faces. "It's okay, it's probably too early for a party anyway," I say. I'm sure the drag queen will eventually make an entrance, but something about an outrageous wig, sequins and enormous eyelashes on the scene feels as if it will spoil the natural environment. It's time to head out. I don't want to break the spell of Milford.
That spell is one of belonging, of community, of home. After a couple of months of a nomadic existence, visiting family and now Sean after my breakup and exit from Ft Lauderdale, my spirits are lifted just as my longing for my own sense of community has heightened. I see the settled, peaceful faces of the residents here and want it for myself. I know that my work with the criminalization issue is valuable, and yet I wonder if Sean knew that he was also giving me safe haven and a chance to be valued beyond our project, all in the warmth of new friends and domestic tranquility after a couple of rough months.
The more my spirits are raised, the more I know I must move on, to Atlanta, where friends and an anxious realtor await me, where my belongings are boxed and stored and ready to find their place.
I want to know that place, too. It's time to find home again.
Comments