Charles Sanchez skips a lot. It is a natural, vivacious skip, an outpouring of unabashed joy that melds the cheerfulness of The Sound of Music with the bliss of the Pharrell Williams "Happy" video. Nothing stands in the way of his delight. Not even life with HIV.
It is that joyful vibrancy that makes Merce, the web series in development by Charles and his production partner Tyne Firmin, feel so refreshing. Considering that characters living with HIV on television are few and far between — or presented as tragic — the project feels, well, almost subversive. And that's exactly why Charles is pursuing his dream of bringing Merce to life.
"There's something brave in Merce as a character," said Charles in an interview. "I think Merce is me, if I had not been so worried about what people thought of me. He's honest and hopeful, and I think that's something people don't always expect in someone who is HIV positive."
Indeed. In a YouTube video, Charles asked people on the streets of New York what their favorite HIV character on television was. The answers, when anything at all came to mind, was decades-old portrayals from cancelled series, or actual people, like Magic Johnson or Mondo Guerra from Project Runway. "The only ongoing television character living with HIV is a Muppet," said Charles. The production team hopes to add another character to the HIV canon that isn't dying or a criminal.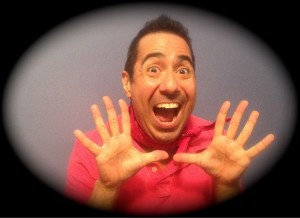 "Usually, you can practically hear the foreboding dum dum DUUUM in the soundtrack when someone discloses," said Charles (left). "Or on Law & Order, they'll find the bottle of AZT in the dead man's medicine cabinet and say, 'well, that explains that.' I think it's time for us to have a conversation about normal life and HIV."
Merce grew from another series created by Charles and Tyne, Manhattan Man-Travels, that revolved around the lives of gay men in New York. Filmed guerilla style using a Flip cam, the series has the low-budget appeal of early John Waters. "Our only budget was for apple fritters," said Charles. "We love apple fritters."
For Merce, the producers are using an IndieGoGo campaign to raise $15,000 for costumes, better camera equipment, and higher production values overall (tax deductible donations for as little as ten dollars can be made to the campaign until July 4th, which is administered through the non-profit arts organization Fractured Atlas).
As with most comedy, Merce grew from something more serious. In a video explanation of his own life with HIV, Charles recalls one of his first jobs in New York as an actor in 1987 — playing the part of AIDS Related Complex (ARC) in Attack of the Killer Virus, a musical geared to educating youth about the new disease. Before long, it was Charles himself who would be discovered by his roommate, sick and unconscious, in their apartment. His AIDS diagnosis brought a new urgency to his art and how best to use it to educate and inform.
Having survived that, and the love Charles has for musical theater, might help explain the skipping. "I'm a pretty happy and optimistic person, and I wanted Merce to have that in abundance," Charles said. "I'm creating a show with a main character who doesn't let his HIV define him or keep him from all the joys of life. Merce makes a lot of mistakes, but he celebrates life. Why not grin and laugh at life? Life is hilarious."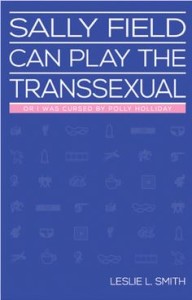 While television may still be grappling with how to portray HIV in contemporary life, literary fiction remains a few steps ahead. In his challenging, sometimes frustrating new novel, Sally Field Can Play the Transsexual, author Leslie L. Smith asks us to examine the nature of modern gay sexual behaviors. Do we engage in unprotected sex out of defiance, grief, pleasure, or pathology?
There is much to consider in Smith's story of David Matthews, an entitled gay escort engaged primarily in his own self-interest. When a benefactor wills David riches and asks him to pay it forward, the immature hooker begins a quest to reconcile his small-town upbringing with the numbed pleasure-seeking of his vocation.
Anyone who escaped home to pursue gay life elsewhere will relate to that journey, but the central device of the novel — the ghost of the rich man appears to David and sticks around to provide vague counsel or witty bon mots — reads like a uneasy grafting of gay sexual politics and the movie Ghost. The infusion of farce into an otherwise thoughtful reflection on what it means to be a responsible gay man today is jarring.
That's a shame, because there are scenes in this book that go straight to the heart of our common experience navigating sex in the age of HIV. During a visit to his Arkansas home town set a few years ago, David hooks up with a local hottie and they fall into bed together. The reaction of his conquest when David attempts to forgo a condom is heartbreaking. "I've heard of people doing this," the hottie says plaintively as he ends their encounter, "but I didn't think it was true." Even today, in a time of PrEP and undetectable viral loads, the simplicity of the statement will have gay men everywhere reflecting on their choices.
Bringing important discussions to life is why Leslie L. Smith should keep writing. His ear for the here and now is acute and authentic. He just doesn't need spectral accoutrements.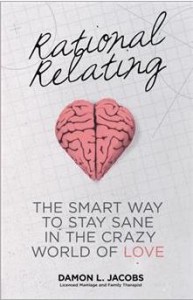 Navigating relationships is also on the mind of Damon L. Jacobs, a New York based gay therapist who provides clear, helpful advice to couples in his book, Rational Relating. Although the guide is meant for couples of every stripe, Damon thoughtfully includes plenty of tips for gay men in particular.
His advice is deceptively simple and easy to apply to our lives. His "five pillars" of integrity, communication, compassion, responsibility, and compromise are all examined through his work with various couples and the challenges they face in building a life together. The book is meant as a resource that couples might draw upon, and the result is a helpful tool that can benefit anyone.
Damon is widely known for his advocacy around Pre-exposure prophylaxis (PrEP), but that's not his purpose in Rational Relating. It is nice to see, though, that what makes him a strong advocate is grounded in his professional experience helping people find integrity and meaning in their personal relationships.
Mark
Comments