The most powerful speaker at the recent "HIV is Not a Crime" conference was a man named Kerry Thomas. He held the crowd of more than 150 advocates spellbound for a full twenty minutes. And he never even took the stage.
When one of the conference organizers, Reed Vreeland, stepped forward to introduce the next speaker during the opening night program, the energized audience had already heard a few stories of both injustice and inspiration. Everywhere in the United States, people living with HIV are being sent to jail for little more than their HIV status alone. But Reed had something else entirely to present.
"Kerry Thomas was prosecuted of not disclosing his HIV status to someone," Reed began. Everyone knew that prosecutions for that crime are too often a matter of he/she said. How do you prove a private conversation? "Kerry also had an undetectable viral load," Reed went on, "and he protected his partner by using a condom. No one was infected, and no one could have been. Kerry won't get out of jail until the year 2038. Fortunately, we have him with us here this evening."
And with that, Reed lifted his cell phone to the podium, and the strong, clear voice of Kerry Thomas, six years into his sentence at Idaho Correctional Facility, began to speak.
"Thank you, thank you for gathering to discuss this issue," he said, and the stunned silence of the room was deafening. No one could begin to imagine what the man on the other end of the line must be going through.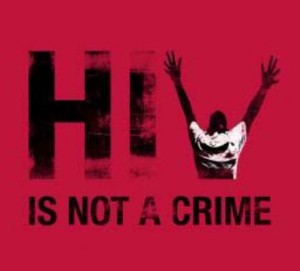 Kerry spoke of life behind bars, of his love for his family, of the prosecution led by people who didn't believe he should be having sex at all. Then, he encouraged everyone in the room to work as hard as they could on reforming HIV criminalization laws, so that no one would have to go through the nightmare he was experiencing. He remained upbeat and gracious throughout.
The officials at the correctional facility who made it possible for Kerry to speak on the phone were thanked, and then Reed said some final words to Kerry. "Thank you for speaking to us," Reed said.
The crowd swallowed the lump in their throats and came to life, beginning to applaud Kerry, and then to cheer, and it soon became an emotional outpouring of love and sadness and support that shook the auditorium.
"The room is applauding you," Reed said into the phone. "Can you hear that?" How Reed kept his composure during the heartbreaking, inspiring moment was itself a considerable feat. Kerry's response was drowned out by the thunderous ovation, so Reed continued relaying what he was witnessing from the stage.
"They are standing for you, Kerry," he said calmly, as the ovation grew. "They are standing and applauding for you. They want you to know how much they support you."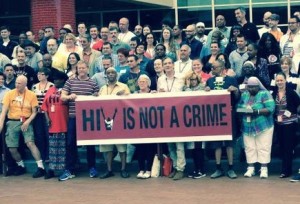 The moment was singular, no doubt, but only one of a number of moving moments in three days of advocacy work. And the conference was definitely work, as advocates from around the country met to strategize how best to reform State laws that have little regard for the modern realities of HIV. In fact, there are people serving sentences right now for "exposing" others to HIV for actions that defy science as we know it, such as biting or spitting.
This video review of the conference will introduce you to the issue of HIV criminalization, the advocates fighting it, and some of those who have served jail time under the statutes.
Thanks for watching, please be well, and consider how precious your freedom is today. Many of us could be suffering the unjust fate of Kerry Thomas, the man who brought a national conference to a stunned, emotional halt.
Mark
————————————————–
For more information, please check out The SERO Project, the Positive Justice Project, or the international efforts of the HIV Justice Network.
Comments