I'm having an identity crisis. Am I an AIDS activist, ready to question authority and demand high standards of service for those living with HIV/AIDS? Or am I a "resource" for the pharmaceutical industry, so that they might craft more effective community programs that will lead AIDS patients to "care."
And that care, no matter how they frame it or how sunny the smiles of their community liaisons, ideally would lead patients to their HIV drug product line.
In this video episode of My Fabulous Disease, I take you along to a community advisory board meeting (CAB) for HIV drug manufacturer Janssen Therapeutics, formerly known as Tibotec. There was something about the cordial way in which the invited HIV advocates provided helpful feedback to the pharmaceutical executives that felt… a little strange.
Although I have agreed to keep the particulars of the meeting private, I will say that there were no fireworks on display " or any real antagonism to speak of. We advocates ("activists" seems like too strong a word) offered our best advice to Janssen, they appreciated it very much, lunch was served, and everyone left happy.
And I felt as if I had failed somehow. I had allowed the topics to be entirely in the hands of our hosts, and any issues that deserved discussion but were not on our elegantly typed agenda " educating patients about treatment risks, or, God forbid, drug pricing " were never discussed. I didn't feel like much of an activist. I felt like a focus group member.
It's very possible that my attitude here is outdated. In the early days, we took to the streets because societal apathy and ignorance demanded it. We protested and threw red paint and otherwise shamed the pharmaceuticals into better medications, broader access and more community involvement. Those battles were waged (and largely succeeded) many years ago, while pharma has come through with an astounding arsenal of successful HIV medications. Why does something deep inside me resist civil dialogue that advances our mutual interests? Am I living in the past, being an activist without a cause?
Clearly, we have some common goals, chief among them HIV testing and access to treatment. And pharma has resources that community organizations could only dream of, so advising them on creating the best campaigns possible (to get tested, to "get into care") makes sense. So why was I so ambivalent?
Activism should make people uncomfortable. Just ask Larry Kramer. I watched the late, great Martin Delaney, founder of Project Inform, demand in similar meetings that more be done in terms of drug efficacy and proper data and experimental drug access. He made me very uncomfortable and I was on his side. Martin usually got what he wanted. And he wanted it for you and me.
At least, through this video, I get an opportunity to discuss some pressing concerns not covered in the community meeting. I question some basic assumptions, such as whether our hard work on the ADAP crisis is pulling attention and resources from the "big picture" of pharma drug pricing and generics, and I offer an indictment of our U.S. health care system for good measure.
There are still confrontations to have and tough arguments to make, and the agendas of advocates and pharma alike should always be questioned.
It just might be a little uncomfortable.
Mark
("Enjoy AZT" image credit: ACT UP New York)
——————————————
PLUS…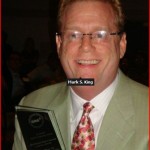 This blog is officially an "award winning" blog! The hard working folks at the ADAP Advocacy Association (aaa+) have honored me — and I most sincerely am quite honored — with an award for Social Media Campaign of the Year. The award was part of their first annual ADAP leadership awards dinner, held as part of the ADAP conference held in Washington, DC. aaa+ was impressed with my video blog about the ADAP summit last year, particularly with the simple instructions it gave on contacting your elected official about funding ADAP (it's not too late to do that, you know). I am in good company: other award winners include Dab "the AIDS Bear" Garner, Butch McKay of the Positive Living Conference, and even my local pharmacy patient advocate here in Ft Lauderdale, Jason King (no relation) of AIDS Healthcare Foundation Pharmacy.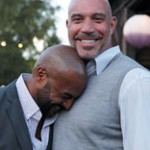 I may not be on the singles market, but I sure do appreciate the advice provided by AARP (!) in their online feature, "The Gay Man's Guide to Dating Over 50." Most of the piece, by gay writer Dave Singleton, is solid self-esteem building, which is great advice for any age. I'm particularly guilty of being age conscious and grieving my distant youth, so I needed to read this: "Give up trying to be perfect, too, especially if that's a code word for 'young.' Yes, it's important to take care of your body and your health, but no need to obsess. Instead of trying to be 25 again, get comfortable in your skin. Feel good about your body. That way, when someone touches you, they'll really feel you, and not a bundle of self-critical tension. Think more about keeping a sparkle in your eyes and less on fighting the fine lines around them." Maybe next time, Dave will offer a little safer sex advice for those over 50 who actually get lucky.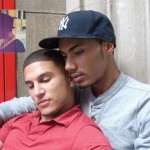 You may know that, in a 2010 CDC study of 21 major cities, 1 in 5 gay men were HIV positive. But did you know that half of them do not know they are positive? And that young black and Latino men under 25 were the least likely to know their status? Gay Men's Health Crisis (GMHC) in New York is hoping to change that in their new "Kiss and Tell" campaign. "Kiss & Tell" encourages black and Latino young gay men to have discussions with partners about their sexual history and HIV status, and includes education, networking and skills training. "This campaign reinforces GMHC's ongoing commitment — since our earliest days — to addressing homophobia and reducing the spread of HIV among gay men," said Marjorie Hill, PhD, Chief Executive Officer of GMHC. "The campaign directly challenges homophobia, and acknowledges the value of relationships in the lives of young gay men while encouraging dialogue."
Comments