In the gorgeous and sometimes maddening web series Unsure/Positive, we follow the life of a Boston gay man, Kieran, literally from the moment he gets his HIV positive test result. Kieran's journey in the six-episode first season (available for only $3.99 on Vimeo) covers some difficult terrain – shame, disclosure, sex and drugs – and many HIV positive guys and our friends will identify with it.
This is poz-adjacent art that is absolutely worth your time and a few bucks, most particularly because it doesn't beg for your affections. It is messy and sad and hilarious and sometimes impenetrable. Like life.
I must also mention that this series contains a five-minute conversation about crystal meth that might be the best writing on the topic I have ever witnessed on the screen. For anyone with an addiction background or who is trying to understand someone with one, those few moments alone are worth your time.
I spoke with series creator, writer and star Christian Daniel Kiley, and he is every bit as earnest and enthusiastic as one might hope a young new talent might be. We chatted about the show, bad gay movies, John Updike quotes, meth-driven orgies, and the fact something in his show absolutely pissed me off.
First of all, Unsure/Positive is beautiful. It has the production value of network television. I want to challenge you on some of it and we'll get to that, but there is artistry and a story here that is immediate and compelling. And the emotional payoff in the final episode blew me away.
Mark, stop making me blush! And thank you for saying so. We were very careful to keep the production values high, because we wanted to make something with the potential to go mainstream.
You succeeded. And no need to be modest! You're doing your thing, Christian.
Part of the reason that the show looks so good is because we threw all the money we raised right at the screen. The downside to that is we didn't budget in a dedicated publicist. So our show has polish, yes. But at this point we're reaching only a fraction of our potential audience.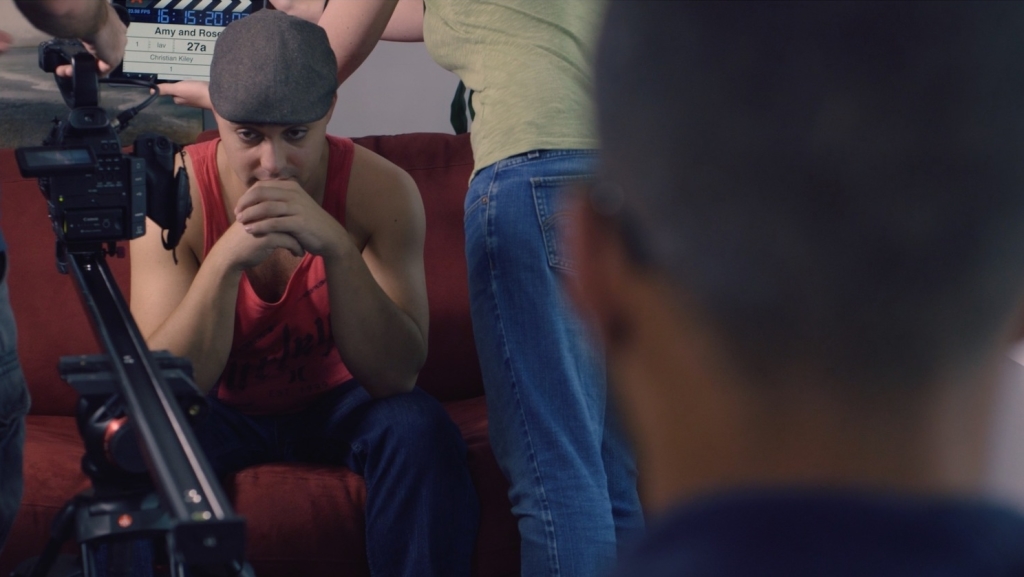 Christian on set during the filming of Unsure/Positive.
You wrote, produced and starred in Unsure/Positive, and I'm assuming the storyline of a newly diagnosed gay man is very close to your personal one. Why was your own story something you felt so strongly about telling?
Well, after I was diagnosed in 2007, I made a choice not to tell anyone about it. My friends were in the dark, my family was in the dark. Where it took (lead character) Kieran three months to come out of the closet, it took me more like three years. I think the post-diagnosis anxiety and depression — once I had recovered from it enough to see it for what it was — was actually the most damaging aspect of testing positive for me.
A writer, maybe John Updike, once said that a writer must believe their life is interesting.
I think Updike also said something like "willingness to risk excess on behalf of one's obsessions, is what distinguishes artists from entertainers." Although I actually don't think that artists and entertainers are mutually exclusive labels.
I'm furiously Googling for more John Updike quotes, as you clearly are doing as we speak, so I give up.
I just found this one: "He skates saucily over great tracts of confessed ignorance." That's Updike, referring to another author.
My first grade teacher wrote on my report card that I "skipped nicely to music." Now I wish she had said I "skipped saucily." Either way, she had me pegged.
I'm surprised she didn't say you "skipped gaily."
Shut up. You don't know me. Anyway, I have this theory that "gay art" typically sucks. Gay movies are usually not very good, gay plays can be awful, and even gay restaurants have better cruising than cuisine. And we're supposedly the most creative people in the world! Maybe we become self-conscious or something. Is that fair?
Yeah. I've seen a lot of pretty bad stuff in the LGBT section of Netflix. But you have to consider the exceptions, like Tony Kushner. On the other hand, Eating Out is like, worse than Tyler Perry movies. Then you've got something like The Outs, a very popular web series that my friend Adam Goldman produced.
I was going to mention Eating Out but I didn't want to trash anything specifically. God, you're such a hater.
I'm not a hater, Mark! I swear! I just hate things, like, when appropriate.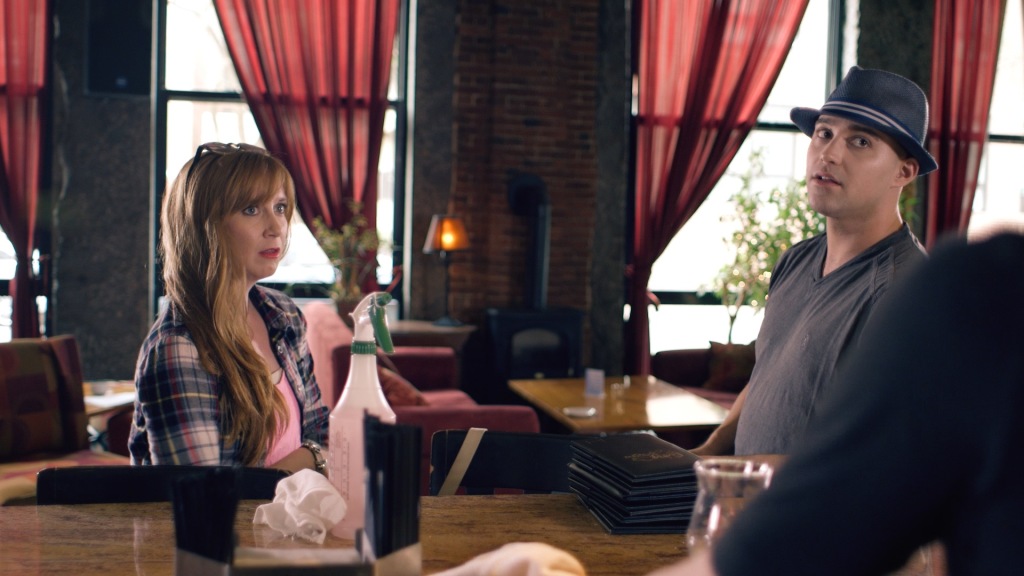 Kieran's best friend and confidant Allie is played by the marvelous actress Amy DePaola.
You mentioned how tough it has been to not only produce Unsure/Positive, but for it to find an audience. Okay, I guess some idiot blogger that says "gay art sucks" doesn't help very much. But this series absolutely deserves an audience. Where the hell are they?
It's been a struggle, yeah, to grow our audience. The audience we have so far is very engaged. I get emails and texts every few days from someone new who watches the show and wants to reach out. We make that pretty easy on our website. And that is, without a doubt, awesome. But it's also a slow burn, and there's no budget for publicity.
I also have a theory that people, even HIV positive people, see a series about HIV and think "let's put a pin in that, yeah? We could watch the new John Oliver." I do that all the time.
Your show shares some creative bandwidth with another web series with a gay HIV positive lead, the musical comedy Merce. The similarities end there. Merce is a low budget romp with enormous heart and silly giggles.
I really love Merce! It's funny, Merce was released while I was still in post-production for my show, and it sort of took the wind out of my sails when (Merce creator) Charles Sanchez beat me to the punch with an HIV-positive protagonist. I actually asked Charles to consider a crossover — doing a cameo as Merce, out on a date with Kieran. We're always thinking of ways to expand laugh potential in season two!
Speaking of big laughs, Kieran in Unsure/Positive has a history with the drug crystal meth. Personally, I'm grateful the topic continues to crop up, in books like Lust, Men and Meth, in new actions from ACT UP New York, and Danny Pintauro has been writing about his own meth history. I was a meth train wreck for so long. Its grip on our gay friends is just so heartbreaking and it hasn't let up at all.
Well, Mark, I must say that I have drawn a fair amount of inspiration from your previous writings about your addiction. I would go as far as to say that, had I not stumbled upon your internet presence back in the day, my show wouldn't have gotten made in the first place.
Shooting the scene (of men using meth together) was one of the most incredible experiences in my life. I mean, here I am, a former user, explaining to a roomful of actors and crew exactly how meth orgies amongst gay men go down, and finding real catharsis in doing that and maintaining my professional wherewithal. I feel so much more in control of my addiction and recovery after putting myself through those paces.
My sponsor would slap my face and ship me off to rehab if I even considered recreating a meth sex party, even a fictional one.
Well, I certainly understand that. I was never a "heavy" meth user, as I understand it, but I was in deep enough that it ruined a few years of my life. Still, you'd be surprised what confronting your triggers can do to disarm them, at least for someone like me.
Trust me, I don't need to be testing my triggers, even to disarm them. I'm a true addict, to the bone.
Fair enough.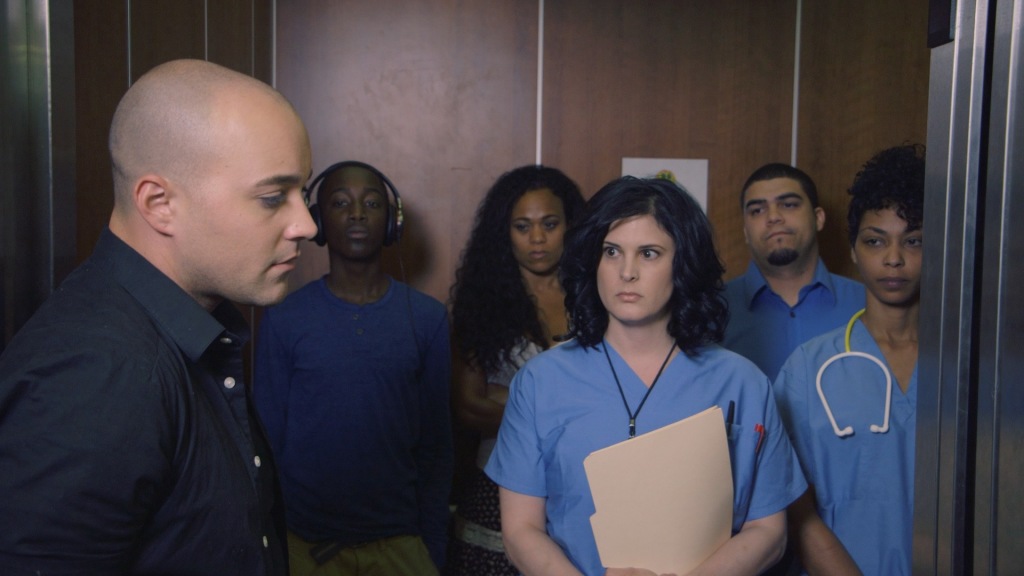 Moments after his test result, Kieran already feels the self-consciousness of the newly diagnosed.
Let me tell you what bothered me before I tell you what infuriated me. I felt like Kieran moped around too long after testing positive. I wanted to slap him. I wanted him to open up to friends. But then, when he finally does, it is so emotional and traumatic for him to admit that I got all choked up. Who the hell wants to admit they just tested HIV positive in 2016? Someone testing positive today is treated like a personal disappointment and a public health failure. So your storyline made me check myself.
I'm glad to hear that the series made you reconsider your original impression of Kieran. I think he's a character who, for better or worse, is a depressive. It was, for the record, a deliberate choice to make Kieran so ambivalent that an audience would question whether they like him. But (poz activist hottie) Jack Mackenroth, for example, told a friend of mine that he only watched the first couple of episodes and then he stopped because he thought the character was a jerk.
Do not fuck with my sister-from-another-mister Jack Mackenroth. He will cut you.
I wish he had given the entire show a chance. It's only 55 minutes long!
Try to get a hold of yourself, Christian. We have an even larger chasm to cross. There is a twist in the finale that I guess I shouldn't reveal. But it made me so, so mad. I refuse to discuss it! But I'm still mad.
I want the controversy. I think any show that has people talking about it around the water cooler is doing something right.
OK, fine, we won't discuss it at length during this interview. We'll take it outside when we're done and settle it like men.
What kind of men?
Never you mind, Missy. Forget it. I forgive you because anyone who reads my blog knows how much I love the intersection of HIV advocacy and art, and your show is a wonderful example of that. All my best, Christian! And more sex in season two, please. Sober sex.
Sober sex is already in the outline!
Halleluiah!
Comments