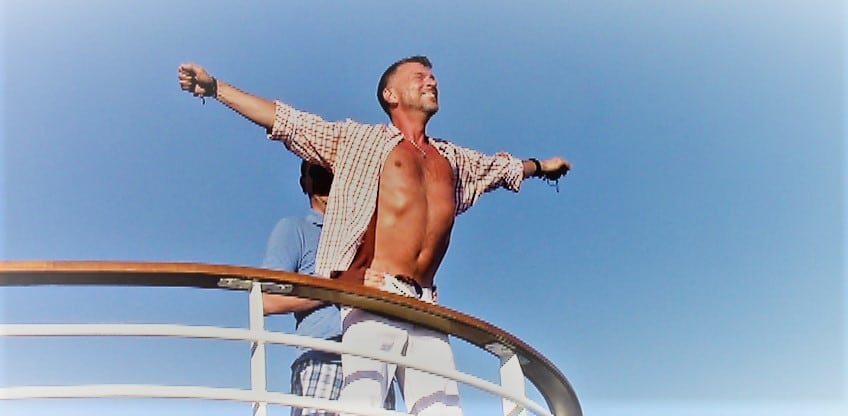 The HIV Cruise Retreat, which has brought tropical fun and a sense of community to people living with HIV, their families and allies for the last twenty years, will sail to the Caribbean this fall. The fact the cruise is happening after the passing of organizer Paul Stalbaum is itself a remarkable story about the power of family.
On August 14, 2020, deep in the first months of COVID lockdown, the much beloved Paul Stalbaum died after a series of health issues. The loss was a hard blow to many dozens of long-time cruisers, who knew how selflessly Paul had worked over the years to make the cruise as enjoyable and affordable as possible. We loved him and depended on him. I honestly doubted the HIV Cruise Retreat would continue.
A few days after Paul passed away, his brother, Bob Stalbaum, got a phone call from Jonathan Goldman, one of the volunteer hosts for the cruise. Jonathan invited Bob to a zoom room chat that evening that had been put together for the cruisers. We all wanted to share our memories of Paul with one another.
What Bob Stalbaum witnessed that evening still gives him chills. "I have never been so blown away in my life," Bob told me. "There were more than a hundred people on the call, half of them crying, saying how much Paul had meant to them."
Even though Paul organized several other cruises each year, all of them much larger than the HIV Cruise, everyone on that zoom call was from the HIV Cruise Retreat. "I had no idea," Bob said. "I knew that Paul was involved in HIV and LGBT issues. But to learn that he was so instrumental in creating this community and that he affected so many people's lives… it blew me away."
This is the part of the story where fate steps in. Bob Stalbaum is also a semi-retired travel professional, and before that zoom call was over he knew what he had to do. "I realized I had to run the HIV Cruise Retreat and keep it going." 
The decision has become a way for Bob Stalbaum to honor his brother's memory, while continuing the fun seafaring family that Paul helped create. "The people have been as nice as anyone I have dealt with in my life," Bob said. "I have been a travel consultant for 25 years. There's always someone who is a pain. Not this group. Everyone has been as nice as could be."
You can find out for yourself by checking out the HIV Cruise Retreat, sailing to the Caribbean on October 28 – November 5, 2023. Special group rates will expire on May 1, so you might want to look into it soon. The retreat features private parties onboard, onshore excursions, and plenty of fun and games planned especially for the group. 
As people living with HIV, a lot of us have struggled with our families for one reason or another. I'm really glad the HIV Cruise Retreat continues, but I am even more grateful that Paul Stalbaum has a brother like Bob.
Mark
Comments