Stigma is insidiously quiet. It is conjured in the mind, born of discomfort and fear, and then it is projected at "the other" among us. It judges them and isolates them. And it happens without a sound.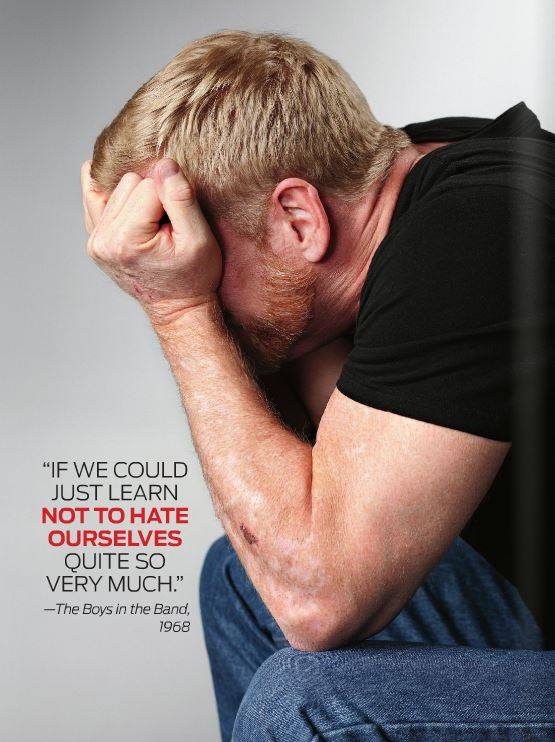 Stigma lets us take comfort in seeing things in others about which, we believe, they must be ashamed. It is a lazy way to feel better about ourselves—and therefore a popular human activity—and gay men are remarkably good at it. So many of us survive childhood taunts that by the time we come of age we have developed fairly lethal claws of our own. We know how to hurt others before they can hurt us.
But when the AIDS pandemic began over 30 years ago, gay men learned that whatever cleverness we possessed was no match for a crisis that questioned nothing less than our existence on this earth. Churches said we were damned. Politicians wanted us quarantined.
Gay men prefer to remember the earliest days of AIDS as a heroic time, and there is no doubt that many of us behaved that way, but stigma also was a fearsome, daily aspect of our lives in the early 1980s. Heterosexual parents were not the only people disowning someone with an AIDS diagnosis. Gay men also were driven by ignorance and fear. We kicked out our sick roommates. We refused to give them manicures or cut their hair. We turned away from their sunken faces at the neighborhood bar, when they had the guts to show up at all.
Once the initial hysteria subsided and the virus and its routes of transmission were identified, stigma between gay men calmed somewhat, if only because there was so much work to be done to care for the dying. Our brothers with AIDS were not so much stigmatized as pitied for their loss of dignity and humiliating deaths. They were tragic victims, exalted as martyrs.
Until they weren't. With the advent of breakthrough treatment in 1996, the dying nearly stopped in its tracks. Patients got up from their deathbeds and rejoined the living. There were cheers all around. Within a few years, even the word "AIDS" had nearly disappeared from the gay lexicon.
Those former patients, and the many gay men with HIV to come after them, had no interest in playing tragedy, or in being wizened and terminal and predictable. They wanted to take their rightful places in our social scene, to date and fall in love, to enjoy the bars and the clubs and the house parties. They wanted to laugh and dance and live.
And fuck.
And that is when, in the deviously quiet way in which stigma operates, all hell broke loose. We built social fortresses to separate Us from Them. We didn't have to bother labeling one another because the disease did it for us, creating an HIV hierarchy that started with "positive" and "negative."
The more HIV treatments improved, the wider the viral divide became. Our mutual resentments and jealousies worsened. As the physical scars of AIDS faded—the skin lesions, the wasted faces—our anxiety level rose as HIV status became less apparent. You can just imagine the frustration of the discerning gay man, no longer capable of telling the positive from the negative. Where's the comfort of stigmatizing someone when you can't tell who they are?
Today, our attitudes about HIV and other gay men range from self-righteousness to outright contempt. From whatever our vantage point, we have shamed and stigmatized everyone else into a corner, and the result is a community in revolt against itself. We are a snake eating its tail.
It might be easy to doubt this gloomy view of the gay community. None of us like to believe ourselves guilty of treating "the other" badly. The only thing we admit for sure is that we have been mistreated and misunderstood. Our self-interest is telling.
Maybe the problem is that, beyond the convenient anonymity of online hookup sites or mobile apps, you don't usually see HIV stigma in all of its black-and-white ugliness. You don't hear its voice.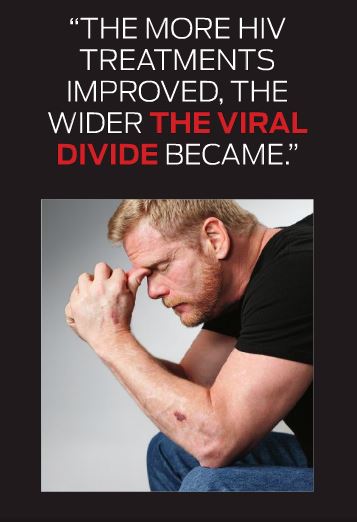 Listen closely to the ugly words of stigma. A special version even exists for the newly diagnosed.
Gay men who get infected today are out of their minds. They are the failed ones, the grave disappointments, the apathetic, the careless, the irresponsible. They spit upon the memories of our courageous dead. They have no respect for our history, for our monumental tragedy.
We might make motions to comfort them, but it is the kind of patronizing back-patting that we reserve for the truly stupid. We tell them they will be fine, really, and we don't look them in the eyes for very long. Our weary judgment shows.
Never mind that they are guilty of nothing more than being human, of being in love or getting drunk or trusting the wrong person or saying yes when they should have said no. Their weak excuses will be met with furrowed brows, and their dating life will wither. They will be marked and socially downgraded. They should be ashamed, and something inside us hopes that they are.
Do you hear it? Keep listening. There is so much more to say.
Before long, those newly diagnosed will join the promiscuous ranks of sexually active HIV-positive men. They are the unclean ones, the barebackers trolling the Internet, the murderers with tainted blood on their hands, the crystal meth addicts lounging in bathhouses with the door ajar. They are the unrepentant, the whores, the vile merchants of death.
Never mind that these men struggle to disclose their status, that they are routinely rejected socially and sexually, that their waning self-esteem is being strangled by our judgment, that sometimes their lives feel so forsaken they settle on whatever community will have them. The fact that stigma and depression often lead to escapist behavior is of no interest to us. We fear they could be having more sex than we are—hotter sex maybe—and the chance it might not be hurting anyone is infuriating. They should be ashamed, and we will make damn sure that they are.
The lowest rung of the gay HIV hierarchy is inhabited by older gay men who have lived with the virus for decades. They are the dependent ones, the sunken-faced humpbacks cashing their disability checks and wiling away their days sipping coffee in Café Disabilité. They are the aging invisibles and the sexually worthless.
They try to mask their feeble wasting with testosterone injections and protein shakes and facial fillers, but we know the truth. We see. They remind us of our darkest days, these unwelcome relics, and though we ignore them their haunting persists, in the daylight of the grocery store and the darkness of the bars. We avert our eyes and anticipate their extinction.
Never mind that they were among our earliest activists, our courageous long-term survivors, the men who scrawled words like "empowerment" and "advocacy" across the bureaucracies of their time. Forget that they have seen death in obscene quantity, that whatever joy they possess is a triumph of spirit. They should be ashamed, but we don't regard them with enough interest to care.
Do the words sound familiar at all? Do you hear the voice? It isn't nearly done.
Take a hard look at HIV-negative gay men. They are the superior ones, the corrupt morality police, the hypocrites, the gentlemen in waiting. Above all else they are the supremely lucky, because they can't possibly live by the crushing code of conduct they impose on the rest of us.
They reject us as damaged goods. They promote how "drug and disease free" they are. They publicly advertise their outdated HIV results. They tell us we would make better friends than sex partners and then they don't call again. They find clean, disease-free love with other, similarly superior men so they might have a life out of reach of the great unwashed.
Never mind that they have successfully avoided infection thus far, that they have buried friends and comforted lovers, that they withstand the unnerving ritual of HIV testing and worry about whether or not they will pass or fail. And please, pay no attention to the fact that they fear HIV stigma at least as much as positive men do, which is one compelling reason they hold tight to their negative status with such fervor.
None of their circumstances can excuse their indictment of the rest of us. We marvel at their lack of shame, and wonder bitterly if their attitudes might change if they became infected.
At least they don't suffer the same wrath as do HIV-negative men taking Truvada, the HIV medication used as a pre-exposure prophylaxis, or PrEP. They are the traitorous ones, thumbing their noses at their elevated negative status by intentionally dipping themselves in the viral soup of casual sex. They are obviously barebacking infected guys or they wouldn't be popping pills that blunt the consequences of being a poz-loving slut.
And God help those who don't admit they are infected and have sex with a negative person, because they are the criminal ones, the terrorists, the dangerous liars who must pay dearly for what they've done. They belong in jail and off the streets, like drug dealers and rapists.
Never mind that, for reasons we all well know, they can't always bring themselves to disclose, that they may use condoms, that they may be adherent to their meds and undetectable, and that no single case of an undetectable person transmitting the virus has ever been verified. Disregard the fact that conservative lawmakers and prosecutors are more than happy to exploit our thirst for vengeance and lock up some diseased fags who dare to have sex at all. Forget that during the first years of AIDS, when the virus reliably killed you, those who became infected took personal responsibility and called their doctors to start treatment and not the police to press charges.
That is the sound of stigma. It is bitter and rageful and terribly afraid. I can hear my own tones in it, like a voice in a chorus, when it says the words I would never admit to thinking. Do you hear your own?
Gay men have known since the AIDS pandemic began that empowerment is the antidote to stigma, that the more proactively we approach our health care and build support networks, the less stigmatized we feel. The answer lies in our refusal to be marked and shamed. But our own community challenges us at every turn.
Stigma operates exactly like the deadly virus we claim to oppose: It infects pieces of us and then turns those factions against the rest, until the entire body is weakened and vulnerable. We all know how that process ends.
That is what the gay community has become. We are AIDS itself.
When HIV disease is over—and some day it surely will be—our jubilation will be beyond all imagining. We will have finally put an end to the health crisis that has plagued us for generations, a crisis that polarized nearly everyone, most particularly us as gay men. And once the celebrations fade, another equally important moment will come.
We will take a look around at our friends and lovers on both sides of the viral divide—at all of our brothers whom we stigmatized for one reason or another—and our old judgments will be transformed to a deep regret. Hopefully, in that moment, a certain kind of grace will emerge. We will clearly see the deep, private wounds of HIV stigma, and we will finally allow that we are all simply and imperfectly human. And then everyone will have some explaining to do.
It wouldn't be too soon for that moment to happen now.
Mark
(This article originally appeared as a cover story in the June, 2013 issue of POZ Magazine but has never been posted on my blog until now. It remains one of my proudest moments as a writer. You can view my remarks about writing this piece, presented at the 2013 International Conference on Stigma, here. Photos: Jonathan Timmes Photography.)
Comments