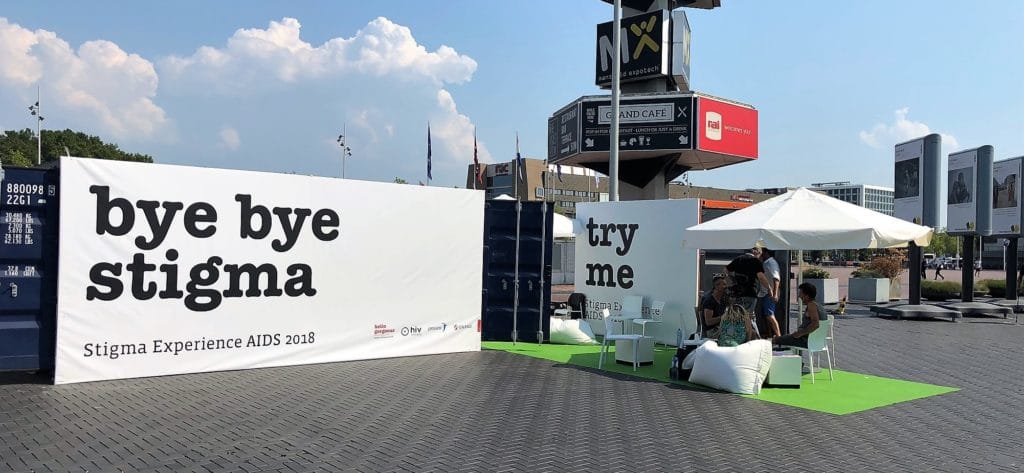 Remembering the moment in March of 1985 when I learned I was HIV positive is difficult. I speak and write about it often, but the actual emotions aren't easy to access. I know it was horrific because my brain tells me it was, but putting myself back into the mind of my 24-year-old self and then reliving that shocking slice of crisis has become, with the weight of so many years, more of an intellectual exercise.
Not anymore.
Outside of the convention center for the 2018 International AIDS Conference (AIDS2018) in Amsterdam this summer, sitting adrift on a massive pavilion, were a few large industrial storage containers draped with banners reading "Bye Bye Stigma: Stigma Experience AIDS 2018."
As I exited the conference on the very last day, I stopped in to chat with the organizers. Nothing could have prepared me for the experience they had in mind.
After a short interview with a volunteer, I was led inside the steel container into a sterile white room. A "physician" in a lab coat greeted me briskly and began to go over my HIV test results. I realized I was suddenly part of a kind of theatrical event, a play between me and one other person, all alone in a claustrophobic room. The isolation I felt allowed me to emotionally surrender to the experience.
The physician coldly diagnosed me as HIV positive and then dumped a mountain of clinical information – including instructions to begin telling my family and to report my new status to my sexual partners – and then ushered me into a nearly pitch-black room, where voices began speaking so close to my ears that I cried out in fright.
"How could this happen?" one asked me. "Oh, Mark…" another whispered, "What will your friends say? Did you give it to someone…?" Their dreadful remarks cut me to the bone.
I knew it wasn't real, but the intimacy of it was too upsetting to ignore. I found myself back in 1985, hearing the voice of the nurse who delivered my test results and seeing my brief life flashing before me. I felt the existential dread of my own mortality and the shame of being marked as unclean.
Finally, a third small room opened, bathed in warm light, and a young man greeted me and smiled. He said he was HIV positive too, and that he knew how I felt. I believed him. I practically rushed him for a hug. I was shaking. He assured me that his life was better now, meaningful even, and then he gently guided me out into the stark daylight of the pavilion.
Ladies and gentlemen, I was a mess. It doesn't matter if you were diagnosed thirty years ago or thirty minutes ago. It is a shock to the system that changes you profoundly and forever.
It taught me that, while I might have long ago processed my diagnosis and now speak with confidence and joy about living with HIV, there was a part of me that was lost on that day. The Stigma Experience renewed my empathy for those who receive a positive test result – and even those who test negative but must bear the suspense of those moments again and again.
The Stigma Experience was conceived by Leo Schenk and Stefan Silvestri of hello, gorgeous magazine, a publication in the Netherlands about living with HIV, and they partnered with the Dutch Association of People Living with HIV.
Leo and Stefan wanted to create the immersive feelings of HIV stigma, and although they might have produced something for a large audience, they insisted it be designed as an intimate experience for one person at a time.
At the Amsterdam conference, among the many thousands of attendees, less than one hundred people stepped into that storage container.
I still dream of it.
Mark
Comments