National HIV Testing Day is next Thursday, June 27, and there is no better time to praise the many HIV negative gay men who are making smart decisions to remain that way. Hooray, HIV negative gay men! Let's show some love for our negative brothers, who's with me?
Oh, Lord. Now I've done it. By showing support for negative guys, I am clearly demeaning HIV positive men. But wait! I'm HIV positive myself. So, that must mean I'm being sarcastic in my support of negative guys, because there's so little room for sincerity and goodwill in the chasm between HIV positive and negative gay men. That space is already so crowded, what with all the stigma and simmering resentments.
Some days I just want to go back to bed.
When I produced the quick video above three years ago, my intent was to celebrate the accomplishment of any gay man who is sexually active and has managed to remain HIV negative. It was produced by myself and my gay, HIV negative older brother to spread a little love across the viral divide and encourage HIV testing. That was it. No other agenda.
While initial reactions to the posting were quite good from both HIV positive and negative people, the pendulum swung quickly. Comments began to label my overly theatrical style (ouch!) as sarcastic. Some found the message demeaning to positive people. Some found the message demeaning to negative people. My goodwill became shrouded in a fog of distrust and what-about-me?–ism.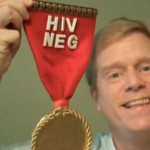 You can watch and decide for yourself (now that I've tainted the thing, darn it). But I stand by my sincere intentions to offer a hearty pat on the back to HIV negative men and support for their personal set of challenges and anxieties. I hope you'll share it with an HIV negative friend you care about (the direct YouTube link is here.)
I would do it differently today, however. At one point in the video, I suggest that negative guys might like to have unprotected sex, but that they shouldn't "do that." That's an outdated and judgmental mandate. Today, with new tools such as pre-exposure prophylactic treatments, and new understandings about what it means to be HIV positive and undetectable, what constitutes "safer sex" is a much broader list than simply whether or not you engage in sex with a condom or not.
Or, as I like to say, your mother liked it bareback.
Oops. I stepped in it again. Release the Kracken!
Mark
—————————————————————————
PLUS…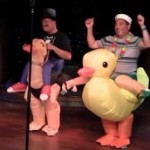 The annual HIV Cruise Retreat is in its last stages of booking, and it will be the largest group of HIV positive men and women the cruise has ever had aboard. Even though the cruise does not sail until early November, several cabin categories have sold out. If this is something you are considering I would urge you to contact Design Cruise Travel NOW for information. I have the pleasure of being the MC of this trip again this year, but I receive no compensation other than a cheaper rate on my cabin. I do it happily because I am in favor of anything that builds community among people living with HIV. Check out my video blog posting from last year!
Comments