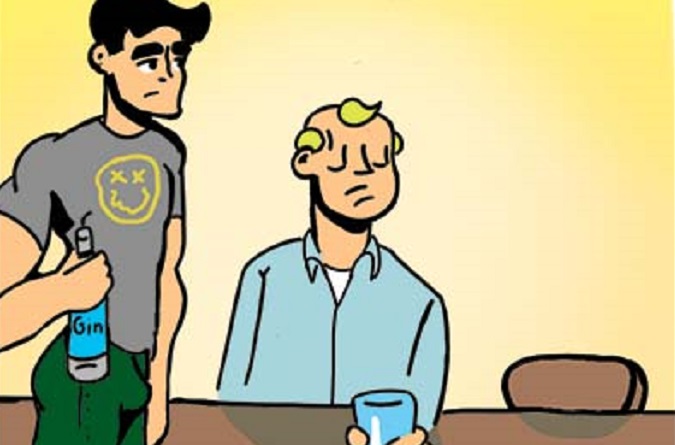 Local Gay Bar is a super cute comic strip drawn by an artist known as Adam. The strip is usually filled with colorful go-go boys, handsome bartenders and the kind of bulges we usually only find in the work of a generous illustrator.
I was surprised, then, that the strip tagged me in a recent post on Instagram. The six panels tell the story of a couple meeting back in the day and then spending the years together before one of them disappears from his place at the bar beside his partner, who finds comfort from a friendly drag queen. Any gay man of a certain age knows that story pretty well.
The Instagram post includes a quote from my essay, "Once, When We Were Heroes," about the deadliest years of the AIDS pandemic.
Adam sent me an email to tell me something more about how this particular strip came about, and why he included the quote.
When I tested positive years ago, I discovered your writing, and it was a tremendous source of empowerment for me. In particular, "Once When We Were Heroes," and "Stop Bludgeoning Young Gay Men with Our AIDS Tragedy" really struck me. Your clarity and fearlessness influenced how I began moving ahead as a newly positive gay guy.

A few weeks ago I published a new strip in my Local Gay Bar comic, this one in particular touched on the AIDS epidemic, and when I posted it to social media I included your quote from the heroes essay: "The truth is simply this, and no one will convince me otherwise: My most courageous self, the best man that I'll ever be, lived more than two decades ago during the first years of a horrific plague."

I was still a kid living at home in the suburbs when the AIDS crisis was raging, so your quote didn't resonate with me because I shared that same experience. Instead, it actually haunted me because it made me wonder how I would have acted had I been, say, living in Greenwich Village in the late 80's.

Would I have been brave, too? Or would I have been a coward? Would I have been a strong enough friend or boyfriend? I don't know. As much I as hope I would have stepped up to the plate, the truth is I don't know how I would have reacted, and that sort of scares me. And yet, it fills me with a sort of respect for all you guys who were there, and did what needed to be done under those circumstances.
Adam loves gay bars, even if they might be vanishing in the age of hook-up apps. His strip reminds us that there is community waiting for us beyond our cell phones. There are still actual places where real-life people welcome each other, flirt the old-fashioned way, and even stick together when times are tough.
Local Gay Bar has a web site, but it lives mostly on social media, primarily on Instagram. Adam, who lives in New Orleans, was thrilled when Ambush Magazine there began to publish his comic strip. "I grew up reading Marvel comics," Adam told me, "so to see your own comic in print is really a cool thing."
Thanks, Adam. It's nice when a younger gay takes an interest in our community history – and then shares it.
Mark
Comments