Posts Tagged 'physical'
Wednesday, April 27th, 2016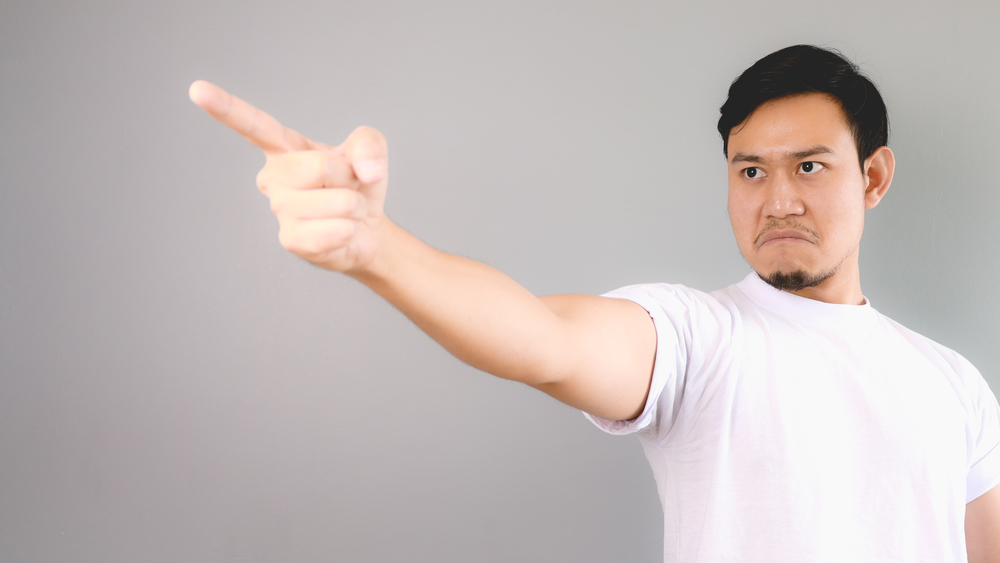 The college student had real concern in his eyes when he asked me a question during a recent presentation at American University. "Isn't it true," he asked, "that the HIV epidemic continues because people who know they are positive keep infecting other people?"
It is a question I have heard before, in one way or another, and it always makes me cringe. Not only does it thrust all culpability onto those living with HIV, it also promotes a narrative that being infected with HIV chemically changes our moral fiber and transforms us into abusive monsters. It is the kind of characterization that is driving HIV criminalization laws and prosecutions, which are jailing people with HIV for the offense of having sex at all, even when we protect our partners.
"That is simply wrong," I responded to the student. "In fact, the largest amount of new infections is due to people who don't know they are positive, who are operating on outdated HIV test results, or who haven't tested at all. They are having sex while the HIV virus is raging in their bodies. They are the more dangerous group."
There are few things more satisfying than projecting blame onto other people, especially when you can sling it across the chasm that exists between those who of us who actually know we are HIV positive and those who do not. There is such comfort in pointing out that nope, it isn't me, it's that guy over there.
And shouldn't people know that those who haven't bothered to get tested lately are responsible for more infections? It's a message advocates like myself have been delivering for years in an attempt to increase HIV testing and, consciously or not, subtly redirect blame.
Except that my answer to that college student isn't true. Not anymore. New epidemiological facts, first brought to my attention last month by Paul Kawata of the National Minority AIDS Council (NMAC), completely discredit my long-held beliefs.
More new HIV infections are now caused by people who know they are positive. That's the truth. And by a wide margin.
Here comes two brief paragraphs of wonky epidemiology. Hang in there. It's very interesting.
A December, 2015, article in the New England Journal of Medicine (NEJM) using data from 2012 shows that a whopping 69% of new infections can be attributed to people who have already tested positive for HIV but are not in care or not receiving adequate care, and only 23% of new HIV infections are due to those who do not know they are positive (a small, single-digit percentage of new infections are attributable to people who are in regular care but are not necessarily undetectable).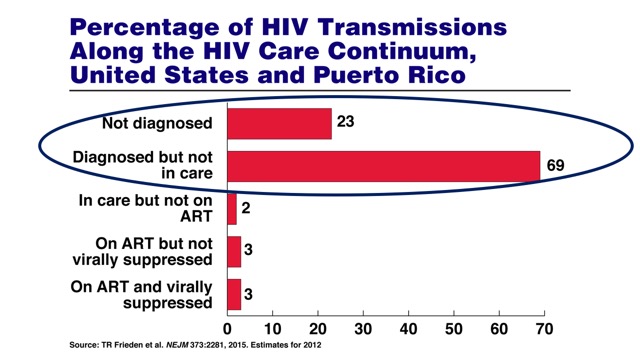 This, in contrast to a study published earlier last year in the Journal of the American Medical Association (JAMA) but using data from 2009, which states that people who know they are positive are less likely to transmit HIV than those who don't know they are positive.
So, what happened between 2009 and 2012 that produced such conflicting results? Dr. Jonathan Mermin, the Director of the National Center for HIV/AIDS at the Centers for Disease Control (CDC), happens to have co-authored both studies in question.
"Saying the epidemic is largely driven by people who think they are negative is no longer a true statement," Dr. Mermin told me. "And this is what has changed over time: The United States is one of the countries where a high percentage of people know their status. We're up to 87%."
In other words, there is now a much larger pool of people who know they are positive, due to the success of HIV testing efforts. And from this larger pool comes the vast majority of new HIV infections.
"The reason these figures have changed," said Dr. Mermin, "is because we know more of the people who are positive. The challenge now is to get those people into regular care."
Since only 30% of those who know they are positive are virally suppressed – a number that has nevertheless grown in recent years – Dr. Mermin strongly believes that the biggest push both clinically and in terms of CDC budget dollars should be devoted to getting people with HIV into care, on treatment, and rendered undetectable (also known as "treatment as prevention").
"Treatment and prevention are now intertwined" said Dr. Mermin. "You can't think of one without the other. We have encouraged our grantees to think about that continuum of care, to think about getting people into care, anti-retroviral therapy, while continuing to help people know the facts about transmission. That comprehensive package has been found to be effective."
The clear evidence after all of this number crunching makes my longstanding habit of assigning blame to "those other people" not only ignorant but ludicrous. There are plenty of HIV infections to go around. This isn't a contest for the title of Most Likely to Infect Someone.
Funny how my attitude becomes more generous, when it is now people who know they have HIV, like me, who are doing the most infecting.
We also can't ignore another important statistic. Only 30% of the HIV positive people in the United States are undetectable, which puts an asterisk on another popular message among HIV advocates: that it is safer to have sex with a person who is positive, in treatment, and undetectable.
That is literally true, yes, but it includes a big mouthful of important qualifiers – not all of which can be properly vetted in every risky situation. Hopeful assumptions are not a prevention strategy.
While I applaud the gay dating apps that have added profile options for HIV status that include "undetectable" and "PrEP," the truth behind these personal factoids should be weighed at least as discerningly as facts presented about, say, their age. Or about their other personal attributes. Ahem.
The growing list of status labels also fractures our community even further, whittling us into subsets within subsets. Suddenly, the new personal failure isn't simply being HIV positive, but now includes not being undetectable. This doesn't begin to address the many social determinants that block people who know they are positive from achieving viral suppression: lack of access and financial resources, HIV stigma, an unwillingness to take medications, having failed treatment regimens, or simply being without the wherewithal to locate an HIV clinic or physician and jump through the hoops required to enter the system.
All of the finger pointing in which I have admittedly participated is a useless exercise. By focusing on the relative safety of someone else we renounce our own responsibility. That is why the arrival of pre-exposure prophylaxis changes so much of the game. PrEP puts HIV negative people in charge of their own protection, without having to make judgments or assumptions about others.
But, until PrEP access and education better reaches communities most at risk, many people will still look outward, relying on guesswork and presumptions about who is a danger to them and who is not. As I have recently learned, sometimes we get it very wrong.
It took surprising new research on current HIV infection rates to get me off my high horse and take me back to basics. We're all in this together. Negative people at risk should maintain HIV testing. Those who test positive should investigate treatment. Barriers should be removed.
And of course, taking action to protect ourselves is our responsibility. It is ultimately ours, and ours alone.
Mark
And, under the banner of "Why Mark Avoids Writing Research-Based Essays," this counterpoint from the always insightful Londoner Gus Cairns, editor of AIDSmap. Gus references an AIDSmap article, "Model suggests there are fewer people with HIV in the US than thought, and more of them on therapy," which reads in part:
A study comparing recorded diagnoses of HIV with subsequent records of viral load and CD4 tests suggests that the number of people with HIV in the US could have been overestimated by as much as 45% – and the proportion who are on antiretroviral therapy (ART) with undetectable viral loads could have been underestimated by as much as 50%. There could be a few as 820,000 people with HIV in the US compared with the normally accepted figure of 1.2 million – and up to 55% of those could be on ART and virally suppressed, compared with the most commonly quoted figure of 30%.
PLUS…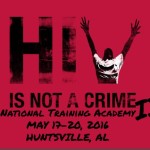 The first-ever HIV IS NOT A CRIME conference held last year in Grinnell, Iowa, was the most inspiring conference I have attended in years. Advocates of every stripe were laser-focused on what I consider to be the defining moral issue of our time in the HIV arena.
And now, the second conference is about to be held, this time as the "HIV Is Not A Crime Training Academy," on May 17-20 in Huntsville, Alabama. You gotta love how these committed advocates choose locations to meet where criminalization is either being successfully reformed (Iowa) or where prosecutions continue (the south). I recommend you attend if you possibly can, or at least follow the event's Facebook page or the #HIVisNotACrime hashtag on social media. If you would like to promote criminalization reform, check out their handy social media toolkit for sample tweets and fabulous artwork.
Tags: advocacy, criminalization, culture, gay, hiv, physical, physician, PrEP, research, serosorting, Sexuality, stigma, testing
Posted in Gay Life, Living with HIV/AIDS, My Fabulous Disease, News, Prevention and Policy | 2 Comments »
Tuesday, April 12th, 2016
Stigma is insidiously quiet. It is conjured in the mind, born of discomfort and fear, and then it is projected at "the other" among us. It judges them and isolates them. And it happens without a sound.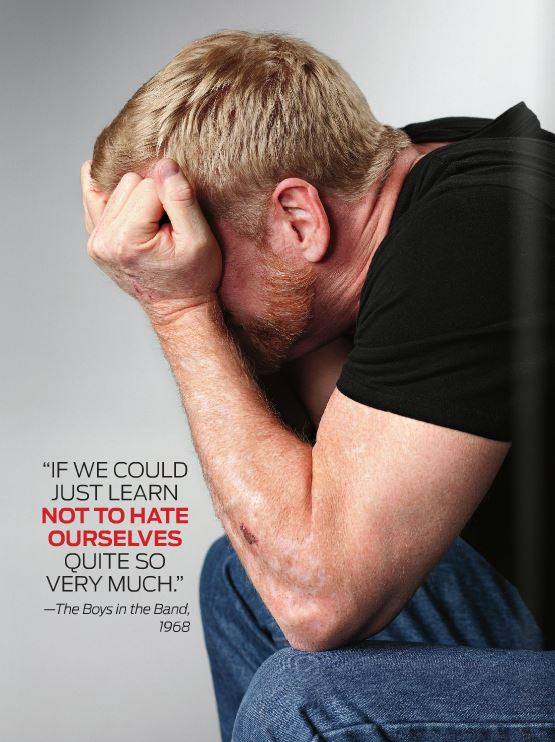 Stigma lets us take comfort in seeing things in others about which, we believe, they must be ashamed. It is a lazy way to feel better about ourselves—and therefore a popular human activity—and gay men are remarkably good at it. So many of us survive childhood taunts that by the time we come of age we have developed fairly lethal claws of our own. We know how to hurt others before they can hurt us.
But when the AIDS pandemic began over 30 years ago, gay men learned that whatever cleverness we possessed was no match for a crisis that questioned nothing less than our existence on this earth. Churches said we were damned. Politicians wanted us quarantined.
Gay men prefer to remember the earliest days of AIDS as a heroic time, and there is no doubt that many of us behaved that way, but stigma also was a fearsome, daily aspect of our lives in the early 1980s. Heterosexual parents were not the only people disowning someone with an AIDS diagnosis. Gay men also were driven by ignorance and fear. We kicked out our sick roommates. We refused to give them manicures or cut their hair. We turned away from their sunken faces at the neighborhood bar, when they had the guts to show up at all.
Once the initial hysteria subsided and the virus and its routes of transmission were identified, stigma between gay men calmed somewhat, if only because there was so much work to be done to care for the dying. Our brothers with AIDS were not so much stigmatized as pitied for their loss of dignity and humiliating deaths. They were tragic victims, exalted as martyrs.
Until they weren't. With the advent of breakthrough treatment in 1996, the dying nearly stopped in its tracks. Patients got up from their deathbeds and rejoined the living. There were cheers all around. Within a few years, even the word "AIDS" had nearly disappeared from the gay lexicon.
Those former patients, and the many gay men with HIV to come after them, had no interest in playing tragedy, or in being wizened and terminal and predictable. They wanted to take their rightful places in our social scene, to date and fall in love, to enjoy the bars and the clubs and the house parties. They wanted to laugh and dance and live.
And fuck.
And that is when, in the deviously quiet way in which stigma operates, all hell broke loose. We built social fortresses to separate Us from Them. We didn't have to bother labeling one another because the disease did it for us, creating an HIV hierarchy that started with "positive" and "negative."
The more HIV treatments improved, the wider the viral divide became. Our mutual resentments and jealousies worsened. As the physical scars of AIDS faded—the skin lesions, the wasted faces—our anxiety level rose as HIV status became less apparent. You can just imagine the frustration of the discerning gay man, no longer capable of telling the positive from the negative. Where's the comfort of stigmatizing someone when you can't tell who they are?
Today, our attitudes about HIV and other gay men range from self-righteousness to outright contempt. From whatever our vantage point, we have shamed and stigmatized everyone else into a corner, and the result is a community in revolt against itself. We are a snake eating its tail.
It might be easy to doubt this gloomy view of the gay community. None of us like to believe ourselves guilty of treating "the other" badly. The only thing we admit for sure is that we have been mistreated and misunderstood. Our self-interest is telling.
Maybe the problem is that, beyond the convenient anonymity of online hookup sites or mobile apps, you don't usually see HIV stigma in all of its black-and-white ugliness. You don't hear its voice.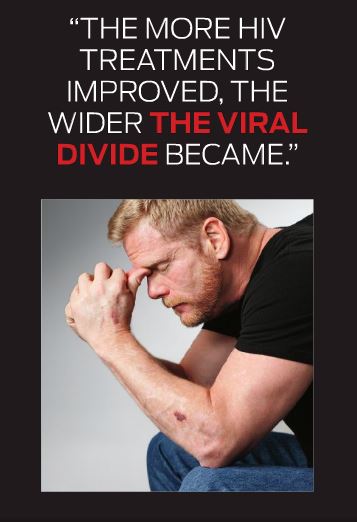 Listen closely to the ugly words of stigma. A special version even exists for the newly diagnosed.
Gay men who get infected today are out of their minds. They are the failed ones, the grave disappointments, the apathetic, the careless, the irresponsible. They spit upon the memories of our courageous dead. They have no respect for our history, for our monumental tragedy.
We might make motions to comfort them, but it is the kind of patronizing back-patting that we reserve for the truly stupid. We tell them they will be fine, really, and we don't look them in the eyes for very long. Our weary judgment shows.
Never mind that they are guilty of nothing more than being human, of being in love or getting drunk or trusting the wrong person or saying yes when they should have said no. Their weak excuses will be met with furrowed brows, and their dating life will wither. They will be marked and socially downgraded. They should be ashamed, and something inside us hopes that they are.
Do you hear it? Keep listening. There is so much more to say.
Before long, those newly diagnosed will join the promiscuous ranks of sexually active HIV-positive men. They are the unclean ones, the barebackers trolling the Internet, the murderers with tainted blood on their hands, the crystal meth addicts lounging in bathhouses with the door ajar. They are the unrepentant, the whores, the vile merchants of death.
Never mind that these men struggle to disclose their status, that they are routinely rejected socially and sexually, that their waning self-esteem is being strangled by our judgment, that sometimes their lives feel so forsaken they settle on whatever community will have them. The fact that stigma and depression often lead to escapist behavior is of no interest to us. We fear they could be having more sex than we are—hotter sex maybe—and the chance it might not be hurting anyone is infuriating. They should be ashamed, and we will make damn sure that they are.
The lowest rung of the gay HIV hierarchy is inhabited by older gay men who have lived with the virus for decades. They are the dependent ones, the sunken-faced humpbacks cashing their disability checks and wiling away their days sipping coffee in Café Disabilité. They are the aging invisibles and the sexually worthless.
They try to mask their feeble wasting with testosterone injections and protein shakes and facial fillers, but we know the truth. We see. They remind us of our darkest days, these unwelcome relics, and though we ignore them their haunting persists, in the daylight of the grocery store and the darkness of the bars. We avert our eyes and anticipate their extinction.
Never mind that they were among our earliest activists, our courageous long-term survivors, the men who scrawled words like "empowerment" and "advocacy" across the bureaucracies of their time. Forget that they have seen death in obscene quantity, that whatever joy they possess is a triumph of spirit. They should be ashamed, but we don't regard them with enough interest to care.
Do the words sound familiar at all? Do you hear the voice? It isn't nearly done.
Take a hard look at HIV-negative gay men. They are the superior ones, the corrupt morality police, the hypocrites, the gentlemen in waiting. Above all else they are the supremely lucky, because they can't possibly live by the crushing code of conduct they impose on the rest of us.
They reject us as damaged goods. They promote how "drug and disease free" they are. They publicly advertise their outdated HIV results. They tell us we would make better friends than sex partners and then they don't call again. They find clean, disease-free love with other, similarly superior men so they might have a life out of reach of the great unwashed.
Never mind that they have successfully avoided infection thus far, that they have buried friends and comforted lovers, that they withstand the unnerving ritual of HIV testing and worry about whether or not they will pass or fail. And please, pay no attention to the fact that they fear HIV stigma at least as much as positive men do, which is one compelling reason they hold tight to their negative status with such fervor.
None of their circumstances can excuse their indictment of the rest of us. We marvel at their lack of shame, and wonder bitterly if their attitudes might change if they became infected.
At least they don't suffer the same wrath as do HIV-negative men taking Truvada, the HIV medication used as a pre-exposure prophylaxis, or PrEP. They are the traitorous ones, thumbing their noses at their elevated negative status by intentionally dipping themselves in the viral soup of casual sex. They are obviously barebacking infected guys or they wouldn't be popping pills that blunt the consequences of being a poz-loving slut.
And God help those who don't admit they are infected and have sex with a negative person, because they are the criminal ones, the terrorists, the dangerous liars who must pay dearly for what they've done. They belong in jail and off the streets, like drug dealers and rapists.
Never mind that, for reasons we all well know, they can't always bring themselves to disclose, that they may use condoms, that they may be adherent to their meds and undetectable, and that no single case of an undetectable person transmitting the virus has ever been verified. Disregard the fact that conservative lawmakers and prosecutors are more than happy to exploit our thirst for vengeance and lock up some diseased fags who dare to have sex at all. Forget that during the first years of AIDS, when the virus reliably killed you, those who became infected took personal responsibility and called their doctors to start treatment and not the police to press charges.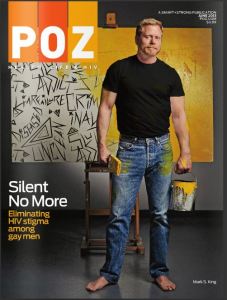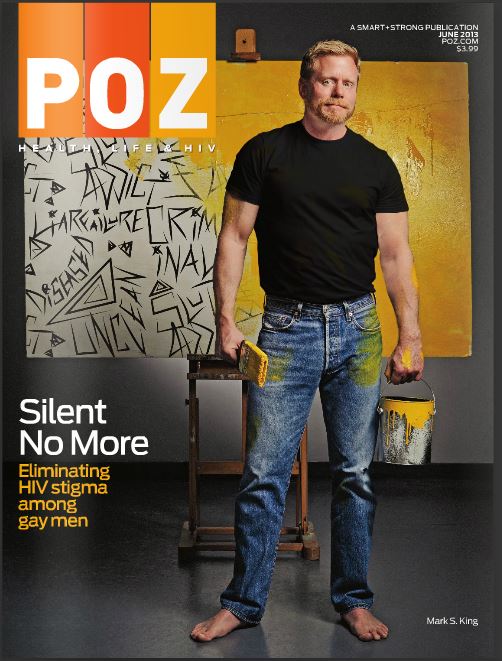 That is the sound of stigma. It is bitter and rageful and terribly afraid. I can hear my own tones in it, like a voice in a chorus, when it says the words I would never admit to thinking. Do you hear your own?
Gay men have known since the AIDS pandemic began that empowerment is the antidote to stigma, that the more proactively we approach our health care and build support networks, the less stigmatized we feel. The answer lies in our refusal to be marked and shamed. But our own community challenges us at every turn.
Stigma operates exactly like the deadly virus we claim to oppose: It infects pieces of us and then turns those factions against the rest, until the entire body is weakened and vulnerable. We all know how that process ends.
That is what the gay community has become. We are AIDS itself.
When HIV disease is over—and some day it surely will be—our jubilation will be beyond all imagining. We will have finally put an end to the health crisis that has plagued us for generations, a crisis that polarized nearly everyone, most particularly us as gay men. And once the celebrations fade, another equally important moment will come.
We will take a look around at our friends and lovers on both sides of the viral divide—at all of our brothers whom we stigmatized for one reason or another—and our old judgments will be transformed to a deep regret. Hopefully, in that moment, a certain kind of grace will emerge. We will clearly see the deep, private wounds of HIV stigma, and we will finally allow that we are all simply and imperfectly human. And then everyone will have some explaining to do.
It wouldn't be too soon for that moment to happen now.
Mark
(This article originally appeared as a cover story in the June, 2013 issue of POZ Magazine but has never been posted on my blog until now. It remains one of my proudest moments as a writer. You can view my remarks about writing this piece, presented at the 2013 International Conference on Stigma, here. Photos: Jonathan Timmes Photography.)
Tags: advocacy, Aging, aids, barebacking, culture, family, gay, gratitude, help others, hiv, physical, physician, politics, PrEP, recovery, Recreation, serosorting, Sexuality, testing
Posted in Gay Life, Living with HIV/AIDS, Meth and Recovery, My Fabulous Disease, Prevention and Policy | 4 Comments »
Monday, April 4th, 2016
When the health of my close friend Ron began to rapidly decline in 1987, he made the decision to leave Los Angeles to return home to rural New York to be near his family. "Just long enough to feel a little better," he told me at the time. It was a common trajectory in those days, usually undertaken not long after delivering the news to your family that you were gay and oh, by the way, had AIDS.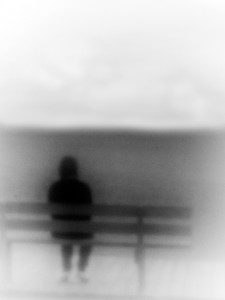 I spent an afternoon helping Ron pack his things for the trip home. The chore was fraught with emotion, mortal dread, and the realization that my old friend was swiftly losing his mind.
"Mark?" Ron called from the bedroom. "Did you get a lot of boxes? We're going to need a lot, I think." I was in the living room, sealing the music and video carton.
"Yes, Ron. I told you. I'm going to take all this to the mailing place right down the street. They'll mail it home for you, okay?" I walked into the bedroom.
He sat on the bed, staring at stacks of clothes on the floor around him. They would all be sent along, he had insisted. Clothes for every season. It felt sadly optimistic. His athletic body was shockingly diminished, deflated into near nothingness.
"We need a lot of boxes," he repeated.  "You know what, Mark?"
I took a cardboard garment box that was leaning against a wall and began folding it into place.
"What, Ron?" I grabbed packing tape and sealed the flaps at one end. Ron sat staring at the floor, as if he were napping with his eyes open.
"Hey, Ron, what is it?" I called to him. He didn't respond.
I knelt by his bed, collecting a stack of clothes, and looked into his face.  His features held no expression, except for his eyes, which darted back and forth in a sort of panic.
"Ron? Are you doing okay?" I squeezed his knee.  "Ron."
Don't you dare have some sort of seizure on me, I thought.  That I could not handle, buddy. I felt a flash of anger for agreeing to help him, for having to be the sole remaining companion, the one not driven away by the hospital visits and the disfiguring lesions, the one who had to carry out this depressing task for him.  And then, of course, I felt ashamed.
Who said you wouldn't have to get your hands dirty, Mark?  There's a consequence for inexplicably remaining alive while AIDS punctures your social circle. There's a certain result from being able to function normally and pack boxes while your friends aren't so fortunate. There's a price for your continued good health. And you're looking at it.
"Ron?" I tried again. "Ron, can you understand me?"
He turned his face to mine. "Of course I understand you, Mark. You think I'm nuts?"
I was startled. "Well no, Ron, but you were – "
"I know everything that's going on here, Mark!" He stood up a little too quickly, caught his balance, and began to pace around the piles of shirts and underwear. "I know that I am packing things up here, and you are helping me because I can't fucking bend over without having some kind of stroke. Thank you, by the way. I know that everyone thinks that this is it for me, and that my sister is going to freak out when she sees me." He turned to me. "I know that I don't need my Jane Fonda workout tapes anymore, do I, Mark?"
I couldn't find words. He shuffled to the sink in the open bathroom.  I lowered an armful of clothing into the box.
"There are more towels in here," he said. "Give them to that old woman next door. Maybe give her this bathroom stuff too, this soap dish and all. She's old. Maybe she can use this shit."
His burst of exertion suddenly caught up with him and his body slumped. He held on to the counter top with both hands. I watched his face in the mirror above the sink.
"No, I'm not crazy yet," he said in a tired voice. He bowed his head, catching his breath.
I couldn't know what would await him when he made the move home.  I had no idea that his panicked parents would soon place my 26-year-old friend in a nursing home, the only available option in his small town, or that Ron's fate would include losing what was left of his mental faculties in a recreation room filled with the elderly. There was no way for me to predict that the increasingly rare phone calls from his sister would include the fact that if his mother had to witness Ron laying in his own feces one more time the poor woman would go quite mad.
Ron lifted his head and caught my gaze in the mirror. I was wrestling with the muscles in my face to keep from crying. His look suggested that it was he who felt sympathy. For me.
"I have to leave for a while, Ron," I said. "Lesley went into intensive care this morning and I promised I would get over there to see him."
Lesley, another close friend of mine, one who Ron didn't particularly like. And now, the two were competing for the time and affections of our social circle as they raced to their tragic finish.
I stood up and began to gather my things to leave.
"This is just like Lesley," he said suddenly.
I stopped and looked back at him.
"It figures he'd wanna die now," he said. "This is just like him."
Artwork courtesy of Alexander Binder. 
(AIDS Dementia Complex [ARD] is associated with late-stage AIDS and was especially common in the United States during the early days of the crisis when there were no effective medications. It is believed to be the result of various factors that include a ruined immune system, medications, and infections such as toxoplasmosis.)
PLUS…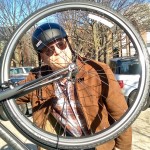 For the very first time on this blog, I am asking for a donation — but not for me, for Moveable Feast, the meal delivery HIV/AIDS agency in Baltimore for whom I am participating in Ride for the Feast, a 140-mile bike ride (!). Would you consider making a donation of any amount? It only takes two minutes, and you can make your tax-deductible contribution on my Ride for the Feast page here.  If you have ever found my writing or advocacy helpful, this would be a lovely way to show some love.  Thanks, my friends.
Tags: A Place Like This, Aging, aids, family, gay, hiv, physical
Posted in Family and Friends, Living with HIV/AIDS, My Fabulous Disease | 2 Comments »
Wednesday, November 25th, 2015
A variety of gay men spill their guts about their lives and HIV diagnosis. They are bracingly honest, sexually explicit, heartbreaking and hilarious. They are the men of The Infection Monologues, a theatrical event getting a 10th Anniversary staged reading at the Human Rights Campaign this Wednesday, December 2, 2015.
The event is FREE, with food and drinks starting at 6:00pm and the performance at 7:00pm. You can RSVP right here.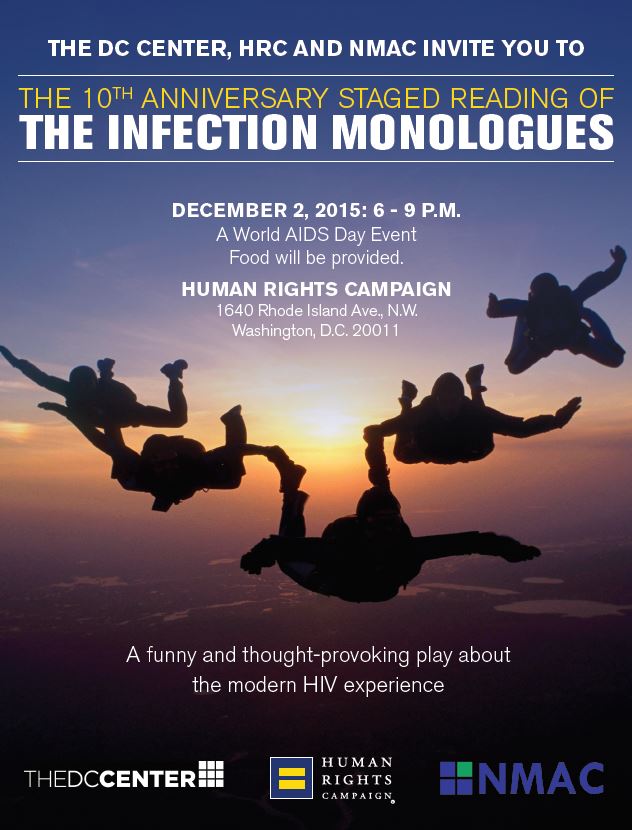 I will be reading the role of Jack, the "older" member of the group of characters. I remember my ingénue days on stage as if they were yesterday, but I'll save my existential crisis for another time.
Created by the enormously influential gay anthropologist Eric Rofes (Reviving the Tribe), and written by Rofes and writer and advocate Alex Garner, The Infection Monologues provides a snapshot of the lives of gay men living in the epicenter of the crisis, and is based on hours of real-life interviews.
Eric Rofes died far too soon, taken by a heart attack in 2006 not long after The Infection Monologues premiered. Alex Garner has continued a respected career as a journalist and HIV advocate, currently leading a national PrEP education effort for the National Minority AIDS Council.
Alex and I had a chat about the play, the politics of barebacking, gay "respectability," and putting gay sex back into the social agenda.
First of all, Alex, congrats on having this work of art revived after ten years.
Thanks, Mark. We are excited to be able to breathe life into this script again. I always learn something new when I reread it.
Can I give a shout-out to the late, great, gay anthropologist Eric Rofes, with whom you wrote the play? His book Reviving the Tribe changed my advocacy forever. I recently read it again.
I can't say enough great things about Eric Rofes. None of this would have been possible without his insight and vision. His impact is ongoing and his books changed me, too.
I invited Eric to lead a gay men's town hall forum in Atlanta in the mid-1990's. He was the first person I knew to say publicly that bareback sex was critical to his sexual experience. He said it that night, and it was like a bomb went off in the auditorium. I thought the attendees would riot.
Eric was ahead of his time but such a needed voice about gay sex and gay men's health. Those early years of the bareback debate were so raw and emotional — no pun intended.
I'm wondering if the themes in The Infection Monologues have remain constant, or if we've seen any progress at all…
The themes remain constant in so many ways but the world has changed drastically. The themes of stigma, disclosure, dating/relationships, and sex are just as relevant and compelling today but scientific advancements — treatment as prevention and PrEP — have radically changed the landscape.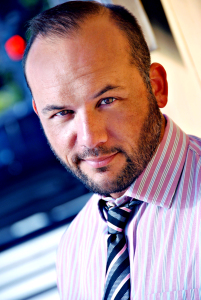 Does it feel like something is missing not talking about PrEP, then? I think the stigma underscoring PrEP among gay men has really always been there.
I don't think it feels like something is missing. I think it feels like a specific moment in time. The more things changes the more things stay the same. Much of the stigma associated with PrEP is the stigma associated with condomless sex. The bareback debate has simply evolved because of PrEP and unfortunately some PrEP users utilize PrEP as their shield of respectability: "I'm responsible" or "I'm protected so it's ok when I bareback." I have zero interest in respectability politics.
The voices in The Infection Monologues are such complete human beings. Funny, flawed, horny, scared. Tell me the process of how those voices came to be.
Eric was a great researcher and he conducted initial interviews of men who seroconverted after 2000. We used that research, as well as my own lived experience to create the three core characters. The additional characters were developed from writers in Los Angeles who drew from their lived experiences.
I'm all about telling the story of what happened to us — and what continues to happen. But these days it feels like so many of our wounds in the gay community are self-inflicted. Is that a fair observation?
I don't think that is a fair observation. I don't like that term. So much of our struggles are still institutionalized, whether it's around homophobia and stigma, poverty, transphobia and sexism, lack of education, religion, etc. I believe we haven't focused enough on our resiliency. As a community we endured the worst epidemic in modern history yet the lessons from that seem to be unknown. How did we survive? How did we find community, support, hope? How did we lose or find our humanity and how did we decide they were not going to destroy us. Ours is such a struggle of resistance and I think much of that has been understood simply in the modern marriage equality context.
Some advocates draw a straight line from the AIDS crisis to marriage equality. Do you agree?
I do see a straight line but not necessarily in the same way. The advent of anti-retrovirals allowed us to be healthy, presentable, and respectable. The movement could drop the messy, icky part and the part dealing with our sex, and focus on love and respectability. Strategically it was a brilliant move, but the impact was a desexualized movement. We now have the opportunity to make sex, pleasure and intimacy a top priority of our lives and our politics.
In my everyday life, I'm often torn between wanting to "tell the story" at every opportunity of what happened to us, and thinking I should just shut up already. Something about the trauma we experienced comes back to me, in some way, every damn day. So of course, the choice is to keep talking.
Who are we if not a collection of stories? That is art at its core and for those of us who have been marginalized, stories are a way to exert our humanity.
I'm honored I get to read the role of the "older" gay guy in the play. Actually, I'm actually older than the older gay character I am reading. Don't get me started. I'll use concealer that night.
(laughs) The "older" gay man is a very important perspective in the epidemic especially because he seroconverted after having lived through the war years. So much great complex emotion there.
Congratulations, Alex. It's nice having a dialogue about the monologues.
Thanks. And I hope that others will explore creative ways to tell the stories of our complex and fascinating community.
Tags: aids, barebacking, culture, gay, hiv, physical, politics, PrEP, Recreation, Sexuality, testing
Posted in Anita Mann and Acting Gigs, Gay Life, Living with HIV/AIDS, My Fabulous Disease | 1 Comment »
Monday, June 29th, 2015
Sometimes it's helpful to get back to basics, and there is no more basic, effective tool to fight the HIV epidemic than to encourage testing. How long has it been for you, my friend? Here are five important facts about HIV testing that I hope will convince you to get busy and get tested — again.
1. You could be HIV positive and not even know it.
According to the Centers for Disease Control (CDC), one in eight people with HIV in this country don't know they have it. Some estimates are higher. With 50,000 brand new infections every year in the United States, it is absolutely crucial that you know your status.
2. Knowing your status is one of the very best ways to stop the epidemic from growing.
No matter your HIV test results, taking the test means you are already doing your part to protect yourself and others. If you test negative, you will know you haven't put anyone at risk – and it will probably encourage you to keep making smart decisions. It might also be the wake-up call you need to re-assess your risks or to consider pre-exposure prophylaxis (PrEP), a medication proven to greatly lower your chances of becoming infected.
If you test positive, you can take advantage of a variety of medications (with fewer pills and side effects than ever) that can reduce the virus in your body to undetectable levels. Science has proven that people with HIV who have an undetectable viral load are not transmitting HIV to their partners. Getting people with HIV to undetectable levels is a huge factor in slowing the epidemic–not to mention keeping your own body healthy and ready for more action.
Yes, getting testing can be scary. But so is having HIV and not treating it. Ask any gay friend who survived the 1980's, when there weren't effective medications. It wasn't pretty.
3. An old HIV test result is even worse than an outdated Grindr photo.
When was your last test, and how many risky things – unprotected sex, drug or alcohol use, wild nights out – have you done since then? Being confident of your status is about being consistent.
The CDC recommends an HIV test for everyone between the ages of 13 and 64 as part of routine health care. For those at higher risk – that would be gay men like me and those with drug addiction histories – a test at least twice a year is recommended, especially if your bedroom dance card has been full or you've been partying.
4. Getting tested is easier than ever, and you have plenty of choices.
Boys, do you have options. Choose one and get 'er done:
Visit Get Tested and enter your ZIP code.
Text your ZIP code to KNOWIT (566948), and you will receive a text back with a testing site near you.
Call 800-CDC-INFO (800-232-4636) to ask for free testing sites in your area.
Contact your local health department or HIV service agency.
Get a home testing kit (the Home Access HIV-1 Test System or the OraQuick In-Home HIV Test) from a drugstore.
5. Everyone can make a difference. We can stop HIV together.
Offer to go with a buddy to support him emotionally as he gets his results. Get tested alongside that sexy beast you've been seeing. Ask friends about the last time they took the test.
You could go the extra mile by sharing this article. Or visit the Act Against AIDS page for free materials, ads, videos, and banners you can share online.
Mark
(A version of this article appeared on Queerty for National HIV Testing Day. It is good advice all year long.)
Tags: advocacy, barebacking, gay, hiv, physical, physician, recovery, Sexuality, testing
Posted in Gay Life, Living with HIV/AIDS, Meth and Recovery, My Fabulous Disease, Prevention and Policy | No Comments »
Thursday, April 9th, 2015
Michael Weinstein, the polarizing and famously litigious head of AIDS Healthcare Foundation (AHF) just got a taste of his own medicine when a stunning Whistleblower lawsuit against AHF filed last year was unsealed and made public.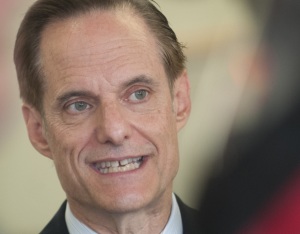 The 34-page suit, brought by three former staffers who claim they were fired when they raised questions of financial impropriety, charges the agency with ten counts of defrauding the government, conspiracy, and a "multi-State kickback scheme" to maintain service quotas and keep the government-funded gravy train rolling.
In exclusive interviews with My Fabulous Disease, one of the plaintiffs, Jack Carrel of Louisiana, his lead counsel Theodore Leopold, and several prominent figures in the HIV arena spoke out about the details of the charges and what the lawsuit could mean for the beleaguered head of the country's largest provider of HIV clinical services.
A "CRIMINAL EFFORT"
The plaintiffs accuse AHF of an "organizational-wide criminal effort" across at least 12 States in the form of kick-backs to AHF clients and staffers. They believe that AHF has defrauded governmental programs out of tens of millions of dollars, based on their own experience with the agency going back to at least 2010.
The three plaintiffs, all former managers at AHF who were in a position to be familiar with agency policy, also include Mauricio Ferrer of Florida and Shawn Loftis of New York.
When someone tested positive in an AHF clinic, the suit claims, they were offered cash or other inducements to be linked to care in AHF clinics. Furthermore, AHF staff were provided commissions when they successfully linked someone with a positive test result to AHF services. This procedure was developed first in Los Angeles and then spread across all States where AHF has a presence.
The policy wasn't exactly clandestine. In fact, it was written right into the "AHF Linkage to Care Training Manual" included as an exhibit in the lawsuit (partial snapshot below).

This kind of incentive is flagrantly illegal. Defying the Federal Anti-Kickback Statute is a felony offense. Grant monies received from the government, such as through the Ryan White CARE Act, CDC, or other HHS programs like Medicare, strictly forbid kickbacks.
The Anti-Kickback Statute ensures "there are no behind-the-scenes shenanigans for profit reasons," said lead counsel Theodore Leopold of Cohen Milstein, the firm representing the plaintiffs in the case. "The Federal law is quite clear. We want to be sure the clients are getting proper care and treatment." Medical decisions should be for the betterment of the patient, Leopold said, "and not to put money into AHF's pockets."
"This case is about AHF gaming the system," Leopold said. He explained that kickbacks "can lead to an over-utilization of services, corrupt the process, and exploit the population most in need of services." The suit claims that although AHF was formed as a not-for-profit agency, it "exhibited a for-profit corporate mindset and a voracious appetite for any and all revenues associated with HIV patient referrals.
"We are seeking monetary recovery on behalf of the government for funds," Leopold said, which the suit contends were billed through improper means.
ONE PLAINTIFF SPEAKS OUT
Jack Carrel holds a Master's Degree in Public Health and is working on his doctorate. He came to AHF in 2012 after working in the HIV field for nearly 30 years. He is also HIV positive and feels a strong connection to those testing positive and seeking services.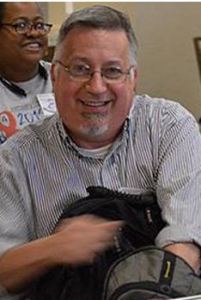 As Director of Public Health for AHF's Southern Bureau, Carrel questioned the financial incentive policy that directed people who tested positive into AHF clinics, but was "assured it was perfectly fine," Carrel said. "And then when we had meetings with funders, other (AHF staffers) in the meeting would tell funders that we would invite clients to use any other clinic they wanted, and I knew that wasn't true." Carrel was fired after objecting to the "linkage to care" policy.
"I tried to do something about it and I wasn't able to," Carrel said. "I'm HIV positive and I work in this field. I want people to be in care and to achieve viral suppression. But this system didn't give clients the choice for getting services where they wanted."
People who have just received HIV positive test results are often in shock, emotionally vulnerable, and susceptible to nearly any suggestion. AHF staffers were financially rewarded for influencing their clients' healthcare decision-making, according to the lawsuit. They allegedly plied clients with money, free fast-food lunches, and rides directly to AHF clinics.
Attorney Leopold is careful to point out that this is a civil matter and not a criminal one. A tepid statement released by AHF in response to the suit contends they did "nothing wrong" and use as proof of their innocence the fact that the government has declined to intervene in the legal action.
The mere fact the government has not, as of yet, chosen to intervene "is no reflection on the validity of the case," contends Leopold, citing that this is not uncommon when there is already outside counsel involved. In other words, the government may be more than happy to allow this lawsuit to do the legwork for them and then use it to build a case for later criminal charges.
"WE WILL SUE YOU!"
The lawsuit places much of the responsibility for the AHF scandal squarely at the feet of Michael Weinstein who, at a 2013 AHF Leadership Summit, personally advocated for increased "positivity rates," more linkage directly to AHF services, and "the payment of financial incentives to patients for the purpose on inducing self-referrals to AHF medical care," according to the suit.
The irony of the Whistleblower action is the rich history AHF has of threatening others with litigation. Under the direction of Weinstein, AHF participated in their own, profitable Whistleblower lawsuit against Bristol-Myers Squibb in 2010 and Weinstein has always used potential litigation toward others as a playing card.
(Weinstein has also engaged in expensive petitions to mandate condom use in porn, called the pre-exposure prophylaxis [PrEP] medication Truvada "a party drug," and taken out full page ads that significantly misrepresent PrEP efficacy findings, all to the consternation of his peers.)
The animosity Weinstein has engendered among other HIV advocates can be traced back for decades. Sue Crumpton served as the director of LA Shanti, the first HIV support agency founded in Los Angeles, from 1992-1998. She remembers L.A. County planning council meetings "filled with drama, courtesy of Mr. Weinstein."
"Michael never showed up to Planning Council meetings unless there was grant money on the table," Crumpton said. "And then if things didn't go his way, his first response was to say 'we will sue you!' The other agencies didn't have the resources to respond to a lawsuit, so he would get his way."
PrEP activist and former AHF poster boy Eric Paul Leue, who broke ties with the agency after Weinstein's widely maligned objections to PrEP, has little patience with such tactics. "AHF has sued counties, cities, and departments of health, and has bullied smaller organizations into submission with litigation that real non-profits cannot afford to fight," he said.
Leue relates the story of AHF attorney Samantha Azulay who, during a case in which AHF fought to have funding taken away from a small organization serving Los Angeles youth, stated that "maybe you've got to cut up a couple trees to save the forest."
"That's what it comes down to," said Leue, who began a #RemoveWeinstein petition last year. "AHF leadership is the forest and they do not care about the community. They care about their bottom line of one billion dollars per year."
Weinstein's litigious nature and the sheer size of his agency intimidated plaintiff Jack Carrel and gave him pause when considering what to do about the policies he knew to be wrong. "AHF is a very big organization," Carrel said. "And I'm one HIV educator. So that was, and still is, scary."
"A THUG AND A CROOK"
Weinstein's battles with HIV advocates and agencies have largely marginalized him from HIV advocacy circles, where he is derisively known as the Tea Party of the HIV movement.
Lifelong HIV activist Peter Staley (How to Survive a Plague) believes the legal fallout from Weinstein's actions is long overdue. "For those of us who have been fighting Michael Weinstein from day one," he said, "when he started ignoring the great legacy of science-driven AIDS treatment activism, this lawsuit couldn't have come soon enough. And yes," he adds, "it feels like payback."
Long term AIDS survivor Michael Petrelis, whose own blog The Petrelis Files is best known for holding HIV service agencies accountable by publishing their IRS 990 forms, has long criticized AHF for failing to post its 990 on their agency website.
"It's possible the charges in the lawsuit are just the tip of the iceberg," Petrelis said. "Since AHF is a behemoth with national and global offices – not to mention lobbyists in Washington – and negotiates directly with drug manufacturers among its various endeavors, there should be an AHF Watch Network… keeping a close eye on the organization, its Board and executives."
Peter Staley is already writing Weinstein's professional obituary while remaining concerned for the well-being of thousands of AHF clients. "We knew Weinstein was a thug and a crook," he said, "but his downfall will be bittersweet, because it could also bring down the empire he built, which includes lots of HIV/AIDS specialists and thousands of low-income patients."
"If I were on the AHF Board," Staley adds, "I would quickly clean house. All of this can be set right once Weinstein is gone, and AHF can live on under new management."
Plaintiff Jack Carrel thinks that, were something catastrophic to happen to AHF, "other agencies would step up" to fill the needs in service. And when asked if Weinstein deserves to keep his job, Carrel will only say that "when you're CEO of an organization, you are responsible for what it does."
Removing Weinstein may actually become an imperative for the AHF Board, Sue Crumpton believes.
"Michael always cultivated his own Board, which acquiesce to his whims, and he has always served as its Chair," she said, "but those other Board members also have a fiduciary responsibility to the agency. They could be held personally liable for this lawsuit. A Board can be ensured against many things, but negligence is not one of them. If they don't seek to remedy this situation, in my opinion, they are negligent."
For his part, lead counsel Theodore Leopold isn't particularly shocked by the alleged unlawfulness of AHF policy. "I've been doing this a long time," he said, "so not too many things, as it relates to corporate greed, surprise me."
Mark
(Photo credit of Michael Weinstein: Mitchell Zachs/AP)
————————————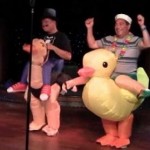 Need something completely different? Discounted cabins for the 2015 HIV Cruise Retreat this November 8-15 are going fast. Join a few hundred brand new friends on a cruise along the Mexican Riviera! We have our own theme parties, outrageous game shows, and excursions at ports of call — plus a special guest, Timothy Ray Brown, the first man to be cured of HIV. We will be sailing roundtrip from San Pedro (just outside of Long Beach/ Los Angeles) to an exotic mix of beach towns on the Mexican Western Riviera. Each town has its very own local charm and flavor. For more info, check out HIVCruise.com or contact our cruise director Paul Stalbaum at 888-640-7447.
Tags: hiv, physical, physician, research, testing
Posted in Living with HIV/AIDS, My Fabulous Disease, News, Prevention and Policy | 13 Comments »
Tuesday, February 17th, 2015
My fear of all things anal began when I was an early teen. My older brother David took great delight in bursting into our bathroom to startle me, especially if I was on the john. And, since I was a pubescent redhead, his sudden visits included a lot of laughing and pointing.
I was mortified beyond belief. To this day, I must be sure no one is in the house, and then close and lock the bedroom and bathroom doors before I can properly relax. And I live alone.
But you can't avoid everything anal if you're growing up gay. Not if you want to do the really fun stuff.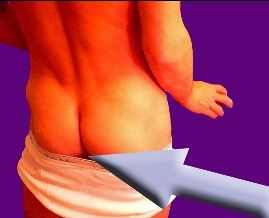 Thus my conundrum as a youth: exploring the pleasures of my tush while fighting the terror that something stinky might be going on down there. And I suspect I am not alone in this particular anxiety.
I discovered soon enough that if someone had serious intentions in regard to my backside, I couldn't simply rely upon a bran muffin and a Hail Mary to be properly prepared. God forbid I would, you know, not be… well, you know. This ongoing fear had a habit of wrecking the mood and the evening.
My exclamations during sex were usually panicked calls to turn the lights up, so I could carefully inspect the situation. Or a plea to stop altogether. "Okay, that's fine, no wait!" I would cry out. "Am I okay down there? I mean, is it… okay go ahead… no hold on! Are you sure I'm…?" I was usually so involved with my protestations that I would hardly notice my date gathering his things to leave.
There are cleansing products meant to address this situation, but they require a certain comfort level with your own body and a little patience, meaning, they were incomprehensible to me. But I tried my best.
Drugstore enemas always felt too clinical, like something a nurse should be administering so you could "move your bowels," a phrase I hope I never have to hear again, much less type.
But never fear. Leave it to gay men to popularize the "shower shot," a long hose which screws into your shower head and ends in a narrow nozzle, just right for sliding up your bum for a thorough internal rinse.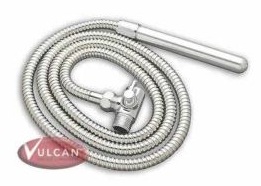 The modulation of this instrument, however — and I cannot stress this enough — is of utmost importance. Too little water pressure and you've got a dribble with little cleansing effect. Too much, and you've just inserted a pressure washer into your ass that could peel the paint off a building.
I was first introduced to this contraption in my early twenties, when my first-time date invited me to visit the bathroom to "rinse out" while he relaxed in bed and waited. I stepped in the shower and surveyed the dangling metal hose. I turned on the water. I considered how it all might operate, and I made my best guess, standing there for God knows how long, hose inserted and whistling a happy tune.
I must say in my defense that no one had ever explained the device to me, much less how to gauge the input versus the output.
That poor, unfortunate man. He had really pretty designer sheets, covered with a gorgeous blue and white pinstripe blanket that I can still see clear as day. Such a lovely bedroom. That is, until a few passionate moments later, when all of it was soaked with a solid gallon of spoiled water that had been percolating in my poopchute, exploding from me in a streaming rush that looked like the wake of an outboard motor hurtling across Lake Erie. The word "apocalyptic" comes to mind.
Only as I matured did I realize I had options (and I will now introduce cute baseball analogies to illustrate my point). I discovered I did not, in fact, always have to play catcher, and I stepped onto the pitcher's mound with great enthusiasm. But as much as I enjoyed the view from above, I worried still, that maybe I wasn't holding up my end of the bargain. It was only after pitching a near-perfect game one day that my partner in the dugout helped me make a simple decision.
"Mark," he said. "Why don't you just stick to what you do well?" And it was this generous assessment that gave me the confidence to hang up the hiney hose forever.
Yes, that's right. I'm now a dedicated top. I'll allow you a few moments of incredulous wonderment.
What's even more amazing is my having a boyfriend who is not only loving and adorable, but absolutely expert at the exotic mysteries of booty sex preparation. It really is an impressive talent, if you ask me. Like walking on your hands, or spinning plates on sticks.
This is all to tell you, dear reader, that sometimes you must find solutions to your fears in order to take care of yourself. And sometimes you have to face your damn fears head-on. I was reminded of this recently when, at fifty-two years old, I had my first colonoscopy. I don't think I have to explain my anxiety level going in to this procedure.
Everything checked out fine, thanks. I had heard the anesthesia they give you can produce some odd behavior, but other than proposing to the physician and asking the recovery nurse if they located my pet hamster, I behaved myself quite admirably.
The only side effect of my colonoscopy was a bloated feeling and a case of the gurgles. Well, and a few hours later I had the longest, most continuous release of gas I have ever experienced in all my days. I'm talking a minute plus, people.
I really wish my older brother David had been here. He loves that kind of thing.
Mark
(Artwork courtesy of Andrews's Anus, via LifeLube. This piece was originally posted on my blog in January of 2013, but for some reason continues to be one of the most popular pages on this site. So don't say I'm not giving the public what they want!)
———————————————————–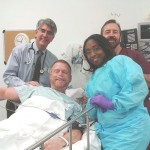 My Friends,
If I can face my deepest fears, so can you. Did you know that studies show people living with HIV have a higher incidence of "colonic neoplasms" (the polyps they are looking for during a colonoscopy), which should be checked out for cancerous cell growth? Anyone aged 50 should get a colonoscopy, and some protocols suggest that people with HIV start this screening at age 45. Please don't delay. Call your doctor! (At right, a picture of my happy procedure team just prior to my colonoscopy.)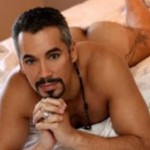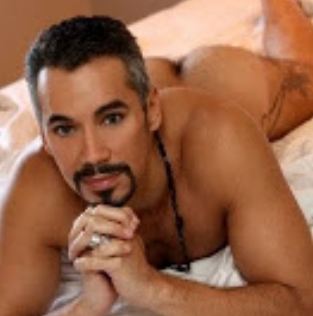 And speaking of rectal douching (and why not? We really should discuss this topic more, considering it is such a common practice among gay men), I cannot say enough about LifeLube, the blog created by the AIDS Foundation of Chicago to help gay men address sexuality and their bodies. They have an entire section devoted to rectal douching (did you know there are new douches that limit the amount of healthy bacteria removed?) and another feature, Andrew's Anus, that provides engaging answers to the questions you're afraid to ask. The blog is no longer active – meaning, no new postings – but there is a wealth of information here and you should definitely check it out.
Tags: Aging, family, gay, help others, physical, physician, research, Sexuality
Posted in Family and Friends, Gay Life, My Fabulous Disease, Prevention and Policy | No Comments »
Tuesday, August 19th, 2014
When I moved to Los Angeles in 1981, my first job as a struggling actor was making popcorn at the Chinese Theater on Hollywood Boulevard. My encounters with celebrity was limited to serving Diet Cokes to the occasional sitcom star.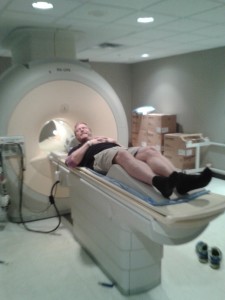 Until, that is, one day when I was hanging out in front of the theater browsing the cement footprints. A Rolls Royce pulled along at the curb, slowed by traffic. In the back seat, just feet from me, sat iconic star Carol Channing. She seemed as charmed by the famous movie theater as anyone else, and her enormous eyes took it all in, up and down, from her seat in the Rolls.
I was starstruck. And then, almost immediately, a compelling thought came to mind.
Her window is down, I considered. I could kill her. I could lurch toward that car right now and strangle her. It would only take a minute. But then I would be the guy that killed Carol Channing, and that would be awful. So I guess I won't.
My boyfriend was understandably disturbed when I made this admission to him recently. He eyed me warily and it actually appeared that he moved back a step. Then he asked if I was watching too many horror movies. But to tell the truth, I get these fantasy compulsions all the time. Always have.
They're not always homocidal, mind you. Sometimes they're merely suicidal. I can't stand high above ground without the urge to jump. Rooftop decks and tall stairwells get my imagination perculating, and I will consider the jump, the fall, and the aftermath. I even feel my muscles urging me to climb over the railing.
This aspect of my twisted psyche, at least, isn't uncommon. Studies show that the urge to jump is shared by a great many of us, and one particularly comforting study suggests that this compulsion is actually an indication of our strong will to live. By confronting the urge and then deciding against it, we are confirming that life is better just as it is. So, I'm not morbid at all, people. I'm fabulously alive.
Nevertheless, it was with some trepidation that I agreed to participate in a study for the National Institutes of Health (NIH) on cognitive function in people living with HIV. Would they find gruesome thoughts floating around in my brain? And more importantly, would they find my brain?
The NIH staff coordinator, Sally Steinbach, treated me with great care over two days of testing. I had to really psyche myself into spending 90 minutes in an MRI machine and, after the initial panic of being rolled into the barrel of the enormous device, I happily sang the entire score of the Broadway musical Gypsy to pass the time.
The second day was filled with memory games and "which one is not like the others?" tests. The NIH is careful to point out that these clinical research programs are not meant to offer any benefit to participants other than the pride of knowing you are making a contribution, although I was paid several hundred dollars for lending them my noggin.
You can participate in this study, too. If you live in the Washington, DC, area just contact the NIH Recruitment Office at (800) 411-1222 and ask for study number 13-N-0149. They have exhausted their allottment for travel from outside the area for this study, but visit their web site for other studies they are doing and you may find one that includes travel from elsewhere in the United States or that has satellite programs. They also have a site that can tell you about studies happening worldwide.
Complete medical and testing results are shared with your physician, although mine has been tight-lipped about the relative chances that I'm a complete psycho.
All I want to know is whether or not Ms. Channing is safe.
Mark
Tags: help others, hiv, physical, research
Posted in Living with HIV/AIDS, My Fabulous Disease | 1 Comment »
Friday, February 28th, 2014
In the late 1980's, I let this odd, fussy man into my office at LA Shanti, my first AIDS agency job. He seemed earnest and harmless and he just wanted a few minutes of my time. "I have the cure for AIDS," he politely announced. Sadly, he wasn't the first person to say that to me, but we practiced more suspension of disbelief during that wretched decade so making such a statement wasn't immediate cause for removal from my office.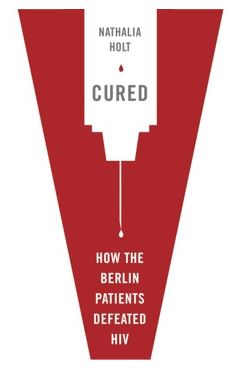 He set a wooden box on my desk, the size of a breadbox and with unfinished wood, like something you had just started building in shop class. He opened it to reveal a jumble of wires and what appeared to be a very large battery of some kind. It looked like a bomb.
"Electromagnetics," he said, with his index finger up, like a teacher. I was so entranced by the device that I didn't notice him attaching one of the wires to my finger with a clip. I felt it softly bite my skin and looked down, horrified.
His scholarly tone didn't change at all. "When I attach this to your other hand," he said, reaching for it, "the magnetic field will purge your body and your blood." I saw him taking my other hand. "This is science," he added proudly. He was smiling.
I sprang from his grasp and shook the clip from my finger. I suddenly remembered I had a staff meeting. An extremely important staff meeting. I thanked him and excused myself to get to my very important, life saving staff meeting.
It's tricky in the HIV community, using the "C" word. Long term survivors like me have had our hopes raised so many times, only for the rug to be pulled out from under us, again and again.  The list of miracles-in-waiting goes as far back as the dawn of the AIDS crisis itself. Herbal remedies. Rare fish guts. Tribal potions from exotic locales.
And so picking up a new book with that word right in the title, well, you can imagine the skepticism.
CURED: How the Berlin Patients Defeated HIV and Forever Changed Medical Science is exactly as advertised and a little more. Nathalia Holt's (below) engaging new book is quite a pleasant surprise, taking a user-friendly approach to its complicated subject. Not only does it provide the timeline of the advancements to date in HIV cure research, it gives us juicy, humanizing details about all of the players involved.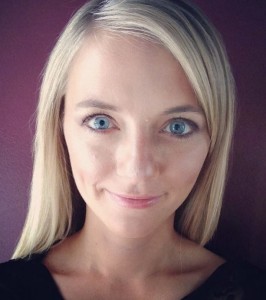 Much of Holt's book has the characterizations and forward motion of a good novel. We meet "Christian" (not his real name), the first Berlin patient who has achieved a functional cure to date. We find out exactly what happened in that Berlin clinic when he received his HIV tests results, what he was feeling, how it affected his relationships. We learn that it was Christian, not doctors or scientists, who elected to end treatment after several months (beginning very soon after his infection), leading to the discovery that his virus was under control and has not flared up since.
The same goes for Timothy Brown, who achieved even more notoriety as the later "Berlin Patient" because of the drama of his curative process (he had two bone marrow transplants and nearly died more than once) and because he has been willing to be public about it.
Timothy is the real heart of CURED. His endearing humility draws you to him as the book follows everything from his medical journey to his love life to his surprisingly modest existence today.
(In both Christian and Timothy, minute amounts of HIV virus have been located in their bodies since their treatment, but these reservoirs have not caused health problems. This is known as a "functional cure.")
All the principle players evidently cooperated with Holt, an HIV researcher herself, and the level of access shows. We not only learn who each of the major researchers are, but what brought them here, what their families are like, and what personal sacrifices they faced along the way. Particularly juicy are the stories of egos and competition among the scientists — and how people who made no contribution at all to various studies scrambled to get their names attached because of the cutthroat world known as academic publications.
Science has never been my thing. I'm not confident writing about it, and intimidated by reading about it. But, except in its last chapters when Holt hurriedly catches us up on the latest research, CURED is easy to follow and has engaging insight into the very real people behind the headlines.
And hey, how cool is it that no one was electrocuted as part of this research?
Mark
Tags: aids, physical, research
Posted in Book Review, Living with HIV/AIDS, My Fabulous Disease, News | 5 Comments »
Thursday, January 9th, 2014
In the summer of 2013, thousands of subscribers to Nelson Vergel's "PozHealth" listserv received a startling email from the HIV positive fitness and nutrition expert.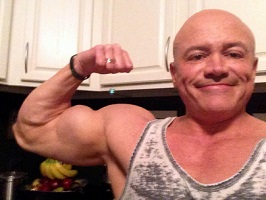 "You are probably wondering why I have been so quiet the last few weeks…" the message began. Vergel, a trained chemical engineer who devoted himself to HIV treatment advocacy after testing positive in 1985, had a troubling explanation for his online absence. A diagnosis of cancer.
"It took me months to come out to the poz group," Vergel said about revealing his diagnosis to his listerv. "It was a struggle for me."
Vergel had begun the group in 1999 when lipodystrophy was a hot topic among people with HIV/AIDS and they needed a place to compare notes, and it has since become the largest treatment information listerv for people living with HIV. It still thrives at a time when the exchange of HIV treatment information among peers has waned.
The success of the group perfectly reflects the dedication of its host, a gay bodybuilder whose own serious struggle with AIDS over the years belies his appearance of physical strength. Group members clearly admire Vergel and see themselves in his medical challenges and triumphs.
So it was with some trepidation that Vergel revealed a new health crisis to the group, one that forced his HIV to the back burner. "I was very concerned that people might panic, not about me, but themselves. I didn't want them to think this applied to them," Vergel said. "I really was more concerned with them projecting my challenge onto themselves."
He had little choice, however. His condition was serious.
In June, Vergel was experiencing stomach problems that doctors initially believed to be ulcers. Then came a diagnosis of H Pilori, a stomach bacteria. Vergel requested an upper GI endoscopy, during which ulcers were found and biopsied. While treatment with antibiotics killed the bacteria, the news from the biopsies was grave: Vergel had a aggressive brand of cancer known as non-Hodgkins lymphoma.
"I was shocked," said Vergel. It wasn't the feeling of impending death he had experienced when he tested HIV positive in 1985, but something more incredulous. "It hit me really hard. I had been preparing for heart attacks, or anal cancers, which I have checked every year. I was controlling those high risk situations. But this…?"
Despite the cruel irony of battling mightily against one disease and then facing another, it didn't take long for Vergel's instincts as a treatment advocate to take hold. "After I got the news, I got into my car and cried a little," he said. "And then, before I called my partner, I got on the phone and did a Google search."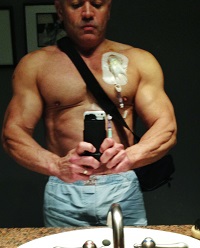 His research confirmed the treatment plan of chemotherapy that his doctor recommended, but he soon discovered that cancer healthcare isn't nearly as accustomed to empowered, involved patients as is the world of HIV.
"I realized how behind oncology is from HIV," Vergel said, "because there are fewer online resources for patients. It felt like early HIV. They don't discuss side effects until they happen to you. I kept finding out things randomly. It made me realize how good we have it in HIV. In oncology all they care about is killing the cancer. But part of the goal should be protecting the patient from side effects."
His treatment as a patient was often the antithesis of what he has advocated for HIV patients for decades. That advocacy, and Vergel's influence in crafting programs to empower HIV patients, is considerable.
Vergel educated himself on HIV pathology and medications after his HIV diagnosis, and became involved in several national health commissions, leading to his founding of the Program for Wellness Restoration in 1994. Because of his interest in physical fitness, he pushed for federal funding for studies of anabolic steroids and promoted results of earlier studies that showed that once you reach 55% of lean body mass, your chances of survival drop precipitously.
He was convinced that resistance training, nutrition and supplements are a key weapon against HIV. His 1998 book, Built to Survive, found a place on the shelf of nearly every gay man who had HIV and a gym membership.
For better or worse, the image of muscled gay men with HIV that emerged in the 1990's, pumped up from weight training and anabolic steroids, can be directly attributed to the seminal work of Nelson Vergel, who trumpeted the importance of lean body mass in fighting HIV infection and maintaining a healthy immune system.
Unfortunately, his own HIV has been multi-drug resistant, and Vergel is currently on the last available regimen to treat his disease. The clinical expression for patients like him is "treatment failure." Vergel hates the term.
"Being called a failure sends the wrong message to patients," he said. "and I have been trying to change that language in the treatment world. It's demeaning to patients who are adherent."
As his cancer treatment progressed, other differences between his two health crisis emerged.
"A good friend of mine was diagnosed with cancer the week before me. He said, 'I have neighbors cooking for me. Doing my laundry. Isn't it sad that I could never disclose my HIV, but I can disclose this and everyone rushes to help? This is a diagnosis that my community can get behind. Isn't it sad that HIV isn't the same way?'"
The good news is that, unlike Vergel's history with HIV medication, the cancer treatment seems to have worked.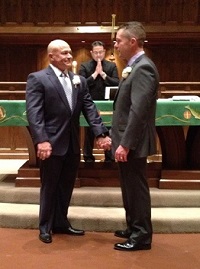 "There is no cancer based on my last biopsy," Vergel said. True to form, Vergel made the decision himself to stop the rounds of chemo early because he was concerned with its effect on his immune system. But he remains vigilant. "You are never cured of cancer. Like HIV, you have to keep an eye on it."
The last six months have been "the most intense of my life," he said, but it has also included signs that life, and joy, can go on. Vergel and his longtime partner were married in Washington, DC, on September 21.
"Always enjoy the moment," Vergel said. And then he adds an observation for those living with HIV. "Apply what you have learned in HIV and take control of your own health, no matter what the diagnosis. Oncologists are not used to seeing patients like us. Long time HIV survivors have many years of experience dealing with the healthcare environment, we have gathered lessons on second opinions, questioning our doctors, we're relatively young and healthy and have learned a lot of skills."
Today, Vergel is again busy posting to his POZHealth listserv, offering advice in TheBody.com's "Ask the Experts" forum, and he just founded a new men's health program, ExcelMale . Even the hair he lost during chemo is growing back.
"I didn't know how resilient I was until I went through this," Vergel says, and then there is a thoughtful pause. "Resilience. I like that word."
Mark
Some of the most popular My Fabulous Disease videos have shown Nelson trying to whip me into shape. "Fitness Stud Nelson Vergel Raids My Fridge" is hilarious and informative, "Hitting the Gym with Fitness Expert Nelson Vergel" benefits from his tight tank top, and "The Hard Facts on Erectile Dysfunction" offers advice on, well, you know (and opens with us in bed together). Check them out!
Tags: aids, culture, help others, hiv, physical, physician, research
Posted in Gay Life, Living with HIV/AIDS, My Fabulous Disease, Prevention and Policy | 7 Comments »