In the towering new novel Christodora, author Tim Murphy harnesses decades of personal and professional experience as an HIV journalist into a story that sweeps back and forth between the last several decades and beyond. It has the scope of great literature, but Christodora is also a deeply personal chronicle from a man who knows his terrain.
The book's namesake is a century-old apartment building in New York City's East Village, silently weathering the indignities of time, economics, and social change that is mirrored in a host of characters connected to the building through the years. They include a privileged young couple, both of them artists, their adopted child, revelers of the gay dance clubs in the village, social activists and fledgling health department professionals. Since the story takes root in the 1980s, we know our characters are poised to confront something they can never imagine.
Yes, there are AIDS horrors here, of the multitudes who die around the edges of the book's pages. But Murphy's lens is more interested in close-ups, in the intimate impact of calamity, in various forms, on the lives of his characters. He also writes with the distance and maturity to know that AIDS wasn't the only crisis in town for New Yorkers during this period, and even within it, AIDS greedily intersected with numerous other social ills and personal struggles.
[fusion_builder_container hundred_percent="yes" overflow="visible"][fusion_builder_row][fusion_builder_column type="1_1″ background_position="left top" background_color="" border_size="" border_color="" border_style="solid" spacing="yes" background_image="" background_repeat="no-repeat" padding="" margin_top="0px" margin_bottom="0px" class="" id="" animation_type="" animation_speed="0.3″ animation_direction="left" hide_on_mobile="no" center_content="no" min_height="none"]
With hardly a false move, Murphy glides effortlessly among the worlds of addiction and recovery, the academic art scene, AIDS activism, and the darkened corners of mental illness.
It is a gift for any writer to find the interior voice of a character – the cyclical doubts and fears, the ongoing internal debates in which we all engage that propel our lives and choices – and so it is with Murphy, who has multiplied the feat by populating the novel with an astounding number of flesh-and-blood people who behave with all the faults and courageousness that humanity allows.
Murphy is coy about providing too many historical names and places. The inner workings of ACT UP and its more establishment-friendly offspring, Treatment Action Group, are dramatized at great length but the groups are never mentioned by name. It releases Murphy from the job of shackling his story to actual people and organizations; this is not historical autobiography in the vein of Sean Strub's Body Counts or Cleve Jones' upcoming When We Rise. The emerging AIDS activism scene is portrayed, Murphy has us feel, because some of his characters happen to be there. They come first.
That said, anyone familiar with the gay New York City scene from this era will enjoy the parlor game of spotting the real people who inspired several major characters. Some are transparent, others not. Christodora had me Googling the names and affiliations of my guesses more than once.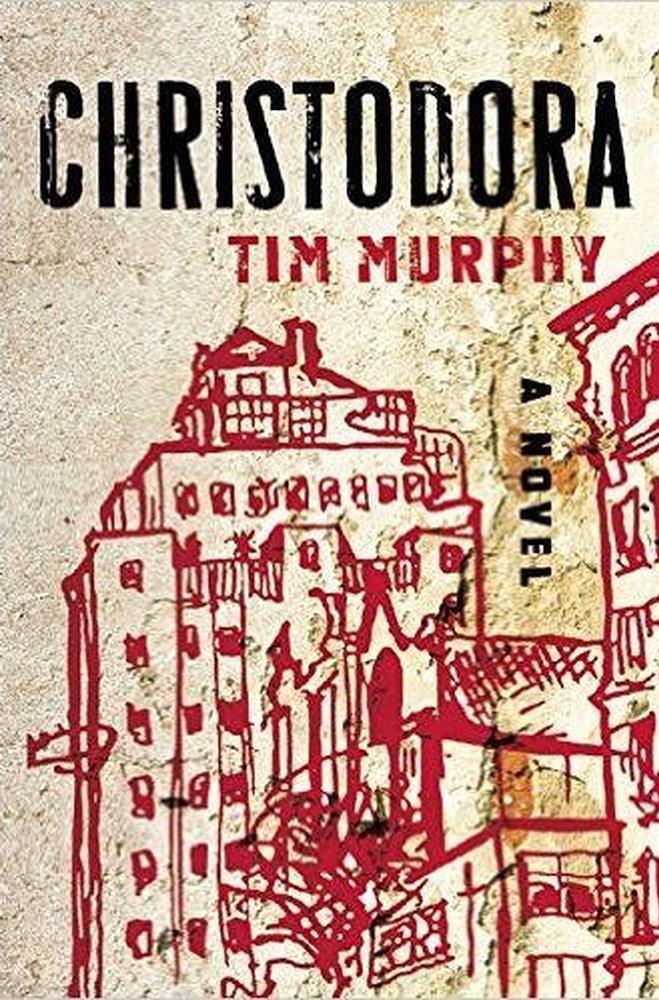 The most searing passages in Christodora deal with the wreckage of drugs and those engulfed by them, calibrated for maximum heartbreak. For any of us who turned to substance abuse during or after the plague years, who live with the confusion and guilt of having survived a public health emergency only to surrender ourselves to small baggies of crystalized catastrophe, Murphy knows us, and he intimately (and sometimes explicitly) offers us front row seats to the destruction of major characters. The brutality of addiction cannot be divorced from the story of AIDS.
Christodora even has the audacity to look beyond the present, providing glimpses into years we have not yet seen. Audacious, because Murphy knows there is no AIDS survivor among us who hasn't considered what lies ahead, as the crisis years continue to fade from view, and he delicately provides an answer that is rooted in the personal destinies of his characters.
Ultimately, Murphy glides the reader to a gentle landing spot. After all the fury of AIDS activism, broken families and lifelong resentments, the flawed and sometimes flailing characters of Christodora are provided with a lovely parting gift. To all of this rancor, Murphy calls a kind of merciful truce.
The final notes of charity in Christodora are all the more bittersweet given they were written by an HIV journalist who, one suspects, longs for moments of healing grace every bit as wistfully as we do.
Mark
(Christodora would make an ideal gift to yourself for this World AIDS Day, or a great Kindle stuffer for someone you love – or for someone who could use a better understanding of the impact of these last thirty years. Check it out on Amazon here.)[/fusion_builder_column][/fusion_builder_row][/fusion_builder_container]
Comments