If I clear my mind, I can transport myself back to so many fun moments during the 2010 HIV Cruise Retreat. Maybe I'm zip-lining through the rain forest of Costa Rica, or I'm gorging myself at the dessert buffet. The water slide high above the 3,000 passenger ship will always make me smile.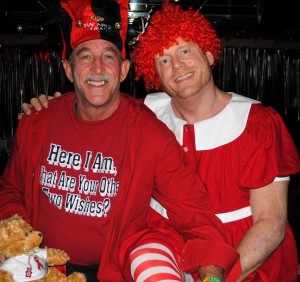 For the 200 people in our group (and even Dabs the AIDS Bear), it was something more than a vacation. It included education seminars (AIDS treatment updates from activist Nelson Vergel, author of the new book "Testosterone: A Man's Guide"), live game shows just for our group, and shore excursions that tested our spirit of adventure.
There was a minimum of the strutting or posturing you would normally find among a large group of gay men. Instead, there was a vulnerability we shared (body image issues, from lipoatrophy to weight, were empathetically embraced) that helped us feel closer to one another from the start.
The cruise is the result of the commitment of travel agent Paul Stalbaum (with the joker cap on, above, with me as Orphan Annie at our group's Red Party on board). Paul not only arranges the cruise details and private shore excursions, he dips into whatever profits he makes to provide a dozen partial scholarships, cash prizes for games, and discounts for future cruises. He's also a man living with HIV for 29 years; to say this event is a labor of love would be an understatement.
Paul also organizes a cruise for straight folks living with HIV, and that group traveled with us on this cruise, which was great. They also have their own cruise trips, and you can find out more about them here.
I hope the spirit of the cruise comes through in this video blog. We all shared something beyond our HIV status, and I believe it was a sense of joy and gratitude for the life that has been given us. Enjoy the video, my friends, and please be well.
Mark
Comments