"Joy to the fishes in the deep blue sea. Joy to you and me." " Hoyt Axton
If you have spent any time wandering around this blog or watching my videos, you know I have an almost stubbornly positive view of things. I like to smile, I love to laugh, and if someone is rude to me I figure they must be having a bad day.
Kinda sickening, isn't it? There's nothing worse than someone like me standing around when you're pissed off about something. And I realize that my insistence on being happy can be my own, clever sense of denial. It could actually prevent me from seeing things clearly in times of real trouble.
Life has a way of foiling attitudes like mine, of course. Between watching AIDS emerge twenty-five years ago and then my drug addiction during the last decade, I've known pain and hopelessness. So, when my first sponsor in recovery asked what I wanted for myself, I said "I want to have joy again." It seemed like such a distant goal at the time.
Thank God for you " yes you, sitting there reading this " because this blog has helped me regain a sense of purpose that I never thought I would get back. Your support and comments since I launched this blog just ten months ago have encouraged me more than you will know. I feel like I have my voice again, that I am making a contribution. I am filled with joy today.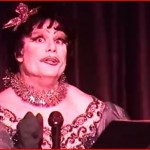 Let me share some of that joy with you. Above, you'll find a special reading of "Twas the Night Before Christmas" by my alter ego Anita Mann (her rendition takes you places you never thought this story could go, trust me).
The video was recorded at a fundraiser for GLBT folks recovering from addiction. It has a message that applies to us all, and it's pretty funny. And come on, now… when was the last time someone read you this classic tale? Now is the time, so relax and enjoy.
As Anita says during her reading, "…we all have gifts in our bag." Thanks for the gifts you have given me this year, my friends, and here's to a wondrous, healthy year ahead.
Joy to you, to me, and to the world,
Mark
(I have added a new "share" feature" below, so you may now share this post with your friends via Facebook or Twitter, etc. with one click. I hope you will!)
Comments