ACT UP has always intimidated me. In the 1980's, while working at LA Shanti to provide emotional support to those dying of AIDS, I doubted my activist cred while watching the dramatic, inspiring actions of ACT UP. Everyone has a role to play, of course, but I so admired the courage and laser-focused anger of ACT UP, as evidenced in the Oscar-nominated documentary How to Survive a Plague.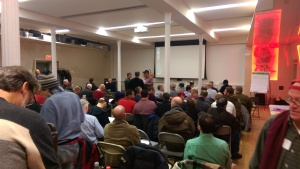 So it was with excitement, yes, but also a great deal of trepidation that I accepted an invitation to speak at ACT UP NYC's first town hall forum on AIDS long term survivors last November. I certainly qualified, having tested in 1985. But what could I possibly offer a room filled with activists who had literally defined the word empowerment and had stomped their way across New York City during the most ravaging days of AIDS and beyond?
The forum was held at the NYC LGBT Community Center, in the very room where Larry Kramer had founded ACT UP decades earlier. I bought an ACT UP button at a side table, with tears in my eyes. The sense of history was palpable.
[fusion_builder_container hundred_percent="yes" overflow="visible"][fusion_builder_row][fusion_builder_column type="1_1″ background_position="left top" background_color="" border_size="" border_color="" border_style="solid" spacing="yes" background_image="" background_repeat="no-repeat" padding="" margin_top="0px" margin_bottom="0px" class="" id="" animation_type="" animation_speed="0.3″ animation_direction="left" hide_on_mobile="no" center_content="no" min_height="none"]
Any doubts about the relevance of addressing long term survivors were answered by a packed room. The program included presentations by Graham Harriman, Director of the HIV/AIDS Bureau, Mark Brennan-Ing of the ACRIA Center on HIV & Aging, and popular local gay therapist Scott A. Kramer.
When it came my time to speak, to offer my personal perspective on a lifetime with HIV, I abandoned my note cards and the story came pouring out of me. My voice quivered the entire time. I cried and told my secrets and my shame and my grief in ways I have never revealed on my blog.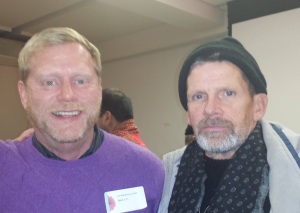 The room responded with warmth and acceptance. Afterwards, iconic ACT UP members whose names I recognized greeted me and thanked me (like Ed Barron, at left). It was one of the most nerve-wracking and proudest days of my life.
OUT FM featured my remarks recently on their weekly radio show on WBAI/NY, and it is through their courtesy that I am able to share this recording of my presentation. It includes a little adult language here and there (sorry, Mom!).
Our most effective tool as people living with HIV, and as long term survivors in particular, is simply telling our story. There is such power in the personal.
My deepest gratitude goes to ACT UP NYC for everything, both then and now. Thanks for listening, and please be well.
Mark[/fusion_builder_column][/fusion_builder_row][/fusion_builder_container]
Comments