AIDS Healthcare Foundation (AHF) has quietly reinstated funding to a Louisiana AIDS advocacy event, two weeks after pulling their support because one of the event organizers is involved in a whistleblower lawsuit against AHF. But AHF is really, totally committed to supporting the event this time, they say, and also claim the withdrawal of funding never happened in the first place because, well, they say so. Despite their own records to the contrary.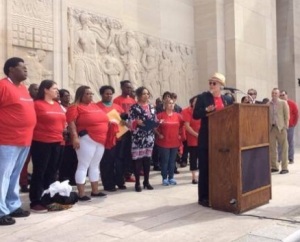 The AHF monies were meant to provide transportation for dozens of Louisiana residents living with HIV to travel to Baton Rouge to meet with their State legislators (the 2014 event at right), organized by the Louisiana AIDS Advocacy Network (LAAN). Jack Carrel, one of the plaintiffs named in the whistleblower lawsuit against AHF, is a volunteer helping to organize the event.
The seemingly punitive action against those working with Carrel and the people they serve is backed up by email and voice mail records, but don't tell that to AHF, which has taken a peculiar stance on the withdrawal of support: they didn't do it.
In an April 17 email to Dorian-gray Alexander, Chair of LAAN, from AHF Southern Bureau Chief Michael Kahane, Kahane writes:
This email will confirm that AHF NEVER reversed its position to support LAAN by providing transportation to this event. In point of fact, (AHF staffer) has continued working to reserve the bus and I believe she has communicated all of these details to LAAN. I'm really not sure what more we can do to reassure you that we are committed to supporting LAAN on this issue, but if there is something more please let me know. But please also accept this email as a commitment that AHF is providing transportation for LAAN to the event (…)
Well, if it's in writing from AHF, it must be true. Except that their withdrawal of funding for the event had also been in writing, in an April 9 email from the local AHF advocacy staffer to whistleblower Jack Carrel himself. That email read:
Sorry, unfortunately at this time we, AIDS Healthcare Foundation, cannot participate in the lobby day scheduled for May 19, 2015, nor can we provide monetary resources for transportation, for May 18, 2015 and May 19, 2015. Thanks and sorry for any inconveniences.
Sounds pretty definitive. And all official-sounding and stuff. It seems unlikely the staffer was having a psychotic break when she sent it. And in case there was any doubt, the AHF staffer also left Carrel a voice message in which she explicitly spelled out why AHF was pulling the funds.
"… unfortunately, uh, we are unable to fund the buses due to your name being on a lawsuit against AHF and it breaks my heart but, um, sorry but we cannot uh, continue to, to do that…"
So you can imagine how confused LAAN Chair Alexander was when AHF told him (soon after my posting on all this) that AHF was, in fact, committed to the event. Alexander asked for it in writing. Again.
"I didn't want to make assumptions," Alexander told me. "I have had some back-and-forth with AHF in the last two weeks. They agreed to continue working with us, and I just felt I needed someone to confirm it in writing."
Let's all hope AHF's commitment to serving people with HIV in Louisiana is worth, well, the computer screen it's written on. AHF's denial that the support was withdrawn in the first place not only defies the facts, it comes without explanation – or apology.
"That would have been nice," Alexander said. "But I didn't ask for an apology." And AHF could always deny that they apologized anyway. Or that they even know Dorian-gray Alexander. Or that they know what an email looks like or how to read.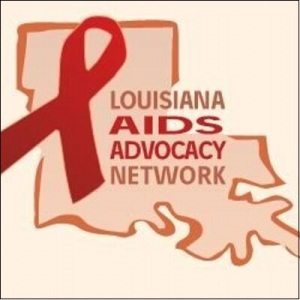 The loss of support had sent LAAN scrambling, and they started a GoFundMe page to make up for the loss hours after my posting about all this. The $1,600 raised will now help provide food and lodging for the people attending their advocacy event, slated for May 19. That is, if AHF sticks to their most recent pronouncement.
"We're all volunteers at LAAN," said Alexander. "And this is a tough state to advocate for HIV issues." Louisiana does not have Medicaid expansion and New Orleans ranks second in the nation of cities with new HIV infections.
It's good to know AHF and their local "advocacy consultant" has (re)committed to an actual advocacy event in a state that desperately needs the help.
Fingers crossed.
Mark
Comments