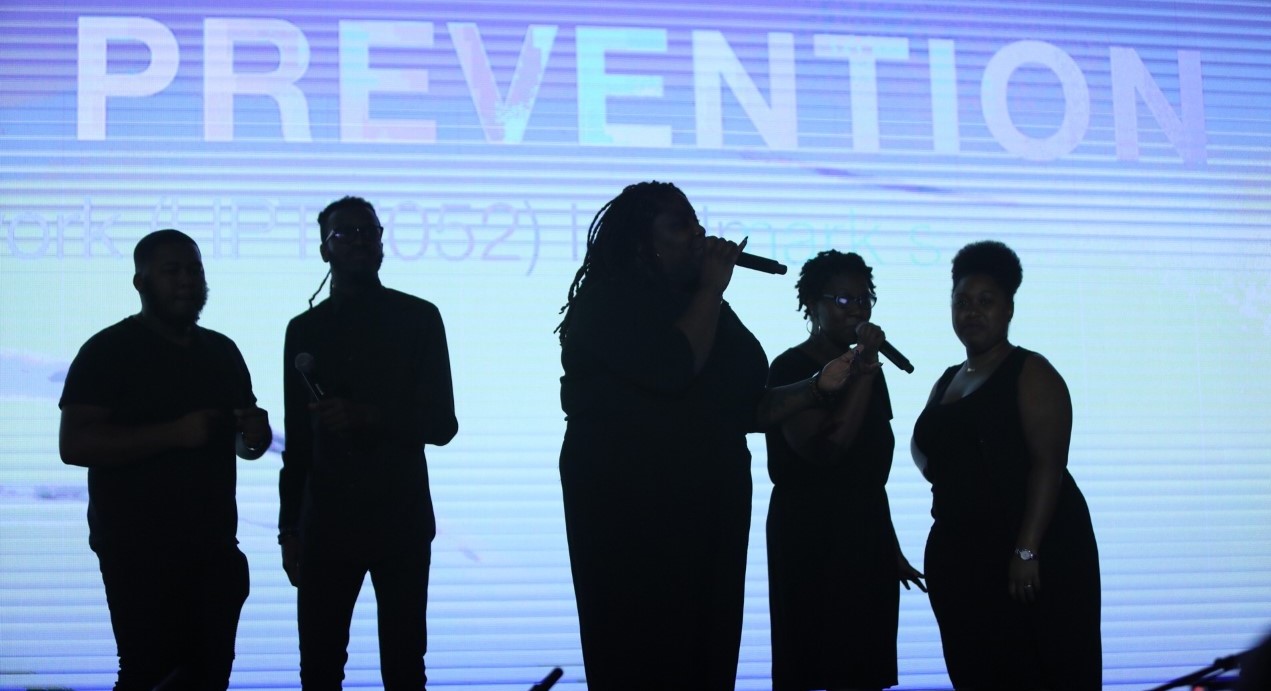 A choral performance during Plenary II of the USCA. (Photo: Luke Hammerman)
A picture, and sometimes a video clip, can tell a thousand words. Sometimes they shout those words, or even sing them to you. In these amazing pictures and video clips from the 2019 United States Conference on AIDS (USCA), the activists, advocates, and front-line providers who were there tell the story of the conference.
No single collection can capture the enormity of the conference and the community it brings together. For more images, use the hashtag #2019USCA on social media to see what your other friends and colleagues may have posted.
Here we go!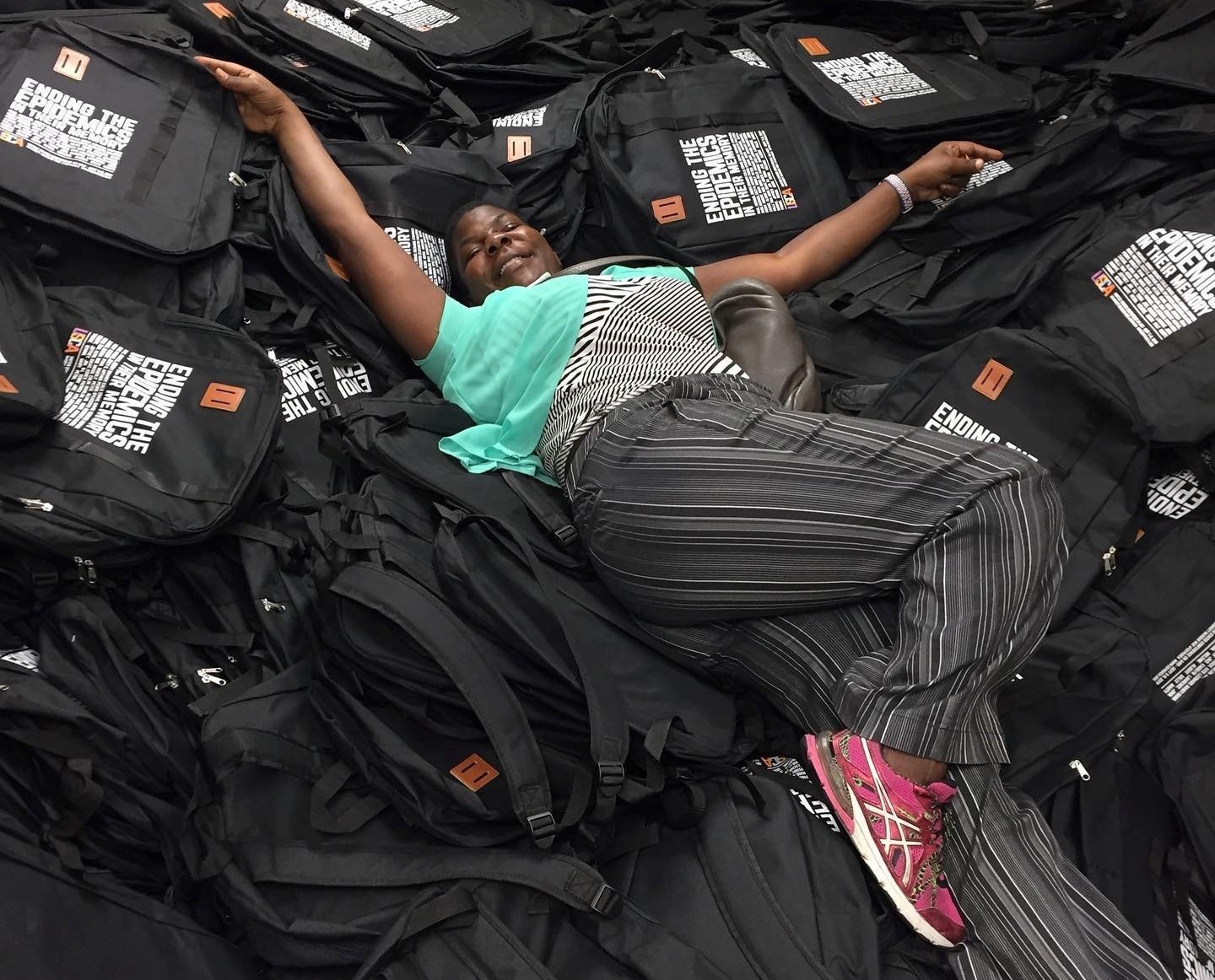 The work for USCA starts long before the conference begins, up until and including putting together the backpacks for attendees. Just ask exhibits coordinator Safisha Mance-Thomas, who took a break from getting those bags filled with goodies. This is what 3,000 bags full of information on ending the epidemics looks like. (Photo: Luke Hammerman)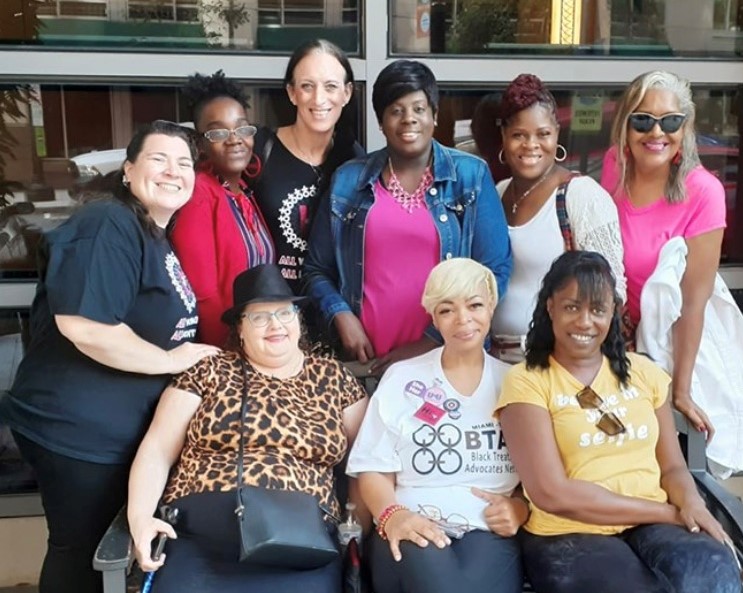 This picture was taken outside of the Embassy Suites Hotel the day before USCA began, Katie Willingham told me. "We were gathering together for a Positive Women's Network (PWN-USA) training and we were really happy to see each other again. We are colleagues, we are friends, we are family, we are SISTERS!" (Back row: Brandi Velasquez, Chanica Adams, Katie Willingham, Kneeshe Parkinson, Gena Barr, Lepena Reid. Front row: Jessie Snyder, Alecia Tramel, Davina Conner)

USCA had several beautifully produced videos that opened each plenary session. This video was shown as the beginning of the opening plenary on day one.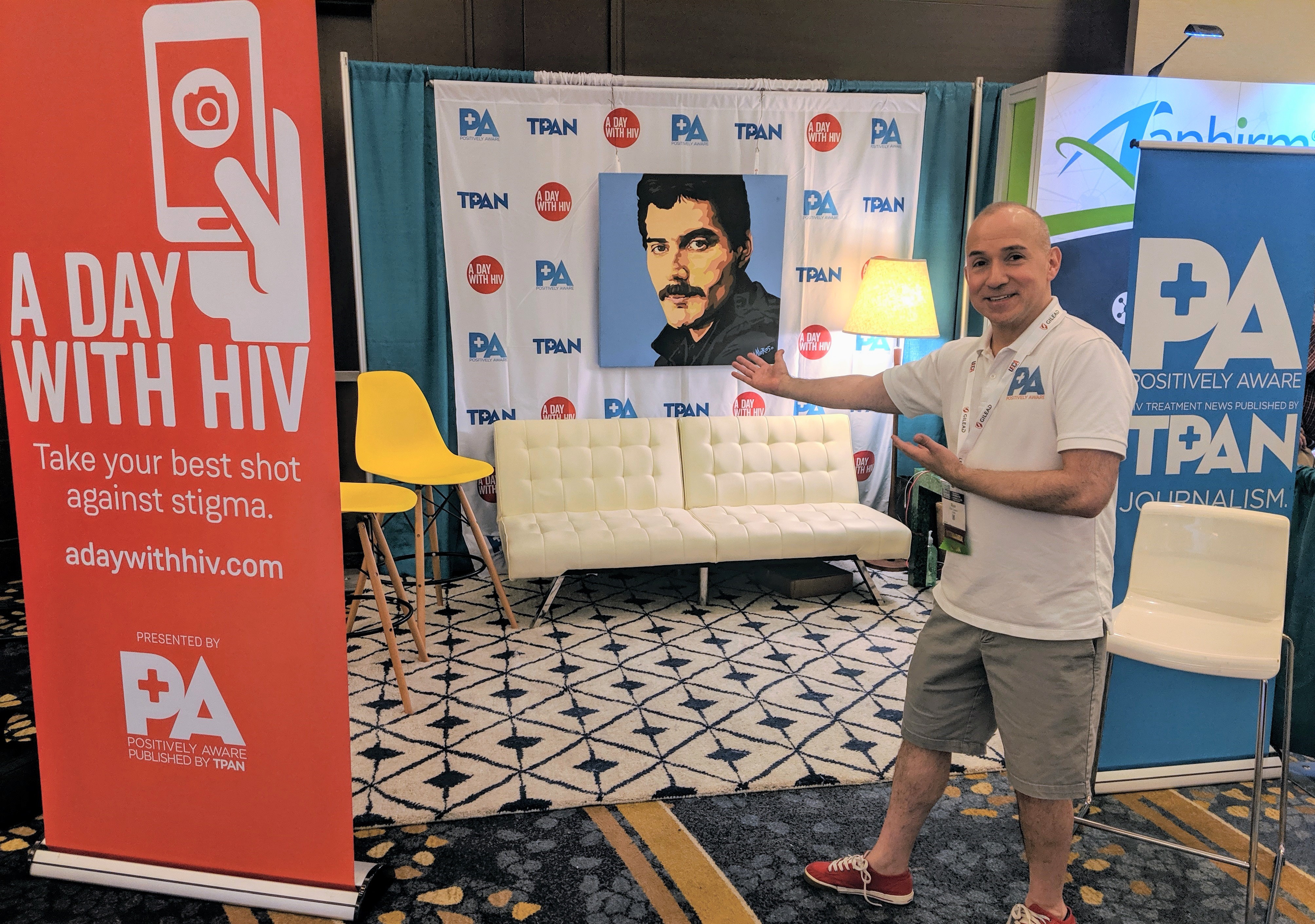 The exhibit hall is an HIV advocacy wonderland, with commercial interests sprinkled throughout. Large organizations and publications are represented, like Positively Aware, the Chicago-based magazine that is fortunate to have Rick Guasco, above, as its art director. Rick uses the booth to promote the magazine and its annual event, A Day With HIV, being held this year on September 23, in which people take a photo of themselves during that day to represent themselves as a person living with HIV or an ally. Meanwhile, the booth's painting of Freddie Mercury had selfies humming all day long.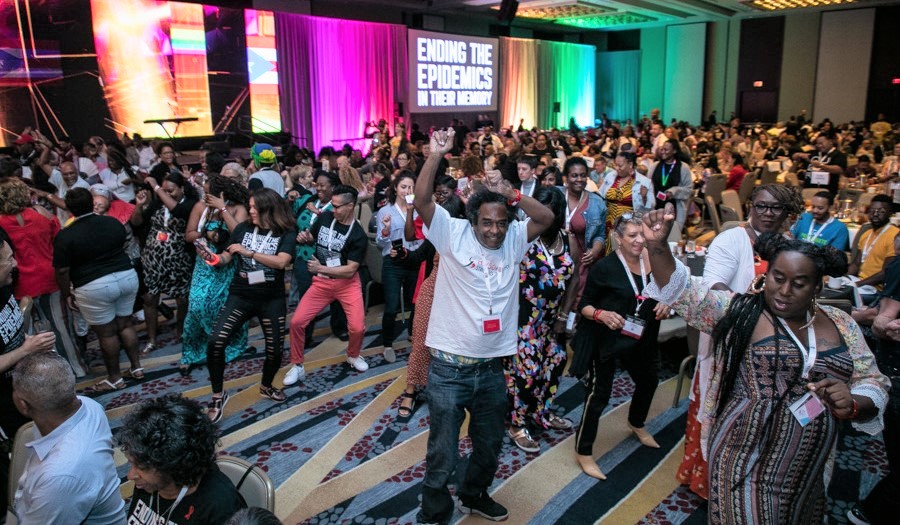 A completely spontaneous and celebratory dance broke out in the ballroom just before a plenary session. (Photo: Scott Henrichsen)
But to really enjoy that burst of joyful dance, you should probably watch some of it on video. (Video: Gregg Cassin)
The opening plenary was presented in talk show format, with MSNBC newscaster Joy Ann Reid as the host. Joy's first guest was the CDC Director, Dr. Robert Redfield. I love this photo because Dr. Redfield appears to be eyeing the crowd warily, unsure what kind of commotion his appearance might cause, while Joy is giving a little side-eye herself. (Photo: Scott Henrichsen)
Dr. Redfield was right to be apprehensive. At the end of his segment, activists stormed the stage and made a host of demands for the CDC to change policy, protect people living with HIV and those at risk, and just do a damn better job. You can watch full coverage of the protest in my posting about the action. (Photo: Derrick Mapp)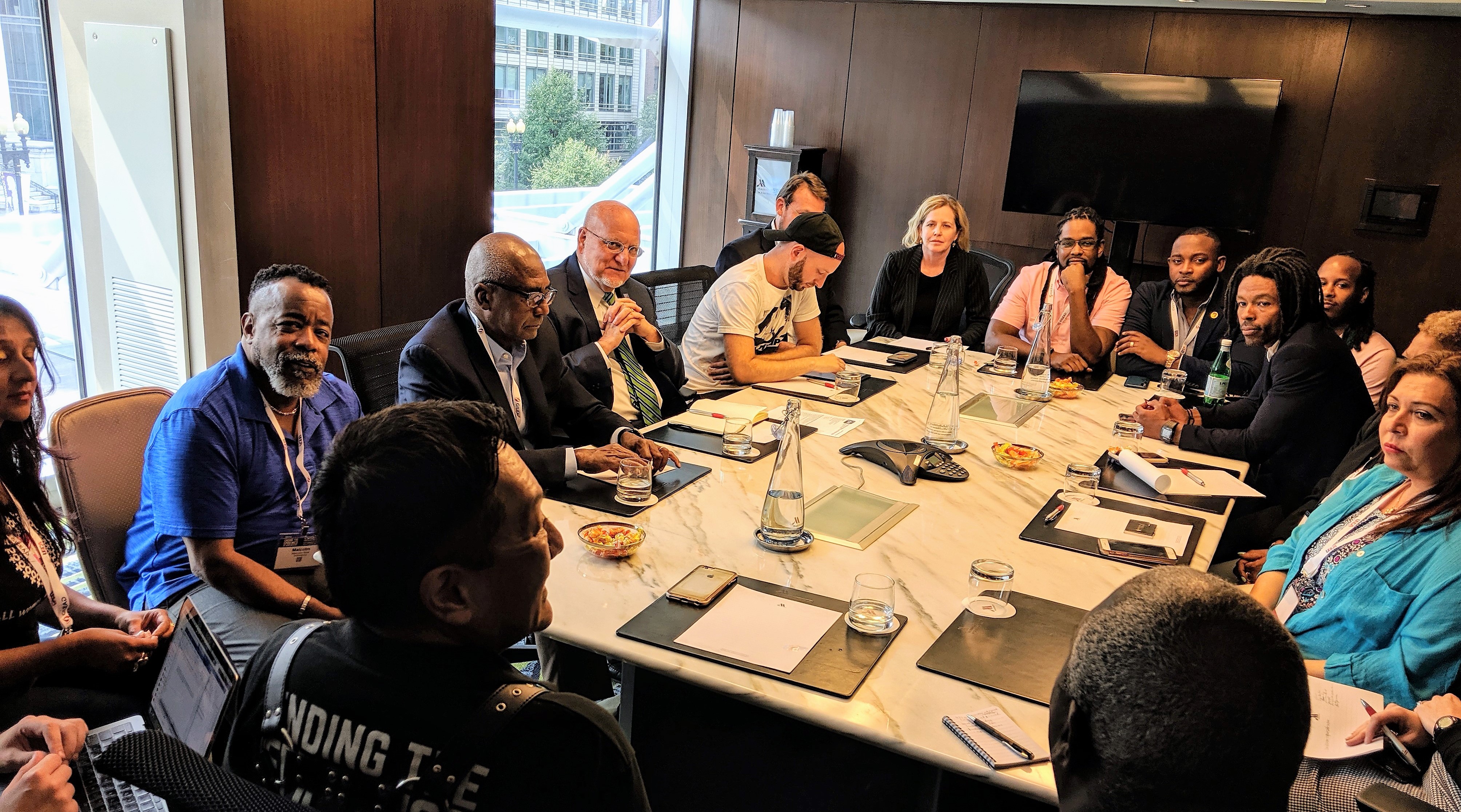 Immediately following the CDC protest, a meeting between activists and Dr. Redfield was held, with the promise of more to come. Stay tuned. (Photo: Mark S. King)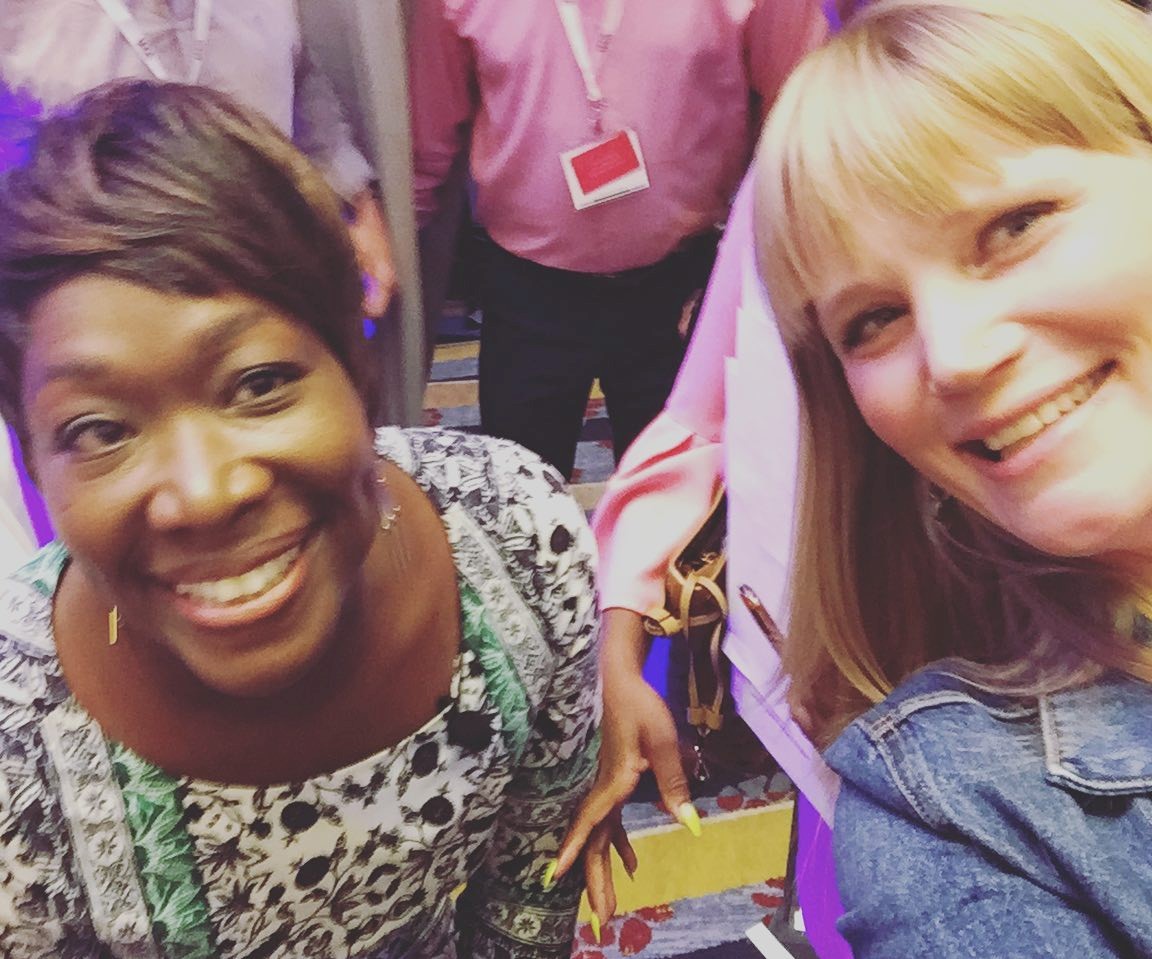 You didn't really think Joy Ann Reid could get out of this conference without posing for selfies, did you? Jennie Smith-Camejo of PWN-USA made damn sure she got one. Joy did dozens of them, bless her. (Photo: Jennie Smith-Camejo)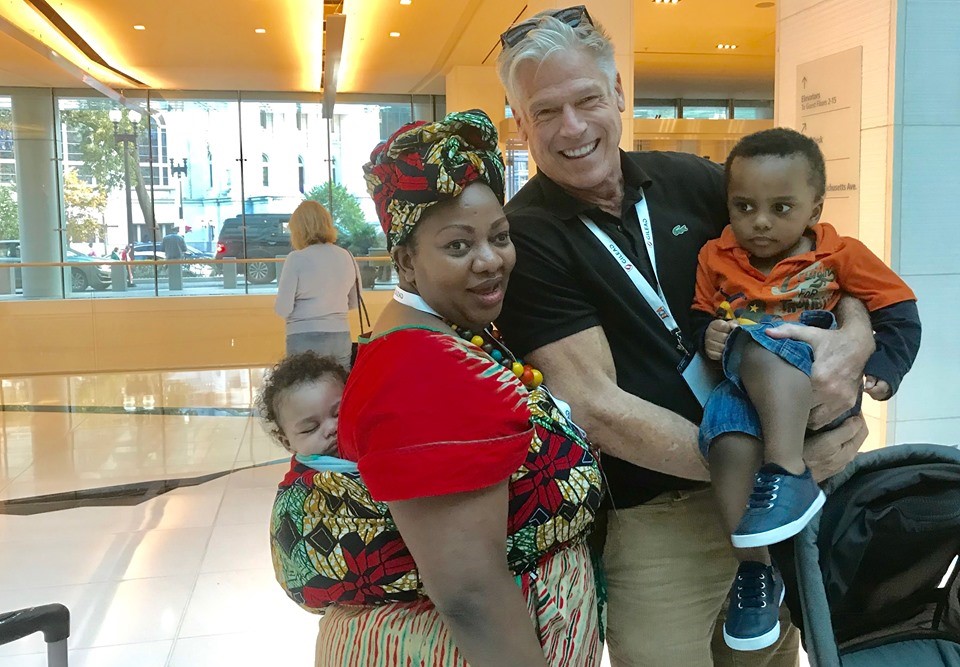 Claire Gasamagera came to USCA for the first time a few years ago. "What is her future and what will it hold?" Gregg Cassin (pictured here with Claire and her children) wondered. "It was so powerful to see her again this year," Gregg told me, "along with her husband and two babies in tow!" For the first time this year, USCA was able to provide child care for attendees.
As a blogger and freelance writer, I get to work with some damn fine editors at the HIV publications. A few of them joined me for dinner during the conference, which gave me a chance to apologize to them jointly for being such a pill. Pictured are Jeff Berry (Positively Aware), myself, Rick Guasco (Positively Aware), David Artavia (PLUS, The Advocate), Jennifer Morton and Oriol Gutierrez (POZ Magazine), and Charles Sanchez and Mathew Rodriguez (TheBody.com). (Photo: our server)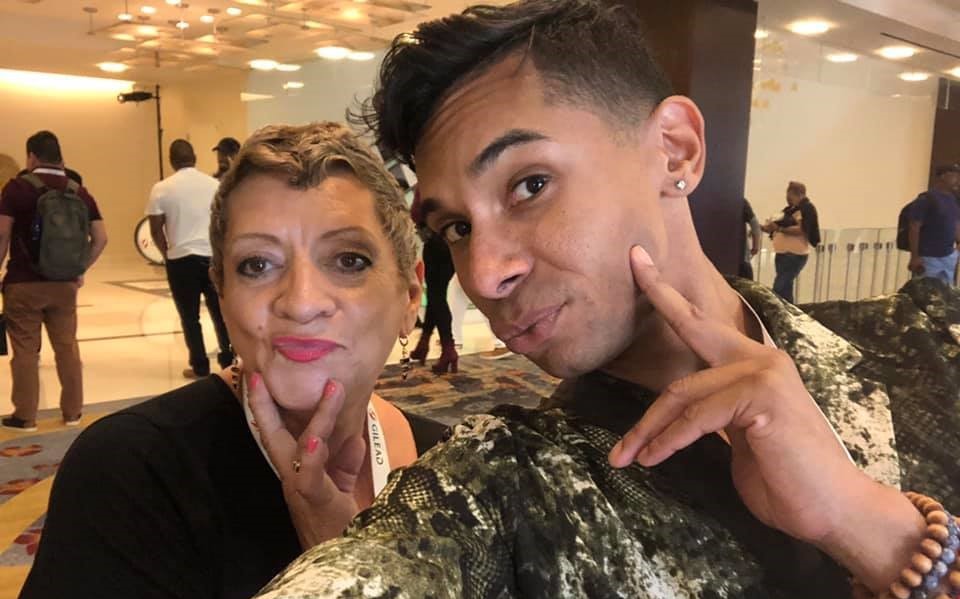 You make fast friends at USCA. Lillibeth Gonzales had only known Artie Miguel Jordan, a PrEP counselor at Buddies of NJ, for a few minutes. Their selfie looks like old friends. "I'm thinking, 'Viviendo La Vida Fabulosa" (Living a Fabulous Life)," Lillibeth told me, "and Arte is thinking, 'POSE, baby!'" (Photo: Arte Miguel Jordan)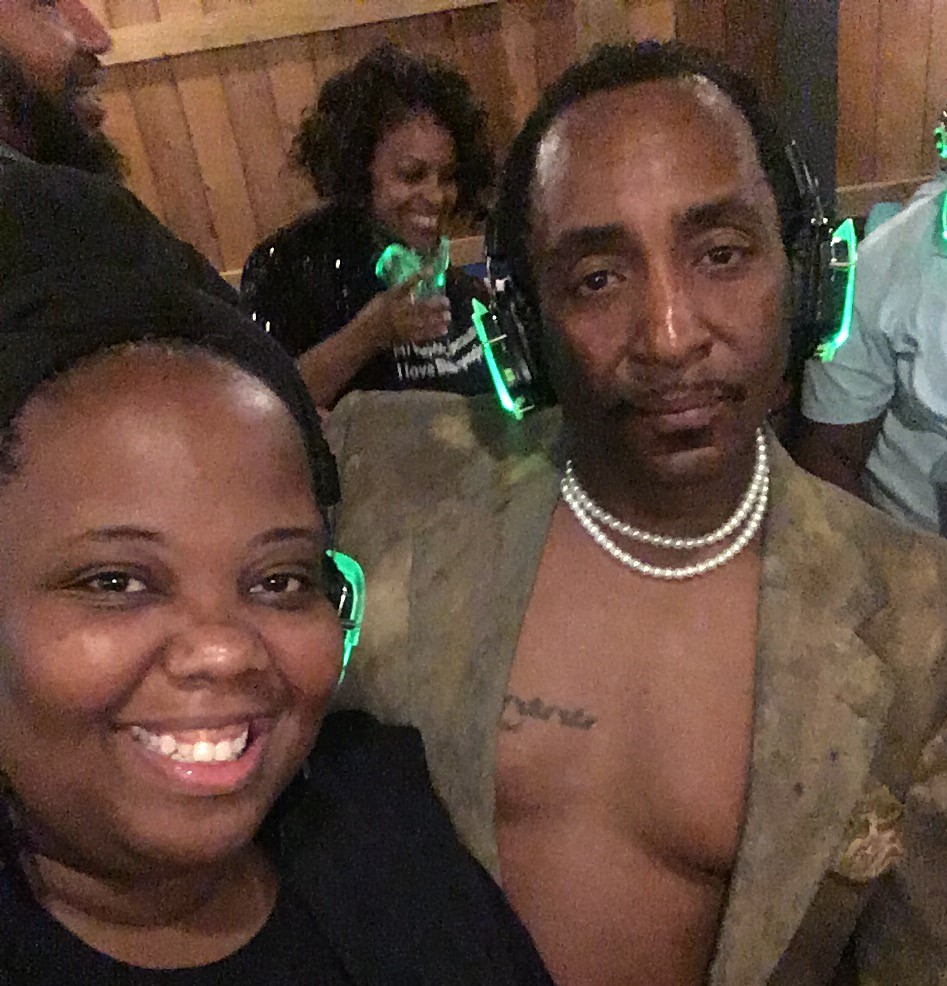 If you ask Evany Turk, the best party that happened at USCA was hosted by the Black AIDS Institute & Us Helping US, where she partied with a Chi-town ball legend and community truth teller, Tommy Avant Garde. "I'm sooo into those pearls!" she told me. (Photo: Evany Turk)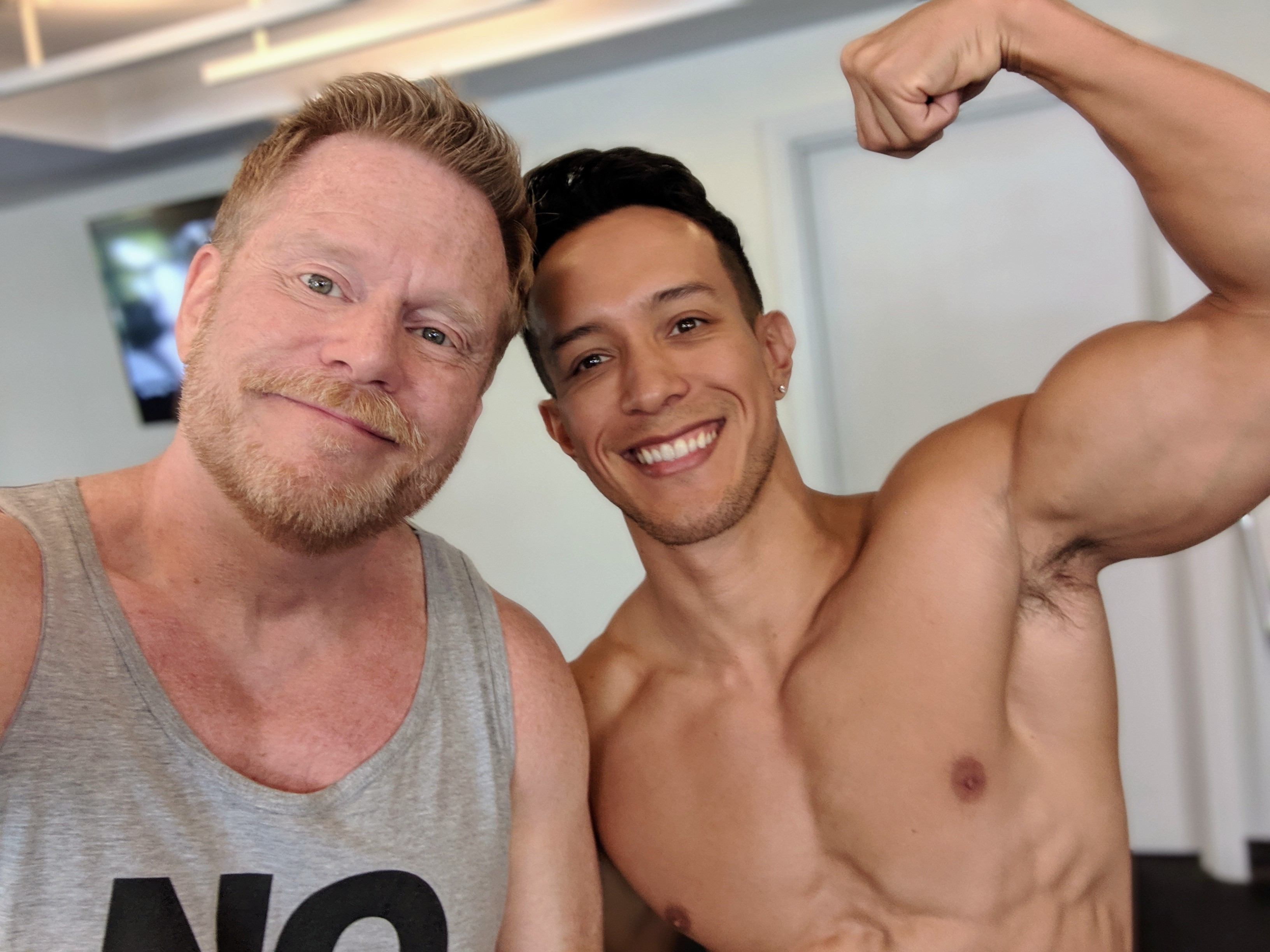 Did I mention spending some time in the hotel fitness center with a shirtless Raif Derrazi, the all-natural bodybuilder living with HIV? No? Sorry, it must have slipped my mind. Well, I did. And it's on video. Look for my interview with this terrific young man coming up on My Fabulous Disease.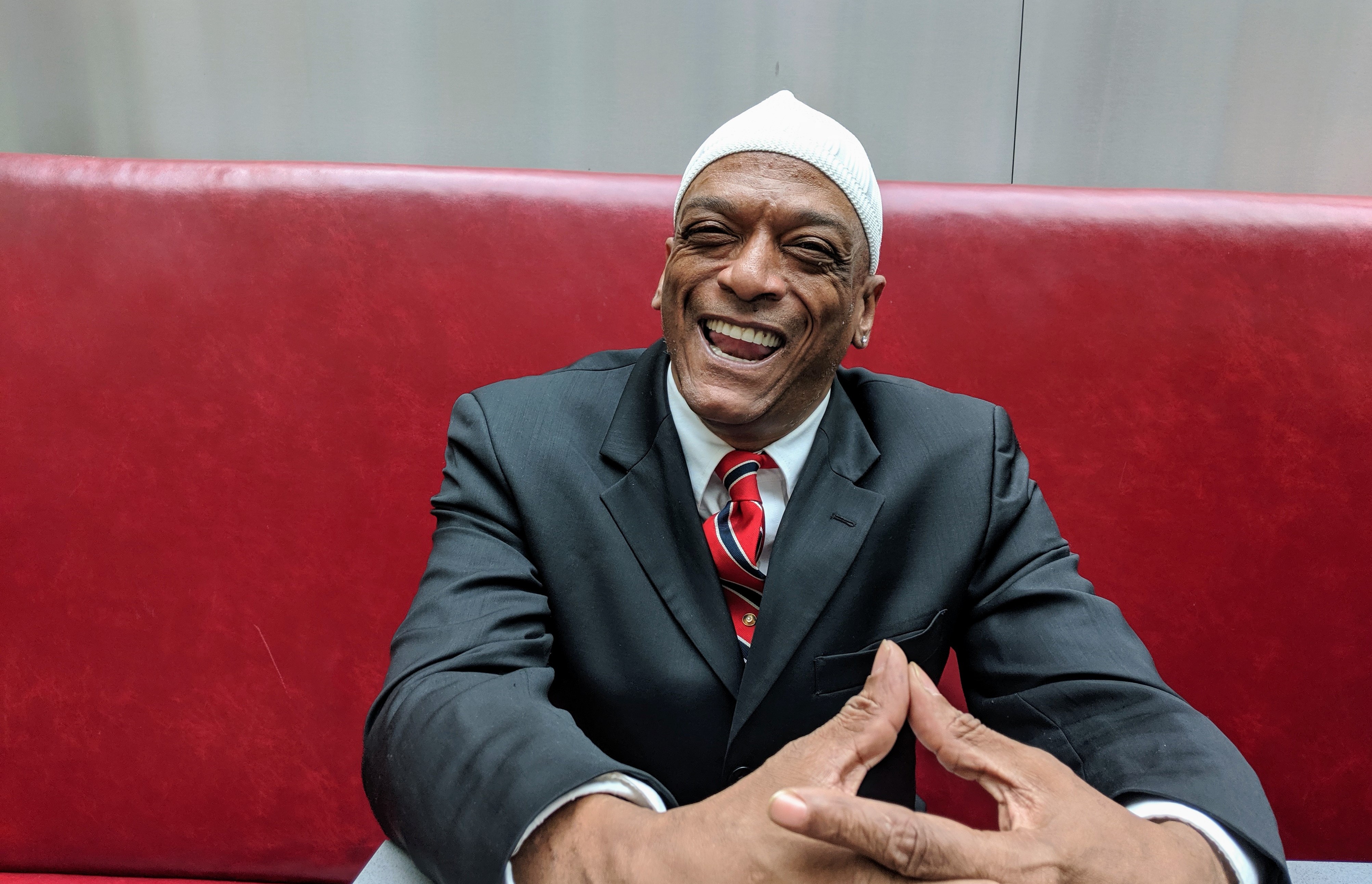 If you wanted to engage in some serious networking, the hotel lounge was the place to be, where you might settle into a red leather booth next to an activist like Bryan C. Jones, who has been speaking up and out for many years as a black man pushing back on racism and inequality. Look for an upcoming interview with Bryan on my blog; the man has a lot to say. (Photo: Mark S. King)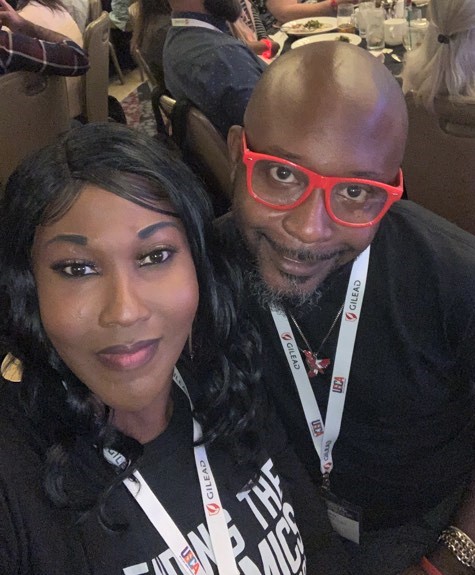 "This is a selfie I took of me and my fellow 'Reclaiming Our Seat at The Table' Scholar, Alexis Powell, a trans advocate from Baton Rouge, LA.," Warren A. O'Meara-Dates told me. His collective demanded that their schedule not adhere to a strict program so they had time to themselves to network and learn. For a list of the amazing colleagues who were chosen across the country, visit the NMAC website. (Photo: Warren A. O'Meara-Dates)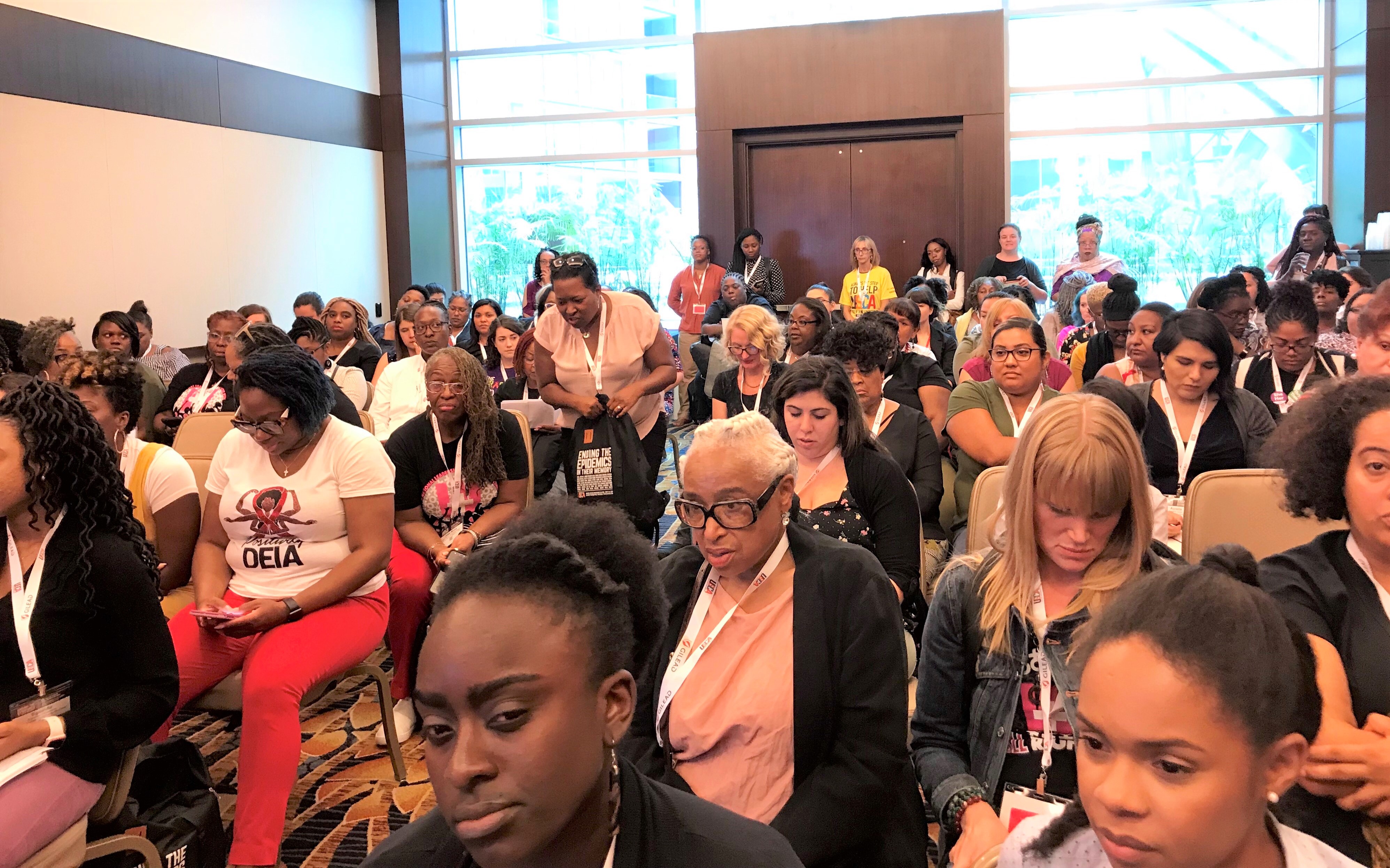 Workshops, dozens of them at USCA, were typically packed with attendees, like this one hosted by Women's HIV Research Collaborative, The Future is Female: Women of Color Leadership in the HIV Movement. "Trans and cis women of color are the unsung sheroes of this movement," attendee Brian Minalga told me. "While some tear each other down, women of color teach us how to uplift one another. This session fulfilled the need for greater recognition as well as open, intergenerational dialogue about the different ways to lead—while taking care of oneself." (Photo: Clare Collins)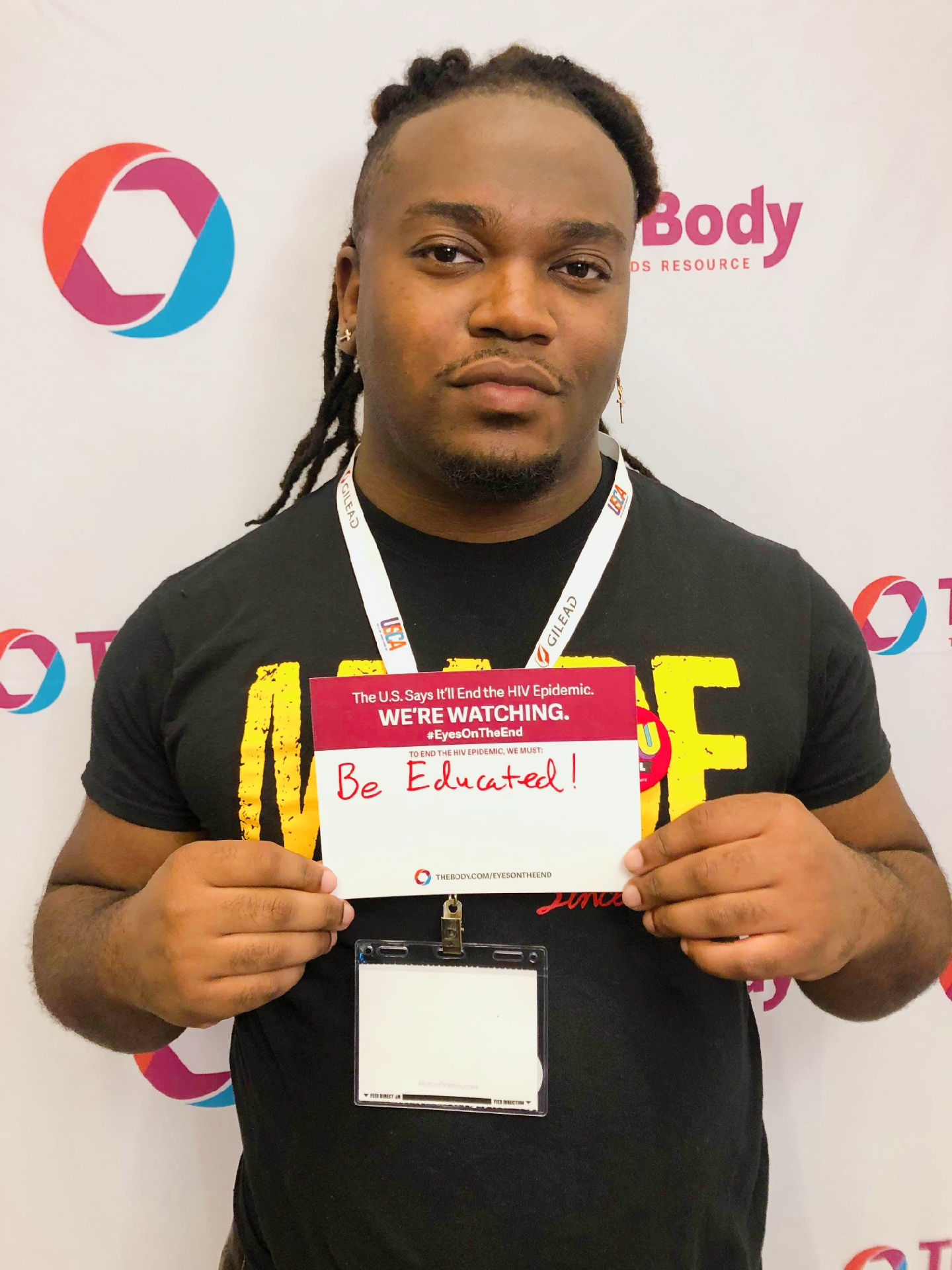 "I chose 'Be Educated' for TheBody.com's #EyesOnTheEnd campaign," Sanjay Johnson told me, "because since the beginning of the HIV/AIDS epidemic things have changed regarding medicine amongst other factors. Where I'm from in the south (Osceola, Arkansas), I wasn't informed properly, barely in school and especially not in church about sex, only 'just be abstinent until marriage.'" The #EyesOnTheEnd series will include a snapshot of the HIV epidemic in each of the 48 counties and seven states targeted within the Ending the Epidemic plan. To read these profiles, go to thebody.com/EyesOnTheEnd. (Photo: Daisy Becerra)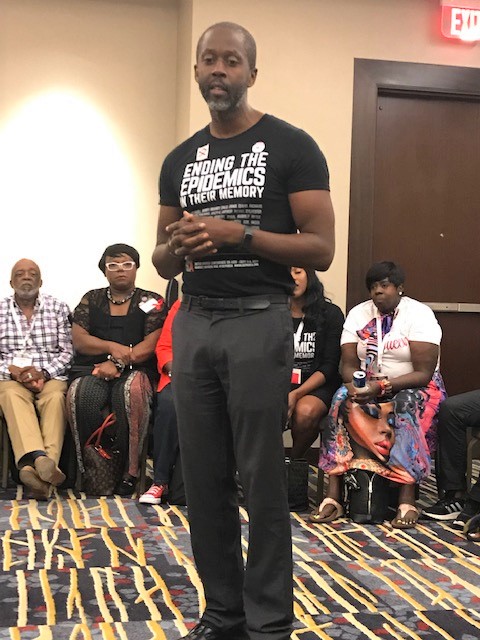 I love the look of careful consideration on the face of this workshop leader. Ace Robinson of NMAC introduces himself to BLOC scholars who came from around the country for leadership training. Ace encouraged scholars to take their place at the table as Black community leaders. (Photo: Derrick Mapp)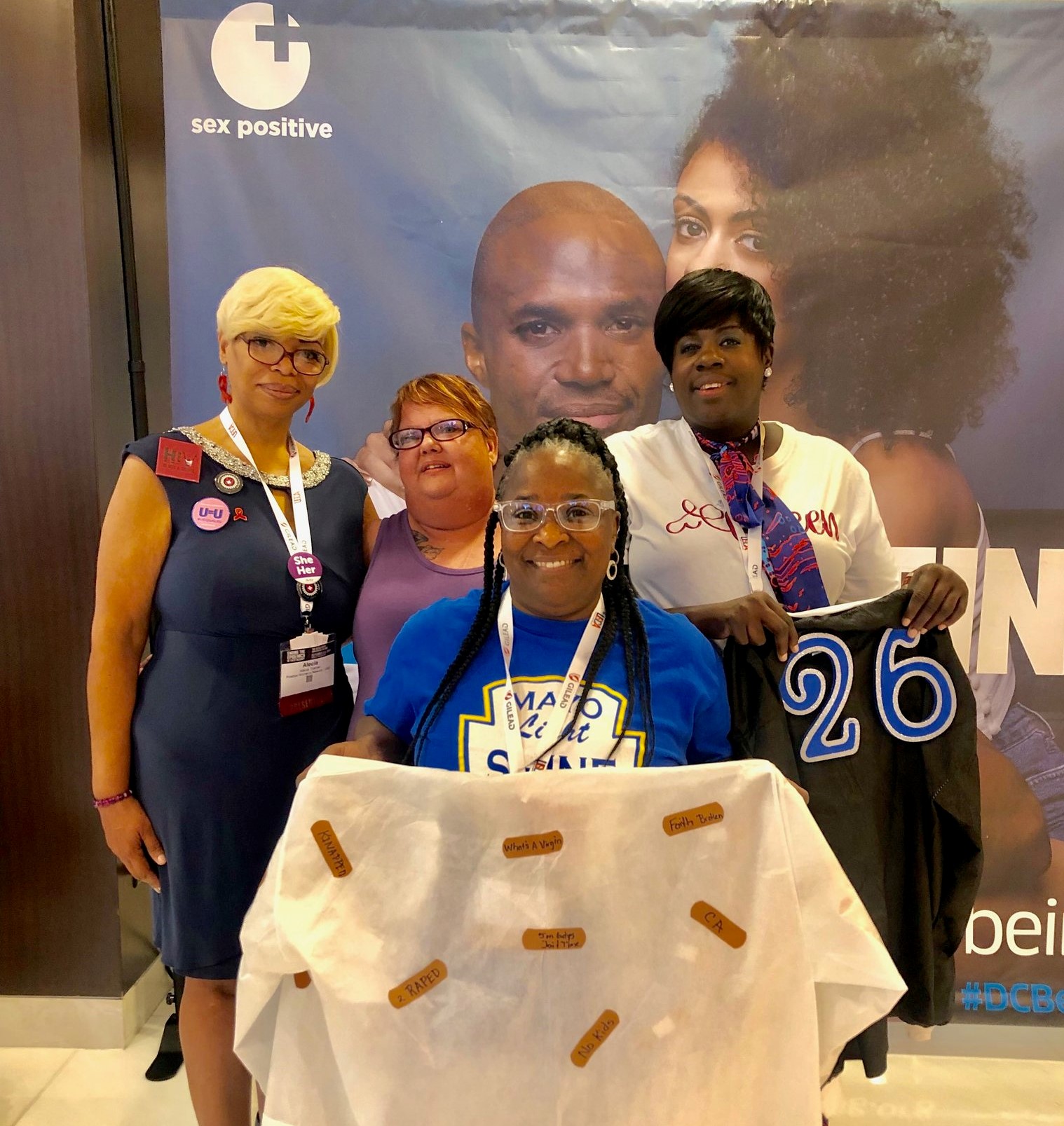 "This is my workshop family," Alecia Tramel told me. "We are members of the Positive Women's Network USA who have all experienced Intimate Partner Violence. We decided to empower and educate others through our stories and triumphs." Pictured: Kneeshe Parkinson, Olga Irwin, Sheila Crockett, and Alecia Tramel. (Photo: Gena Grant)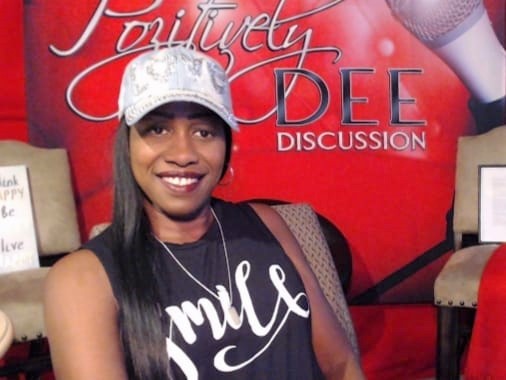 Social Media Scholars like Davina Conner worked liked mad to continually post stories of people and events at the conference. You can follow all her coverage on her Facebook page.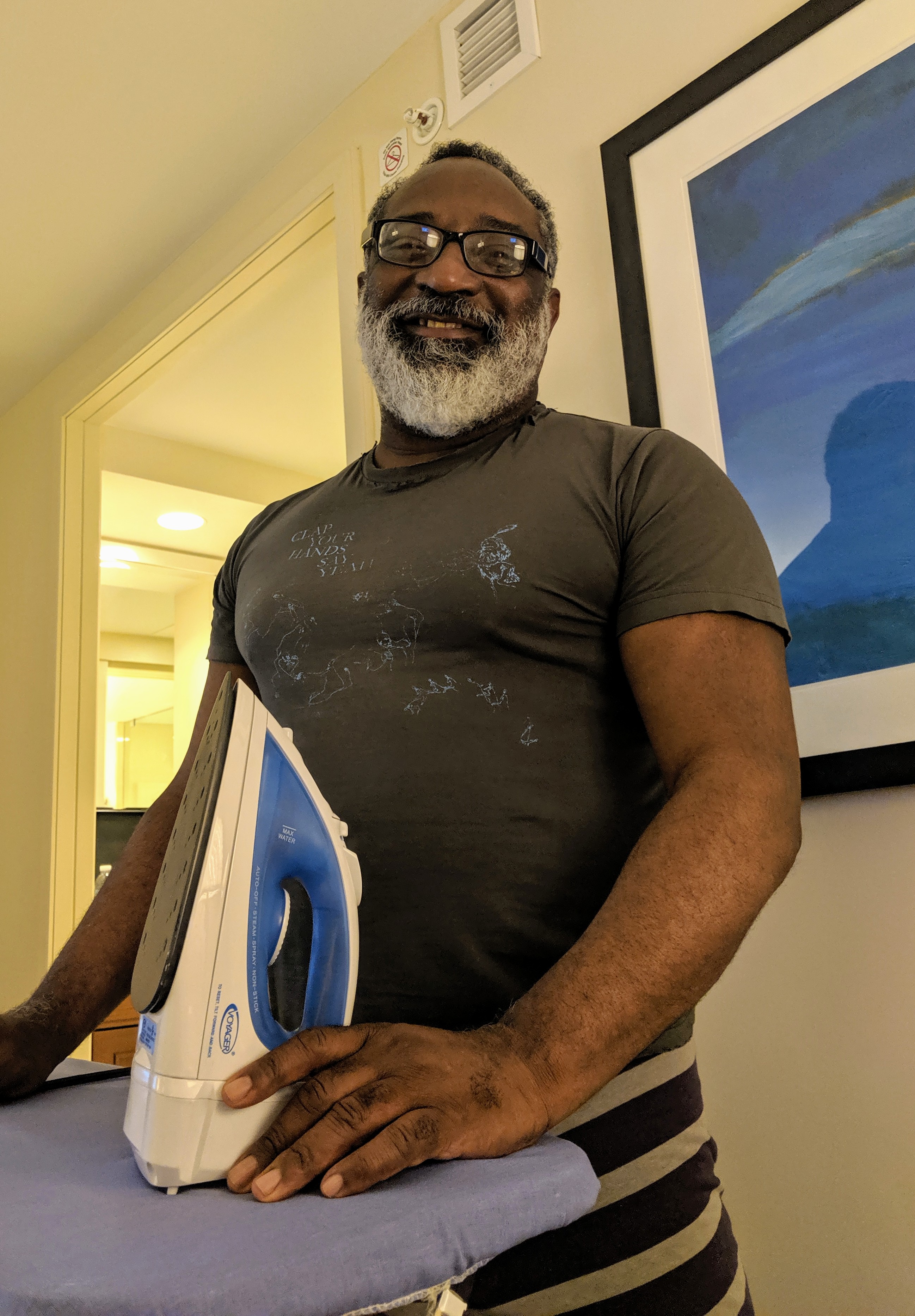 Roommates can make or break you at USCA. For someone like me, a humble blogger without a financial sponsor, I must rely upon the kindness of… fabulous advocates like Derrick Mapp from Shanti Project in San Francisco, who agreed to share a room with me. You're lucky if you have a roommate like Derrick, and even luckier if he irons your shirt while you pace around nervously before leading a workshop. (Photo: Mark S. King)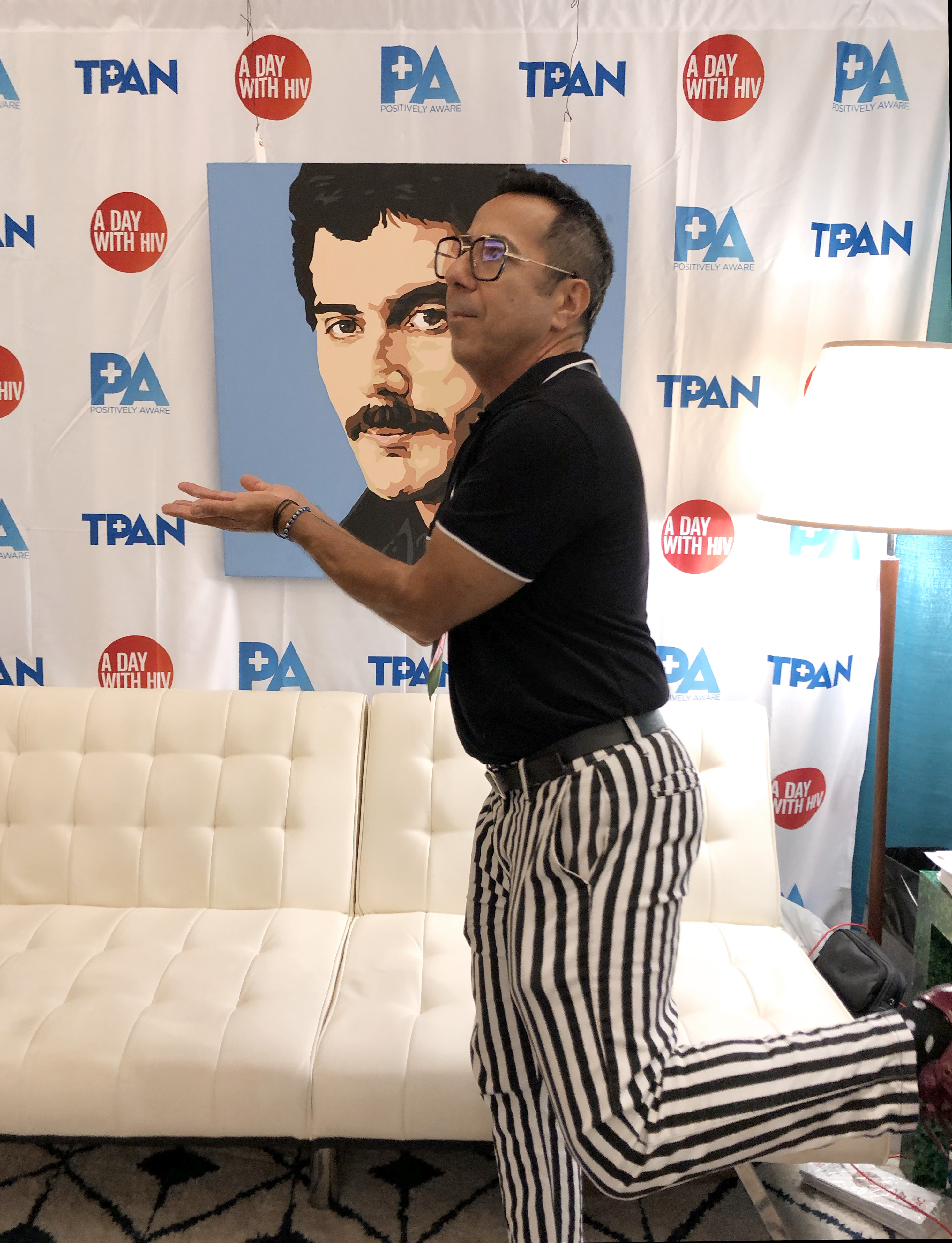 One never needs a reason to post a photo of Charles Sanchez, the HIV writer and the creator or the web series, Merce. I call the outfit my good friend is wearing "referee chic." (Photo: Rick Guasco)
Let's face it, some of us just wake up looking more camera-ready than others. Adult entertainer Jacen Zhu, another USCA social media scholarship recipient, has used his platform and fan base to educate others about living with HIV and what it means to be undetectable. Jacen is also an outspoken advocate on issues like racism and on the devastating impact of crystal meth on gay Black men. I photographed Jacen as part of my upcoming interview with him for My Fabulous Disease. Jacen knows his appearance will grab your attention – and then he will make sure you learn something important while he has it. (Photo: Mark S. King)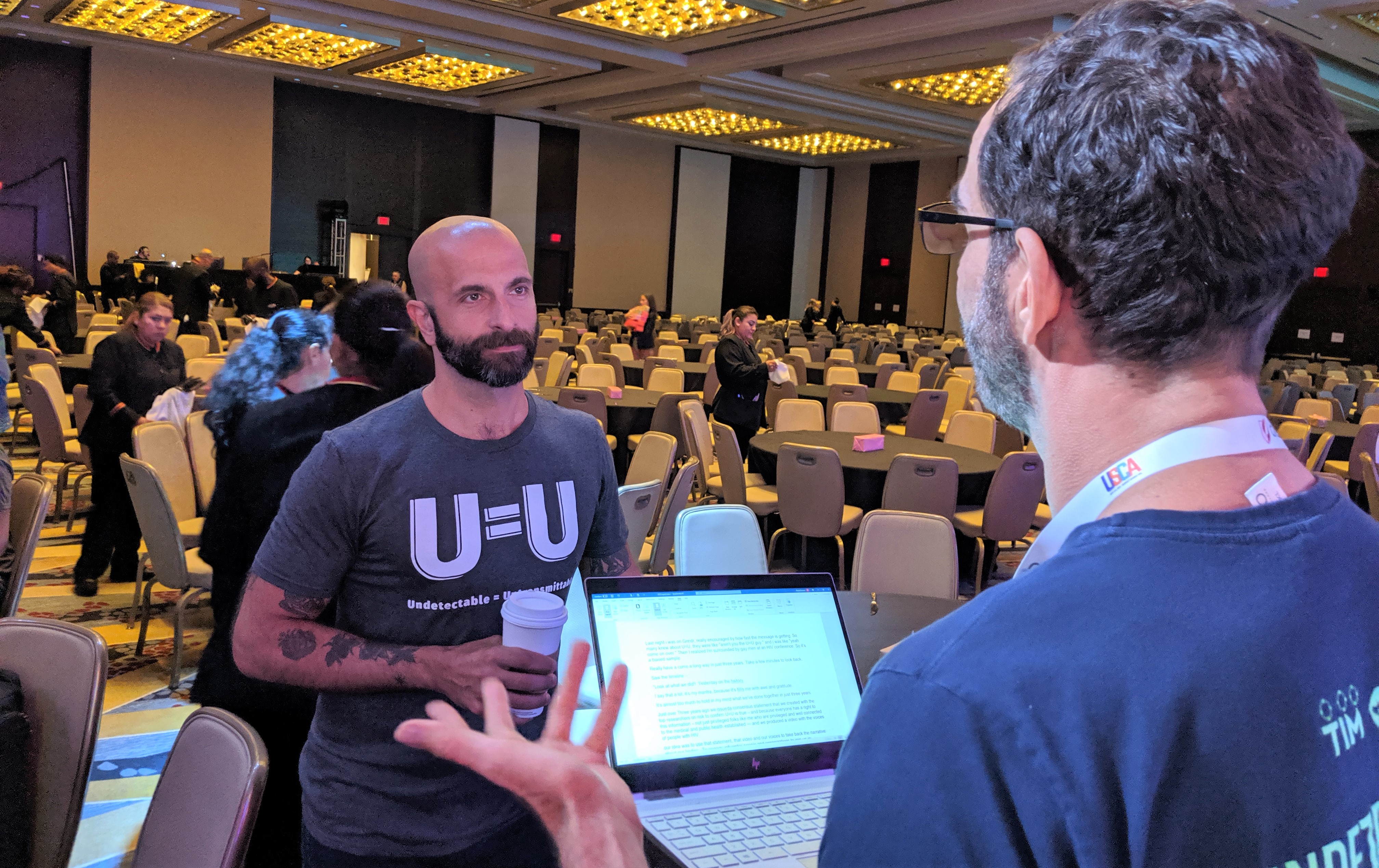 Months of careful planning happen before a plenary is ready for prime time, and last-minute changes and shaping are common. Demetre Daskalakis, Deputy Commissioner at New York City Department of Health and Mental Hygiene, speaks with another transformative figure in this fight, Prevention Access Campaign founder Bruce Richman, the creator of "U=U," as they work out last-minute details before the plenary devoted to the U=U movement.
"If you are an organization or a pharmaceutical company, whoever you are in this room, and you don't hire, you have not hired black trans women on your staff? Fuck you." – Activist Deondre Bernard Moore, speaking at the Saturday plenary. I don't have a single word to add to this, my friends. (Video: Deondre Bernard Moore)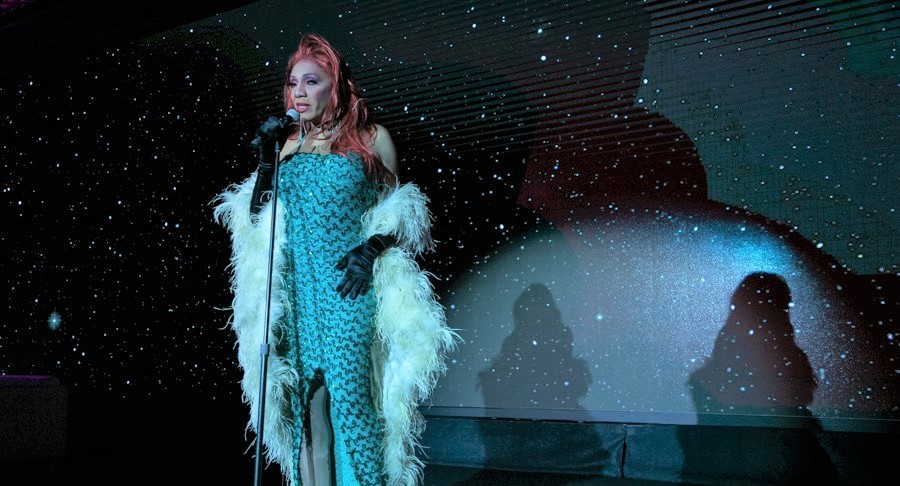 A star is, if not born, then grandly introduced to USCA. Jade Elektra, the stage name of HIV activist and educator Alphonso King, Jr., takes the stage for her live rendition of "Undetectable." Watch her complete performance in my earlier posting of her stunning appearance. (Photo: Scott Henrichsen)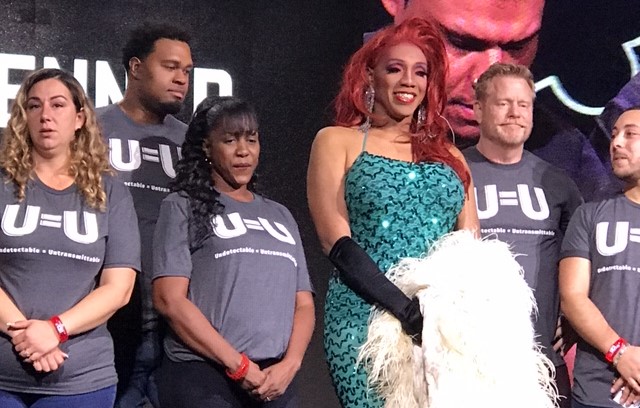 I'm standing alongside some very grateful, powerful people living with HIV at the "U=U" plenary. It is difficult to describe the profound relief of knowing, after 35 years living with HIV, that I am a threat to no one. I feel whole again. I didn't know I carried this burden until it was lifted from me. Pictured: Mariah Wesley, Deondre Bernard Moore, Davina Conner, Jade Elektra, myself, and Victor Claros. (Photo: Derrick Mapp)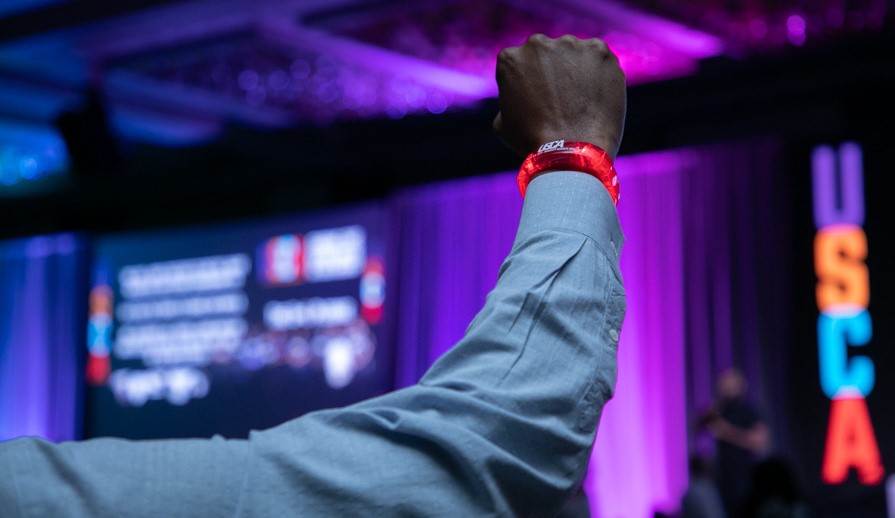 Strength. Remember that nearly 40% of those living with HIV in this country have not had the access or resources to achieve an undetectable status, and that is an abysmal record for an industrialized nation. We must do better. (Photo: Scott Henrichsen)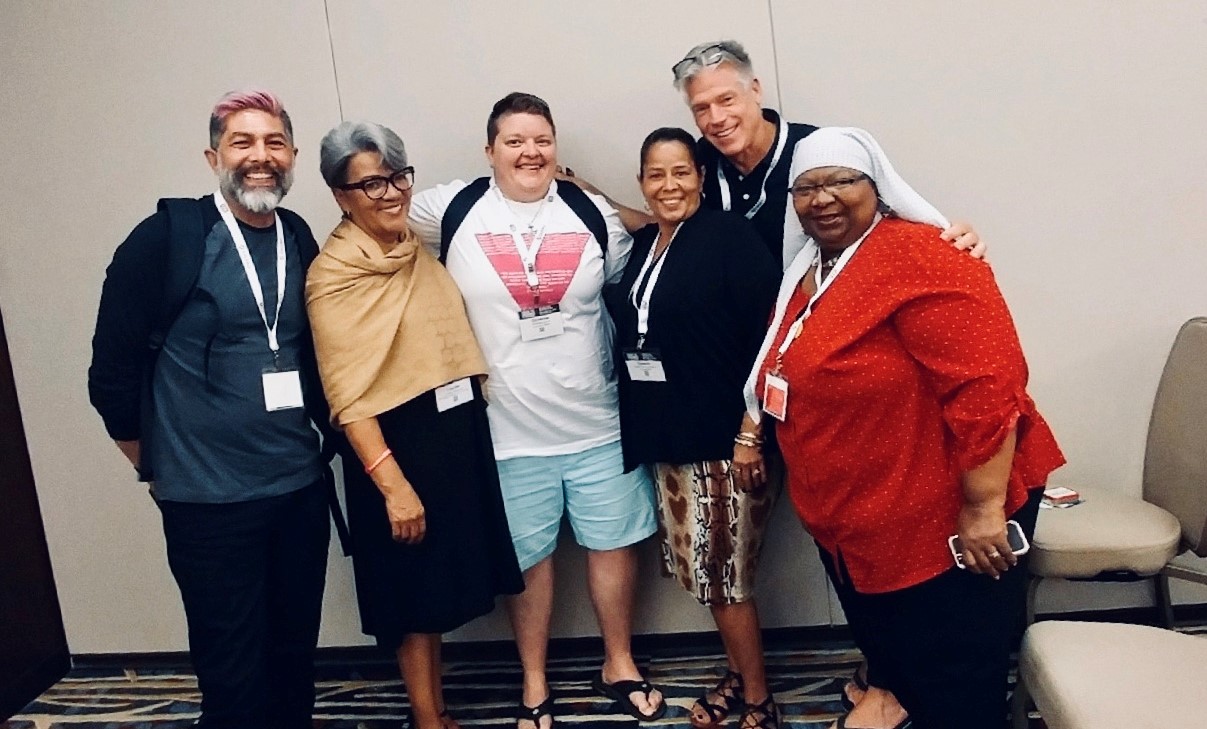 The Reunion Project has become a tremendous catalyst for long-term survivors to tell their stories and find strength and resilience among themselves and from their community. Their storytelling workshop at USCA included Rob Ingwerson, Lourdez Hernandez, Chris DeVoe, Dolores Reyes, Gregg Cassin, and Waheedah Shabazz-El.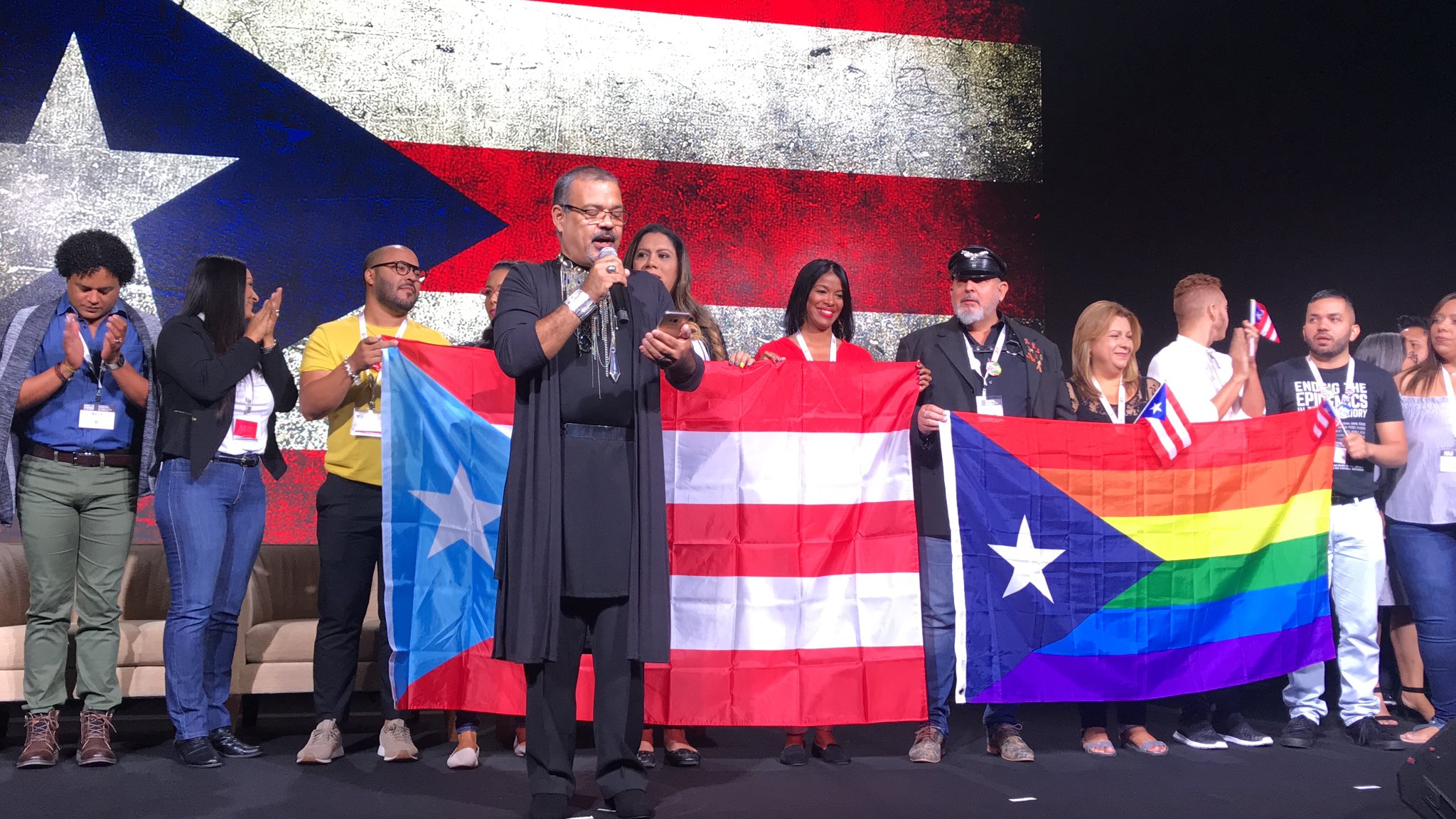 "The United States Conference on AIDS is proud to announce our 2020 meeting will be in San Juan, Puerto Rico on October 10-13," came the exciting announcement. "NMAC is going to San Juan to bring much needed economic development, to highlight HIV in the Latinx community, and to experience a city where English is the second language."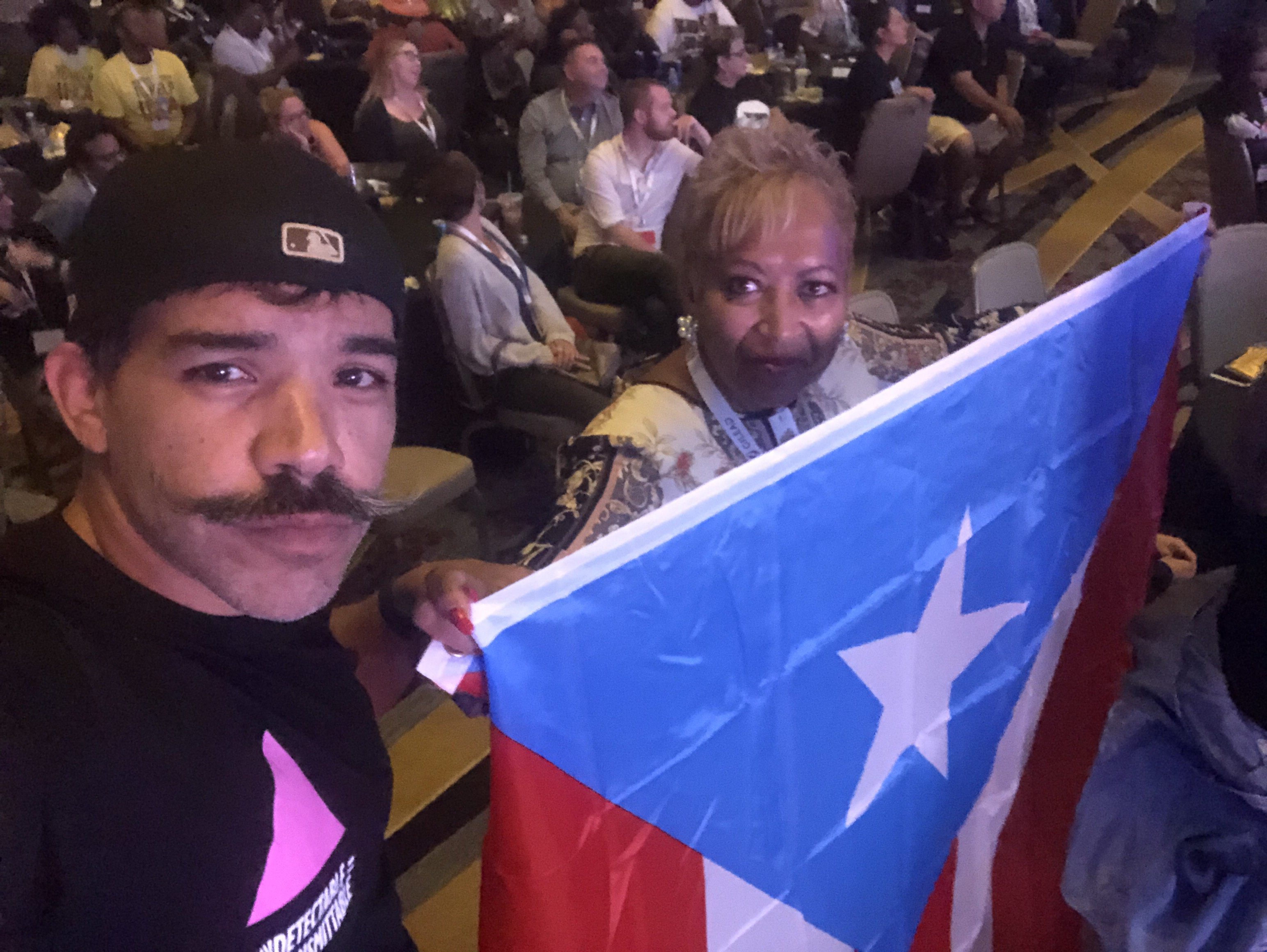 Activists Marco Benjamin and Evelyn Ullah celebrate the passing of the USCA torch to Puerto Rico for the 2020 conference. I sure will try my best to be there!
Thanks for your kind feedback and messages, my friends. This blog is my contribution to our community conversation, and I am feeling re-energized after having spent a few days in the company of such inspiring people. Thank you, most sincerely, for all that you do.
And please, be well.
Mark
Comments