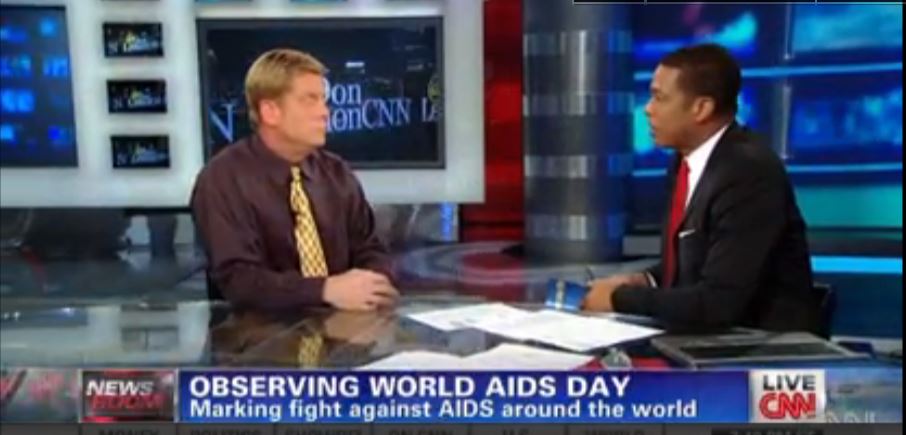 Our first meeting on-camera was in 2006. The memory of it pains me still, despite my enthusiasm for appearing on national television for any reason whatsoever.
"And how long have you been off drugs?" he asked. The look in his eyes carried a journalist's skepticism. The intense lights of the CNN studio seemed to brighten at the question.
"Six months," I answered. The idea of appearing at the anchor desk with Don Lemon was losing its allure. Granted, I wanted to help promote the documentary Meth, and discuss gay men, drug abuse, and my own crystal meth addiction. But the interview had become too real, too well lit, and far too direct for me to escape the truth with my usual manipulations.
"And where are you living now?" Don asked me. I felt flush, reddened by shame and by the pitiful answer I was now obligated to give.
"I live in a halfway house with other men recovering from addiction, Don."
My mother is watching, I thought. My friends. And people who know me who will be far too polite to ever mention they saw this.
Don Lemon's news story was insightful and illuminated a very real health threat to gay men. And it featured an actual gay drug addict on camera. A well-spoken one, but an addict just the same.
In the six years following those uncomfortable few minutes, I published a book about living in Los Angeles during the dawn of AIDS. I embraced my HIV status by launching my blog, My Fabulous Disease. And despite relapses and lessons along the way, I faced my addiction and loosened its grip on my life and productivity.
As fate would have it, in 2012, I found myself back at Don Lemon's desk, live on the air, to talk about living with HIV and how I was combating stigma with weapons of joy and good humor.
(Watch our interview here.)
I have no explanation why I should be so lucky as to appear twice on CNN, the second serving to wash away the discomfort of the first. There's no reason except the unimaginable grace that has carried me through the last six years.
Don's studio was much larger, and both his command of the newscast and his popularity had grown accordingly. During the few minutes of commercial break before our segment, he welcomed me to the desk like an old friend.
The lighting was just as intense as my first visit, revealing my bright grin, lined with age and survival and experience. I didn't complain. I even asked if it could be brighter in the studio. "Madonna lighting, please," I joked to the crew as I took my seat.
There was no mention of crystal meth. No doubting glances or talk of halfway houses. Instead, Don smiled as he introduced me, assuring his viewers this story about AIDS was a little bit different, and then pronounced me "a trip." I beamed with pride, more grateful to be there, discussing this topic, than anyone watching could ever know.
I wasn't the only one who had a newfound lightness of being. Since our first meeting, Don had published Transparent, a book about his life and career that included coming out publicly as a gay man. He's familiar with being an "other," and with fighting shame in order to reveal who you are. We had both found a path to freedom paved with rigorous honesty.
We talked about HIV stigma and Madonna lighting. He shared a story of seeing an AIDS patient on a New York City street years ago. I interjected my new favorite topic, the injustice of HIV criminalization. We were two very different men comfortable in our own skin, who refused to allow shame a place at the table.
At the end of our interview I began to shake his hand and something remarkable happened. Don stood and reached out for a hug. It was surprising for an anchor, maybe even awkward for a brief second, and then the sweetness of the gesture won out as we embraced.
The humanity – and perhaps even bravery – of his simple act wasn't lost on viewers, many of whom wrote to tell me how moving it was.
But for me, it was something more. Don Lemon, who remembered our first visit and never mentioned the circumstances, who knew this interview meant growth for me, a sort of redemption perhaps, and who even knew a little about overcoming shame himself, reached out in a gesture of support.
A hug.
Mark
Comments